A New Year, and 2017 in Review
Well, a new year and a new life, here in North Carolina, for me…
I didn't bring much for the kitchen, since this one was already well appointed – but you'll recognize a few pans (when I unpack them…) I haven't unpacked the blue teapot yet, but there is a chicken carcass (from a supermarket rotisserie chicken –  good to have that option) in the pressure cooker – the smell of the chicken stock helps me feel at home!
But my first post of the year has always been a review. (And I don't need the kitchen set up to do that!) So here we go… the most popular posts of 2017 (and mention of an older one that still runs strong!)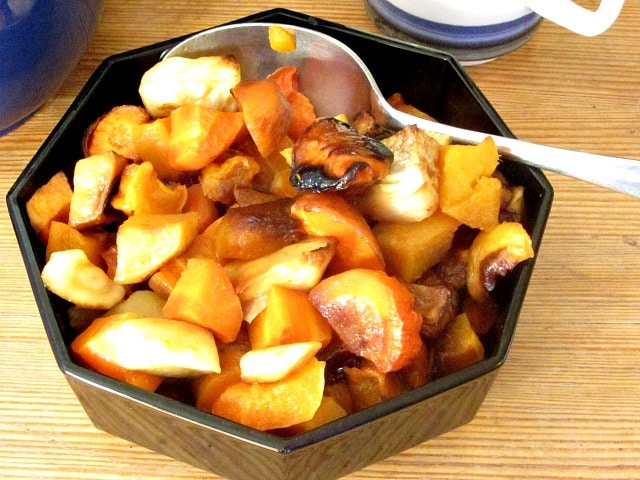 I'm going to start, actually, with an honorable mention. Last year, I told you that Make Ahead Roast Vegetables was unusually strong for a post published so late in the year. Well, it has continued, and overall has been the busiest post on Inhabited Kitchen all year! I'm delighted – it's so easy, and delicious, and then you have vegetables ready to use in other meals.
And now, in chronological order…
Pressure Cooker Pasta Sauce with Sausage is not only the first, but also the most popular new post. A very simple recipe, really, that as much as anything else shows you how to adapt some of your own recipes to the electric pressure cooker. But I love being able to just set it up and then go pay attention to something else!
Now, when I first got the pressure cooker, I needed to make room for it – and I ended up sacrificing the rice cooker, and learning to cook brown rice in the pressure cooker. I've already done that here! Again, rice in a saucepan certainly isn't difficult, but it does take attention – and the pressure cooker is faster.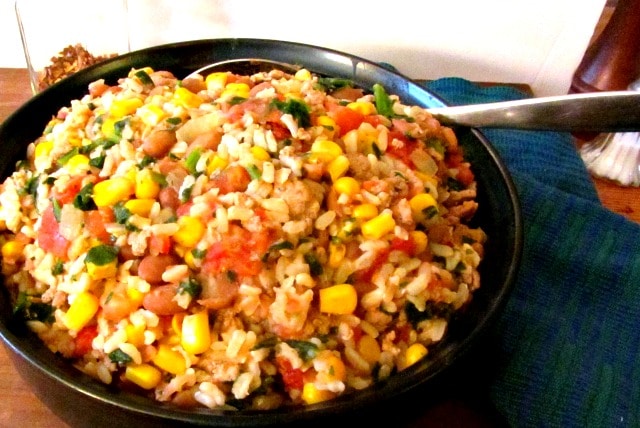 I actually made a version of Vaguely Southwestern Skillet last night! It didn't start out as that… but I browned some meat and added a can of beans, and Rich's dad suggested corn, and the next thing I knew I had something quite familiar! So fast and easy – and really, so tasty!
Every St. Patrick's Day, Americans serve Corned Beef and Cabbage – usually not realizing it's an Irish American dish, not one traditionally served in Ireland! It's so good, though, that I don't know why we usually only have it once a year… Call it a New England Boiled Dinner if you have to, and serve it more often – and well, given that people have been happily reading the post all year, I guess you have been doing just that!
Anyone who reads Inhabited Kitchen much at all has encountered my Roux Cubes – they make it so fast and easy to pull a sauce or gravy together! But when I published the adaptation for gluten free flour, I was just learning my materials – so I revisited the recipe with more knowledge. If you haven't tried them, do… I love making gravy as quickly as a commercial mix! (And I wrote this as a dairy free version, with oil rather than butter, for those who need that.)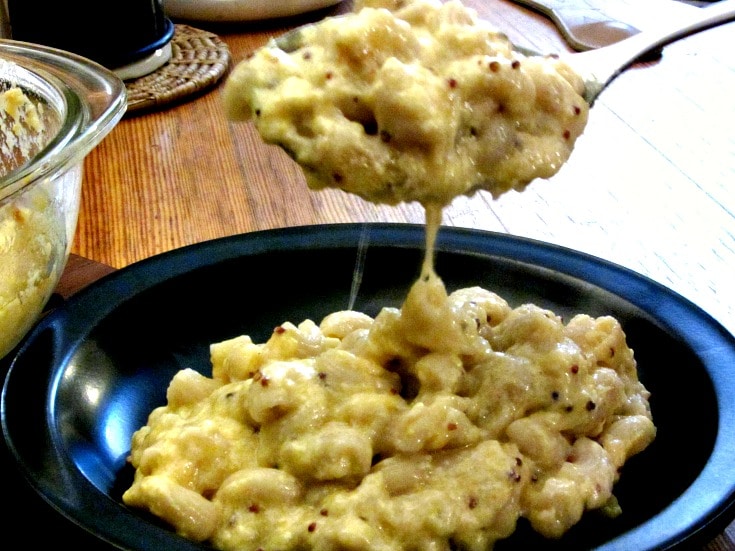 And once you have your roux cubes, use them in Three Cheese Mac and Cheese! I'll admit, macaroni and cheese is a comfort food I missed when I first went gluten free – but I figured out a method to cook the macaroni without letting it get mushy, and with a great cheese sauce, I have my old favorite back!
Back to the pressure cooker for lentil soup! I'm really looking forward to using that gadget here – some recipes are just so much faster, and others can be set up and cooked while I write, or help the parents, or even run errands! (And let me tell you, we were glad to have hot soup in the cold we've had here this week! Everyone assures me North Carolina Isn't Like This…  I guess it wanted us to feel at home!)
When it isn't cold like this, we like salad for lunch. (Indeed, soup and salad together is an old favorite, and now that I have four people to cook for, I may return to that… ) I often put marinated beans, especially chickpeas, in salad. Last year I realized I'd blithely told you this without providing a recipe! Fixed that… Easy Marinated Chickpeas.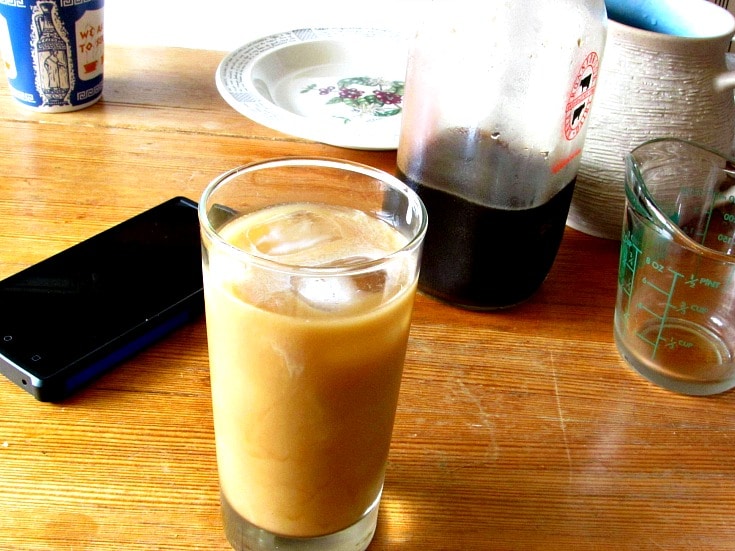 I learned how to make Cold Brew Coffee Concentrate from a friend. Most directions I see just make coffee to pour over ice, but I like the concentrate, because I made several day's worth at once, and it doesn't take up much room – just add ice and icewater. So easy, too! Who needs a pricey coffee shop?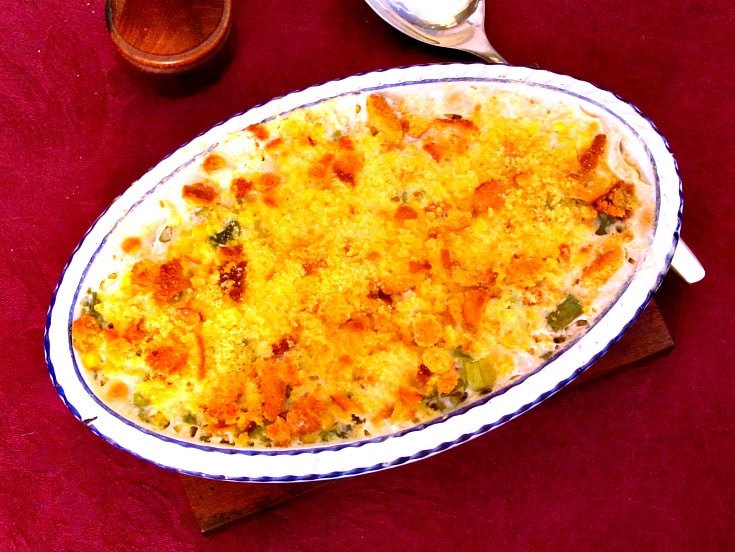 I wonder when fresh corn comes in here in North Carolina? I bet we won't have to wait until mid-July… I'll be excited to serve Gluten Free Scalloped Corn! Such a delicious side dish! (I understand there are terrific farmer's markets here… I can't wait to get to know them!)
So there you are – ten recipes (and an extra) that readers have been reading and loving all year! I hope this reminds you of one you may have forgotten, or draws your attention to something you may have missed. (I have to spend the next month reading blogs from my friends to see what I missed, in the move…)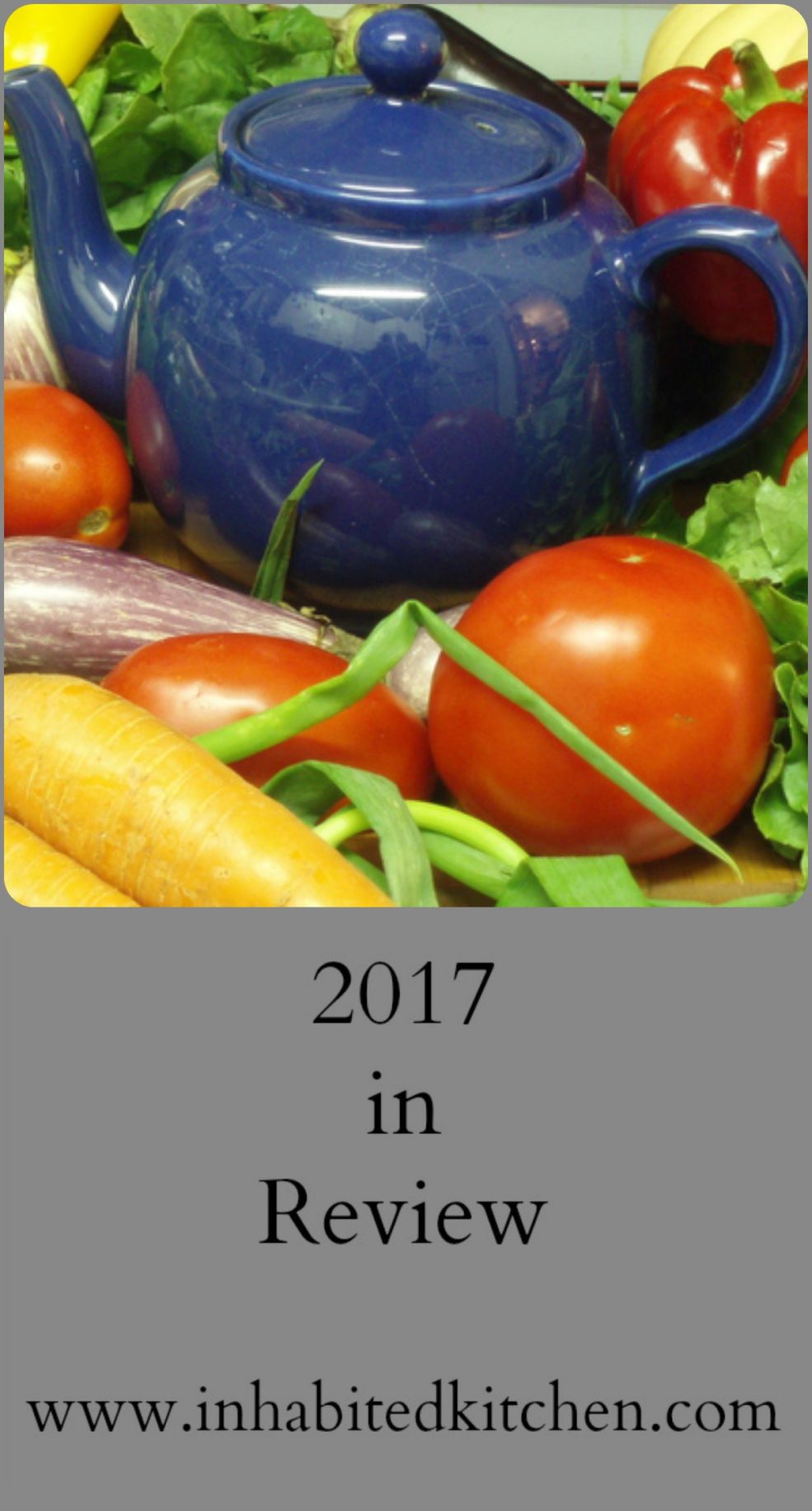 ---
---