Quick Chipotle Peanut Sauce
Fix this quick chipotle peanut sauce very easily, and then keep it on hand to use in many recipes! An easy way to add flavor, moisture, and nutrition for our elderly parents!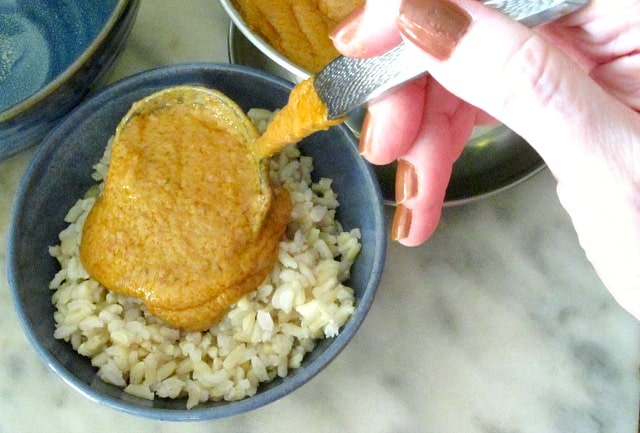 I originally wrote this three years ago. I thought sauce was useful then, I had no idea…  I can't imagine what cooking for the parents would be like if I had not had a collection of easy, flavorful sauce recipes on hand! Here, the chipotle and peanuts add both flavor and protein, and I can easily thin down the base recipe so they don't feel they are "eating too much."
This year, as I move away from my salad lunch, I didn't go straight to soup. I've been intrigued by the rice/grain bowls I've seen, and realized they have much in common with my salad bar lunch. Prepare a few ingredients (preferably one at a time) and assemble right before you want to eat. Perfect.
See, I don't want to spend much time fixing lunch. Even working from home, I want to go into the kitchen ten, fifteen minutes at most before I sit down to eat. (Five is much better!) I'm willing to wash lettuce, and chop a batch of radishes that will join the cucumbers I sliced the day before and the bell peppers from the day before that. But then I assemble them with chicken left over from dinner, and the beans I cooked overnight to add to everything. Then I might add a salad dressing I made, or I might just use oil and vinegar from the cruets on the table. And it's done.
The grain bowl takes a little more attention, but ahead of time, because I want to have cooked food that I can reheat. The grain itself, of course (though I can still cook quinoa in 15 minutes, if I've forgotten.) Cooked meat, beans, tofu – usually left over, sometimes cooked just for this (or salad…) Maybe cooked vegetables, maybe frozen (they're cooked,) maybe I quickly saute or steam something. Honestly, this is pretty much what I did a couple of dinners a week, when I was single, I just have to remember that.
And then, some sauce or seasoning to tie it all together.
Now, that might just be a sprinkle of soy sauce. It might be the marinara sauce the meat cooked in, or the dill on the roasted carrots. It might just be salt and pepper… But sometimes I want a sauce to moisten a dry bowl, or a stronger flavor to pull everything together. I'd made a batch of peanut sauce, and that did just what I wanted – it kept well, I spooned some on and microwaved the whole, and stirred it in, and I was happy.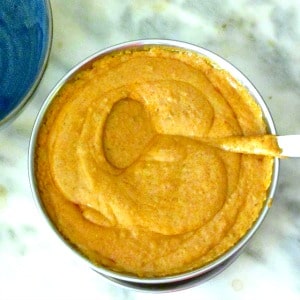 Then I went to make a new batch of peanut sauce – and found I'd finished my gluten free soy sauce. Well, the store on the corner doesn't carry that (amazing the number of things that store doesn't carry) so I'll have to pick it up the next time I'm down in the East Village, but meanwhile… was there something else I could use for flavor?
A glance through Inhabited Kitchen will tell you that I like using chipotle puree. Or, strictly speaking, chipotle in adobo puree… I take a can of chipotle peppers in adobo sauce and puree it, then just store it in the refrigerator for several weeks. Use a spoonful here, and another there, just enough for two people,  I don't have to fool around with mincing slippery peppers, the vinegar in the adobo sauce preserves it…
And we both love the complexity of the flavor. Heat, yes, of course – but also the smokey flavor of the smoked jalapeno, the vinegar, tomato and spices of the sauce, all coming together in one spoon full of flavor. I'd never thought about using chipotle with peanuts, but then again – I'd been putting the sauce over chipotle tofu, so I really had already combined them! And it was good. So I tried this, and liked it, so I've made more to share the idea.
See, peanut sauce is ridiculously fast and easy, as long as you use natural peanut butter – the kind made of nothing but peanuts, and maybe a touch of salt. Bizarrely this emulsifies by itself, while all the emulsifiers and sugar and stuff in most of the major brands may go wonky. (I won't eat that anyway – I grew up with Mom making peanut butter because it tasted better.)
And then it is handy to keep on hand – stir some into plain rice. Spoon some into the cooking liquid in a pan, it both flavors and thickens it. And of course, put it on your rice bowl to boost both flavor and protein.
Directions for Quick Chipotle Peanut Sauce
First, I decided to add even a little more complexity of flavor, in the form of cumin, which we both like. (This is optional, but good.) Put a small heavy pan over medium heat, add a teaspoon of cumin, and toast it for a minute or two, until you can just begin to smell it.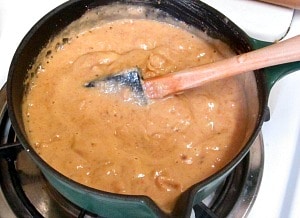 Then add a cup of water and a cup of natural peanut butter. Stir it as it heats. The peanut butter will eventually melt into the water, and you'll have this wet mess for a little while, and wonder what made me think this was a good idea. Then it will thicken remarkably! Keep stirring… and add another half cup of water, stirring as that thickens, too. (You could add it all at once, but I find it's a nuisance to stir the peanut butter smooth in the larger amount.)
Stir in two tablespoons of chipotle puree, or to taste. This was enough for some heat, some afterburn – if you prefer milder foods, start with one tablespoon. (You can always add, you can never subtract.) If you like high heat, go for it! But do remember that it will  get hotter as it rests… Stir that until smooth. Then remove from heat and let rest to develop flavor.
And there you are. A nice jar full of flavorful sauce to keep in the fridge, and spoon onto anything that could use a little help. I added some to the water in which I was simmering chicken. I want to try it on a baked potato. I'm going to use this!
And indeed, I have.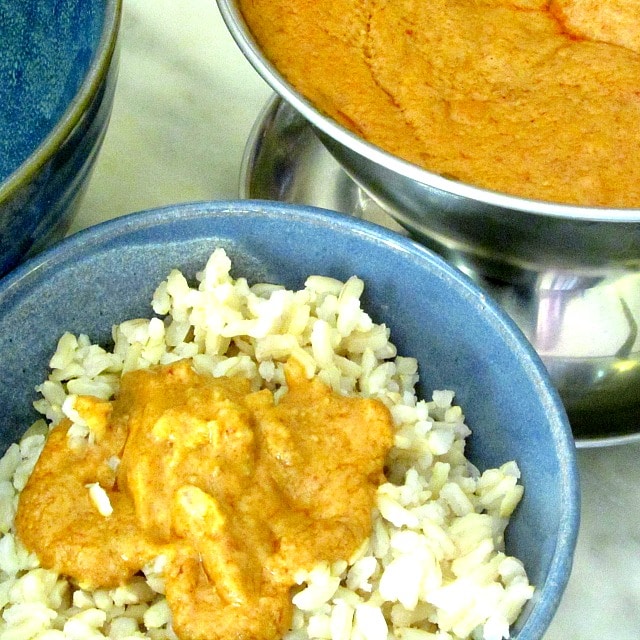 Quick Chipotle Peanut Sauce
Fix this quick chipotle peanut sauce very easily, and then keep it on hand to use in many recipes! An easy way to add flavor, moisture, and nutrition for our elderly parents!


Ingredients
1

t

cumin

1

c

natural peanut butter

1 1/2

c

water

divided

2

T

chipotle in adobo puree
Instructions
Toast cumin briefly in a small heavy pan over medium heat.

Add one cup of water and peanut butter. Stir until peanut butter melts in smoothly, and then until the sauce thickens. Add the rest of the water, and stir until the sauce is thick.

Add chipotle puree, and stir well.

Removed from heat and let rest until ready to use.
Notes
Sauce can be used at once, or refrigerated for later use.
---
---