Super Simple Peanut Sauce
Super Simple Peanut Sauce has been a fixture in my kitchen for many years, for its ease and versatility. You've enjoyed variations – here is the original!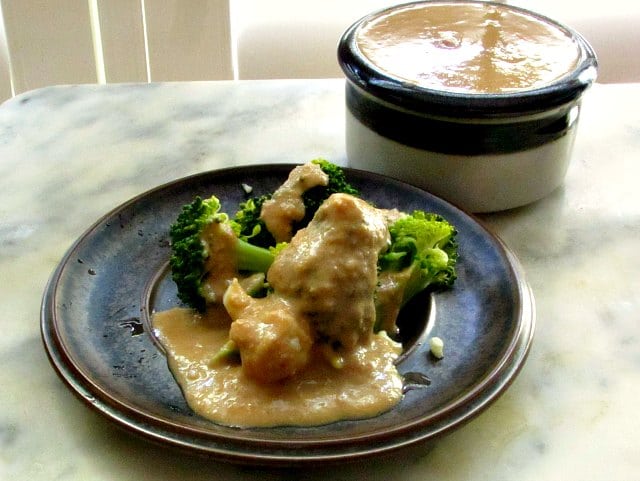 When you start a food blog, you want to impress people right away. So you trot out your best recipes – the tried and true, the ones that first made you think other people might want to read them (and better yet – make them!) You agonize over the pictures, you write as cleverly as possible, you put your best foot forward.
A few years along, you go back and look at the posts from your first year – and shudder… OMG, those pictures! What is that brown glop, and why did I think anyone would find it appetizing? In this post I'm so busy being clever that no one will ever know what the recipe is from the title! Speaking of knowing what the recipe is – it's impossible to search…
Why did I bury one of my most useful recipes in a post about a totally different food?
You may notice that I have recently obsessed about sauce recipes. I have several reasons… not least that most of mine are very quick and easy and I needed recipes like that (and suspect you do, too.) You can't beat sauce when it comes to improving meals for elderly people who have swallowing issues or have lost their appetite (and I'm dealing with each of those issues, with the parents, to one degree or another.) It adds moisture, which makes food easier to swallow. It adds flavor, which makes food more appealing. It can add color and make food more attractive, making it more visually appealing.
And sauce is a terrific way to add nutrition without letting the person without appetite feel overwhelmed…
Sauce
In Cheater's Enchiladas you get a serving of vegetables just in the sauce. Tomatoes may be the vegetable most commonly used for that, at least in American culture, but herbs and greens – think of parsley or dill – add a punch as well. Or use fruit – cook meat with cherries, add apple sauce on the side, garnish with orange segments or grapes.
But protein really shines in sauce! Make an old fashioned milk gravy, adding milk to your broth. Make a cream sauce. Turn it into a cheese sauce. Add nuts. Use lentils and cook them down. Use peanuts…
When I was younger I was what we now call Flexitarian. Not actually vegetarian, but tending that way… I ate very little meat, and that usually at someone else's table. Protein complementarity was the Hot Concept – the discovery that combining different sources of vegetable protein provided you with complete protein. It used to be thought that this combination had to happen within a meal – scientists have now demonstrated that the human body is more adaptable than that! But that meant it was a great time, in recipe writing, for tweaks to increase the protein in meals. Adding small amounts of nuts or peanuts, to complement whole grains, was popular.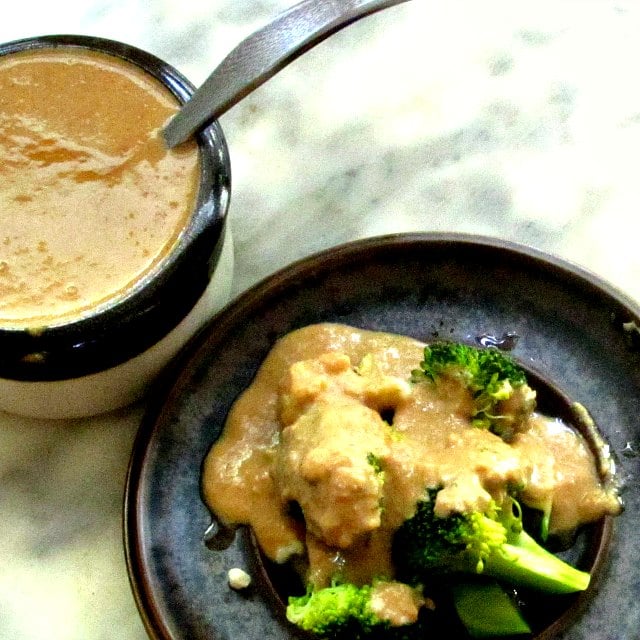 A peanut sauce – with several variations of greater or lesser complexity – made the rounds. We ladled it over rice bowls and called the meal Gado Gado – an Indonesian dish. Now, a moment's research (now that we have the internet – when I was young we had no internet and walked uphill both ways…) will tell you that Gado Gado is actually a salad and considerably more complex. But I came away with the knowledge that you can make a sauce with peanut butter that adds plenty of both protein and flavor to a meal.
Let me tell you, I've run with that idea… Quick Chipotle Peanut Sauce. Chocolate Chili Peanut Sauce. I even make a peanut sauce to clump my Unsweetened Granola (since I don't use the more typical honey.) But I recently realized I'd buried the original Super Simple recipe in an ancient post about tofu, written before Inhabited Kitchen was even a WordPress site. (Bad pictures. No recipe card. No one was ever going to see that…)
Really, it could not be easier. The only trick is that you must use Natural Peanut Butter. I know there is debate these days about the use of the word "natural" for food, since in some cases it doesn't really mean anything – but for peanut butter, it does. Natural Peanut Butter contains only peanuts, and perhaps salt, whereas your standard supermarket brands add (usually hydrogenated) oil and sugars (and often stabilizers and preservatives.)  Whatever your preference for taste and nutrition, supermarket peanut butter simply does not behave quite the same way when you cook it… Use natural, here. And while I do generally prefer chunky peanut butter, I do think smooth works better in this recipe – but you can still certainly make it with chunky.
I'll give you measurements and proportions in the recipe, but understand that's just a place to begin. The two peanut chili sauces cited above are thicker than this one – and use different proportions themselves. And you will have some variation from the beginning to the end of the jar of peanut butter.  You can make this one thicker or thinner, depending on how you plan to use it. Please adapt the amounts of soy sauce (tamari) and hot sauce to your own taste! (And to the hot sauce you use – I generally used just a dash of Tabasco. Here, I call for a full teaspoon of sriracha, which is much less hot, but also adds its own flavor.)
Directions for Super Simple Peanut Sauce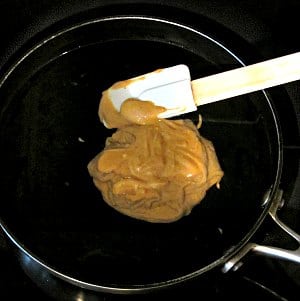 Put the water and peanut butter in a small saucepan. (I used a small fry pan for the pictures, just because it photographs better – you can if you want to.) Place the pan over medium heat, and stir until the peanut butter melts into the water and you have a smooth sauce. You do not have to stir constantly, but the whole process is pretty quick – don't go far.
Add seasonings, stir in, and taste. Correct seasoning if you want to.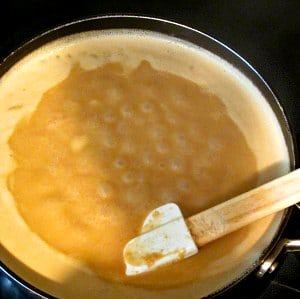 And serve… That's it.
You can refrigerate Peanut Sauce and microwave to reheat. It's a great one to keep in a jar in the fridge to add a spoonful to anything that needs a boost. You can serve it over meat, grains, or vegetables. (All together, if you want!) If you are cooking for someone who lives alone, an option would be to keep peanut sauce in a microwavable container in the refrigerator. Then he can either add a spoonful to cold food and heat it all together, or heat and stir, then ladle it on like gravy.
Special diets
Obviously you will not use this if anyone in the household has a peanut allergy.
Made with gluten free soy sauce, it is gluten free. If you need low sodium, use no salt peanut butter and low sodium soy sauce. Peanut butter has a fair amount of fat, but there isn't much in a single serving, and it is mostly mono-unsaturated. It might be a problem for someone with gall bladder issues, but I think not most others. (The person in our household who cannot eat high fat foods at night has no problems – YMMV.)
Peanut Sauce makes food moist and easy to swallow. The hot sauce adds flavor and stimulates appetite. The sauce does not look particularly appealing, especially over beige food (such as brown rice or quinoa) – a garnish of chopped peanuts, or a dash of sriracha over the top might help, if that's an important factor.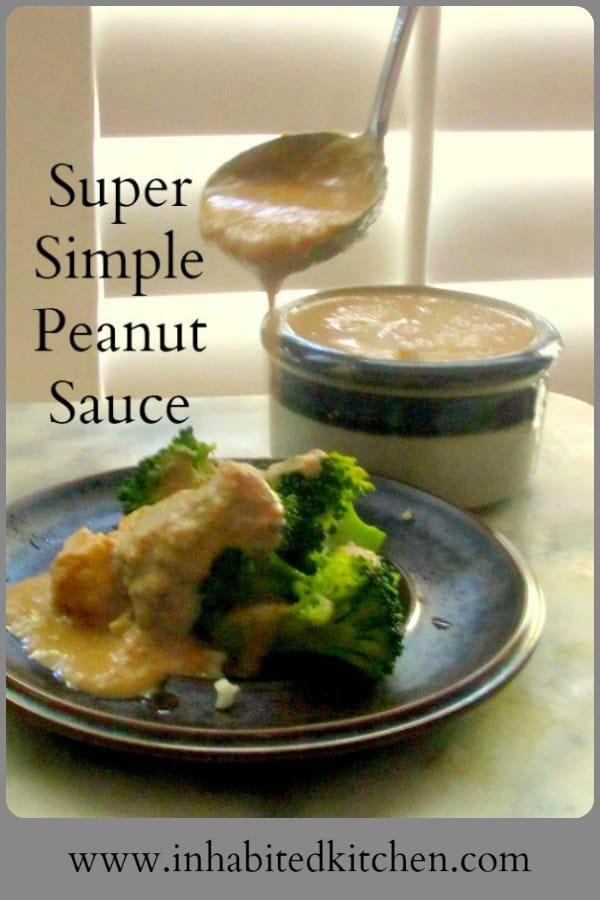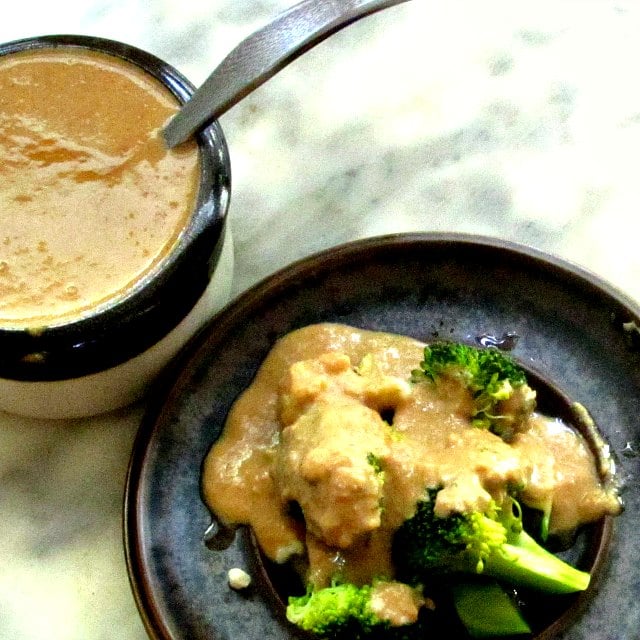 Super Simple Peanut Sauce
Super Simple Peanut Sauce has been a fixture in my kitchen for many years, for its ease and versatility. You've enjoyed variations - here is the original!
Ingredients
1 1/2

c

water

1/2

c

natural peanut butter

1

T

gluten free soy sauce

tamari

1

t

sriracha

or other hot sauce, to taste
Instructions
Put water and peanut butter in a small pan over medium heat. Stir until the peanut butter meelts into the water, making a smooth sauce.

Add seasoning.

Raise the heat slightly and bring to a boil. Simmer just a minute, to thicken slightly and meld the flavors.

Serve.
Notes
Super Simple Peanut Sauce stores well in the refrigerator for up to a week, and reheats well.
---
---