Homemade Unsweetened Granola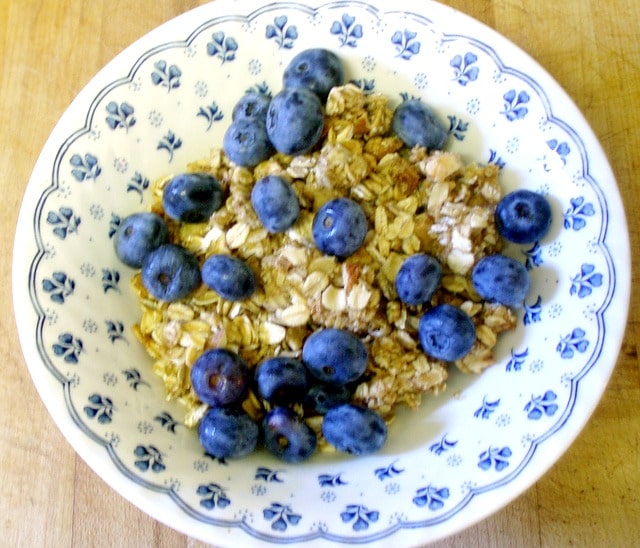 Most of the year, I like my steel cut oatmeal for breakfast. It's comforting, filling, nourishing, and delicious. And muffins are a lovely treat, which I've been enjoying the last few months. Sometimes I even pull myself together enough to make waffles or pancakes! Most days, though, I really want something fast and easy (since I'm not very awake at breakfast… Not a morning person.) The hot cereal fits that bill, since I make it ahead of time and heat it back up  – but, well – it is hot…  And I just really don't feel like it on mornings when it is already close to 80 at breakfast time.
On the other hand, I've eaten granola for years… It goes well with yogurt, I can pour a protein shake right over it, it's crunchy, it's whole grain – but most of it is incredibly sweet, and I just don't do that any more.
Now – there is actually a reason for that (besides people liking sweet things, that is…) You need something to coat the oats and make them clump together for the characteristic crunch. Classically that something was a combination of oil and honey or some other sugar syrup – and it worked beautifully. But… I don't do that any more.
And I've learned that commercial granola all has a lot of sweetener. Even at the natural foods store, even the Sugar Free Granola is full of honey or maple syrup… (and sometimes even just regular sugar! Really – read labels… I actually found that, once… ) So I need to make my own homemade unsweetened granola. And, really – it's so much less expensive, and I have more control, and I can vary the flavors… homemade granola is totally worthwhile.
But, how to get the clump and crunch? I've tried several options to hold the grains together, and just didn't like the way they worked. Coconut milk. Apple sauce. They're too wet – they soak into the oats, instead of coating them. The oats then baked together like a sort of crunchy cake, which I then broke up, and it was OK, but… not quite right. And so I made them for several years, still wondering what would work better for an unsweetened granola.
Then last year, I thought of peanut butter! I think it was while I was making a sauce – and I looked at the way it emulsifies and thickens when I heat it with water. So I tried it – and it works well.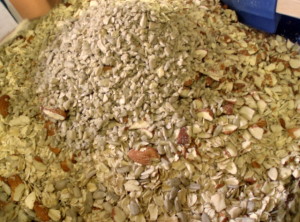 I make a pretty simple mix – mostly rolled oats, some nuts and seeds, sometimes some flavoring. I don't add dried fruit to my granola because I eat it in summer when I can get fresh fruit – you can use some if you like. (But if you do, addd it later.) You can use other rolled or flaked grains (quinoa, barley…) instead of some of the oats. I've added some ground flax seed, different seeds and nuts. I often use either cinnamon or ginger – did not this time. (I decided I'd rather just use vanilla with the blueberries I'll be eating with this – the next batch will probably be ginger, to go with peaches.)  It lends itself easily to variation.
I started with 10 cups of rolled oats. You can certainly make a smaller batch, but this fits in a container I have, and I don't want to fuss with it often. I took a cup of raw almonds, and whirred them in the food processor until they were roughly chopped, then did the same with half a cup of raw sunflower seeds. (Though I might put them in whole, if I wasn't already using the processor.) I mixed the nuts and seeds thoroughly with the oats in a very large bowl.
I took a cup of natural peanut butter. It does have to be the natural kind, with just peanuts and perhaps a touch of salt – no hydrogenated  oils or anything. I put it in a small saucepan with half a cup of water, and heated it gently, stirring. As it smoothed out, I gradually added another cup of water, and stirred it in, until I had a smooth, thick sauce. I added the vanilla to this, too.
Then I poured some of the peanut sauce over the oat mixture and mixed it in. Kept doing so, mixing it thoroughly with the silicone spatula. Once it was all in, I used my fingers to break up the biggest lumps, and make sure the peanut mixture was well distributed. I do specifically want some clumping, but in smallish, spoon sized pieces. I also don't mind having some oats and nuts not covered – but not much.
I spread the mixture out in two pans. In this case, I used one half sheet pan and one smaller baking pan, because that's what I have… Two half sheet pans would really have been ideal. Use whatever you have, as long as you an spread it out pretty flat. I used to do it in a big turkey roaster (and I'd mix it in that, too) but it would end up deep enough that I had to pull it all out of the oven and stir more often, and the whole thing took longer.
Once it was spread out, I put it into a preheated 325 oven. I'm really drying it out, and toasting it lightly, more than baking. At a higher temperature I get a browner color – but I also have a greater risk of burning.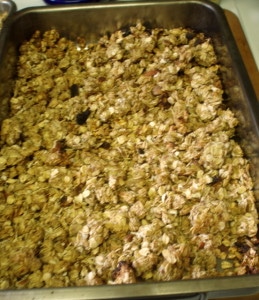 I let it cook for half an hour, then pulled it out. I used the spatula to – very quickly – stir it up, especially mixing the edges into the middle, and bringing the bottom to the top. Then I put it back for 15 minutes. When I took it out then, I repeated the process, and looked at it carefully. The clumps were mostly dry, and everything was lightly golden, so I called it done. If some of it had still been really damp, I'd have given it another 10 minutes. (That happens when it is more crowded in the pan.) I let it all cool completely, made sure it really was thoroughly dry, and put it away in a sealed container. (If I did want to add dried fruit, I would do so right when it came out of the oven. I don't want to dry it out further.)
Another time, I might use walnuts and cinnamon…  or any other mix that appeals to me at the time. I suspect that almond butter would work, if you have peanut issues – but we don't, and I haven't tried it. If you do, please let me know! In general, though, I have found it to be quite versatile – flavor it to your own taste!
Edited to add – I wrote this before I went off gluten. If that is an issue for you, use certified gluten free oats…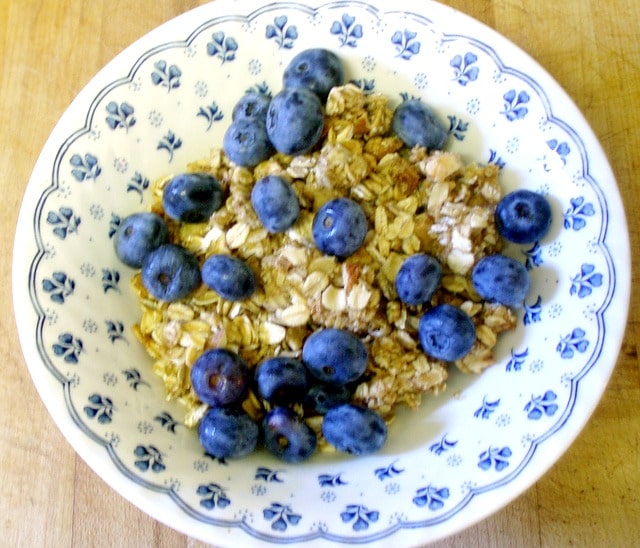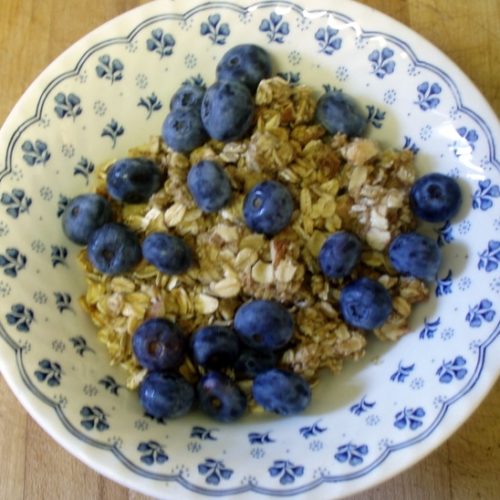 Homemade Unsweetened Granola
Making delicious homemade unsweetened granola is easy and doesn't take much time - I can save money and know what I am eating!
Ingredients
10

c

rolled oats

1

c

raw almonds

rough chopped

1/2

c

sunflower seeds

1

c

natural peanut butter

1 1/2

c

water

1

T

vanilla
Instructions
Preheat oven to 325.

Mix oats, nuts and seeds in a large bowl.

In a small saucepan, gently heat the peanut butter and half a cup of water, stirring carefully. As they blend, gradually add the rest of the water until you have a smooth sauce. (Do not bring to a boil - the goal is to mix them, not to make it hot.) Add the vanilla.

Pour the peanut sauce over the dry ingredients, a little at a time, and mix in, letting small clumps of oats form. Spread the mixture out on baking pans.

Bake at 325 for half an hour. Stir. Bake another 15 minutes, stir again and see if it is done - if still damp, give it another 10 minutes.

Let cool, then store in a sealed container.
Save
Save
Save
---
---