Creamy Tomato and Navy Bean Soup
Creamy Tomato and Navy Bean Soup has become a staple for lunch in our house! The parents enjoy it, and find it easy to eat, and I can throw it together from pantry ingredients in no time!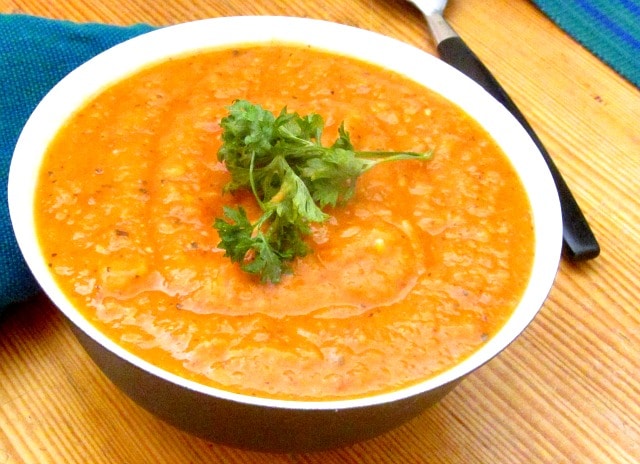 Going through the posts from the last year, one thing I noticed was that the blog is a bit more meat oriented than our actual diet is. We certainly eat meat, and regularly, don't mistake me… but on a day to day basis, we're more likely to eat beans with a small amount of meat in them, or with cheese or egg either added or on the side. And somehow, I've written up comparatively few bean recipes.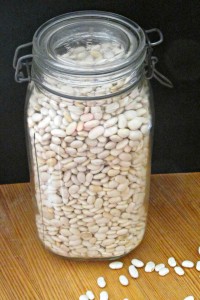 I suspect that I've tended not to think of the things I do with beans as Recipes per se – just… things to do with beans. And American culture has tended to dismiss beans – which is pretty silly, when you realize that Boston Baked Beans, Red Beans and Rice, and Chili are some of our great national dishes. And we share this with the rest of the world – what, for instance, is French cooking without Cassoulet? (Yes, I know there is Chili without beans – but more versions include them.) I cook them – I should write about them. And while I often do add meat or other animal protein, the base recipe is usually vegan, making it useful for the Foundation Recipe concept – a basic recipe that most of the family can eat, to which those who wish can add other ingredients.
I've been experimenting a little. Last Fall I made a Corn and Leek soup that astonished me, sweet and creamy with no dairy products at all, just white beans. I'd always thought of white beans – pea or navy beans – in hearty chowders or the classic Senate Bean Soup…  but this felt almost light. I wanted to see what else I could do, pureeing the beans.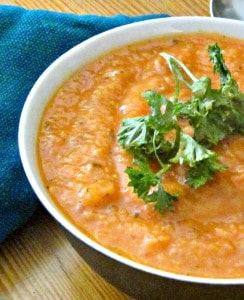 Canned tomatoes are a staple for me all winter. Good brands are much better quality than the "fresh" tomatoes available in the Northeast US a good eight months of the year. I've used either diced or crushed tomatoes to make several versions of tomato soup – a great way to add a sunny flavor and a serving of vegetables to a meal when both are in short supply.
And while sometimes in winter we want a long simmering rich soup, sometimes we need something we can throw together quickly and easily, for someone coming in from – or down with – the cold…
I soaked two cups of navy beans overnight, and then cooked them until they were falling apart soft. That gave me four cups of cooked beans. And if you want to skip that step, you can use three cans of any white bean – which should give you roughly the same amount, just a little more, but it will be fine in this recipe.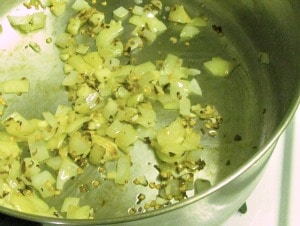 I heated olive oil in my soup pot, and added one chopped onion, two minced cloves of garlic, and a teaspoon of crushed red pepper flakes. (or you could use chili paste.) They cooked until the onion was soft, which I added the beans, and a can of crushed tomatoes (passata to those in the UK.) Then I poured the cooking liquid from the beans into a measuring pitcher, and used vegetable broth to bring it up to a quart. If you use canned beans, I'd rinse and drain them, and then add all broth. I have made this with all cooking liquid, but the broth did improve the flavor – if you want to use the full quart of it, you might add Better than Bouillon or some other seasoning. (And chicken or beef broth works fine, if you prefer.) And I added a teaspoon of dried basil.
Now the beans were very soft, and I could probably have just used a potato masher to crush them, though that would leave me with onion pieces and skins from the beans floating around… I used an immersion blender, and blended it until almost smooth. (I did want to leave some texture.) The classic method is to put it through a sieve (and I remember doing that…) Use your preferred technique for your preferred texture. (How's that for a precise direction?)
Then heat it, and simmer for a few minutes. Taste, and adjust for salt. This will vary considerably, depending on the salt levels of your beans, tomatoes, and broth – you may not need any, if they are all canned, but if not, you probably will want to add some. Also, the flavor does develop over time – the heat from the pepper flakes, particularly. I thought it was good right away, and better an hour or so later, so making it in late afternoon and then reheating it to start dinner is a good option. If you're serving some and saving some, and it's not hot enough for you at first, I would not add more pepper to the pot – pass some Tabasco or other pepper sauce instead. (Which is an option anyway.)
It didn't seem as light as the corn and leek soup, but still not hearty – rich and creamy was more like it. Perfect for a Soup and Sandwich lunch, or a first course at dinner. Or for someone who isn't feeling well to sip from a mug…
You could also make it the base of a heartier soup, almost a stew – add vegetables, or strips of leftover chicken, or rice (any or all of the above) and make a full meal from odds and ends.
But, however you chose to serve it, do try it – it was very easy, very quick (with the cooked beans) and quite delicious!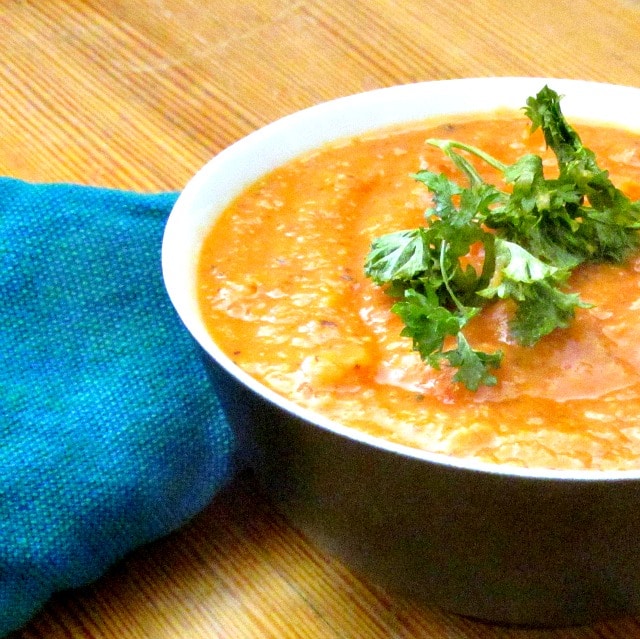 Creamy Tomato and Navy Bean Soup
Make this surprisingly creamy tomato and navy bean soup quickly and easily if you have cooked (or canned) beans on hand.
Ingredients
Olive Oil

1

onion

chopped

2

cloves

garlic

minced

1

t

crushed red pepper flakes

aka pizza pepper

4

c

cooked navy beans

or 3 cans.

1 28

oz

can crushed tomatoes

1

qt

broth

1

t

dried basil

salt

opt.
Instructions
Heat oil in a soup pot. Add onion, garlic, and red pepper. Saute until onion is soft.

Remove from heat. Add beans, crushed tomato, broth, and basil. Use an immersion blender to puree until almost smooth.

Bring to a boil, then simmer five minutes. Taste and adjust for salt.
---
---