Instant Gluten Free Gravy
Make Instant Gluten Free Gravy in five minutes! All you need are Inhabited Kitchen's Gluten Free Roux Cubes, and a cup of flavorful broth.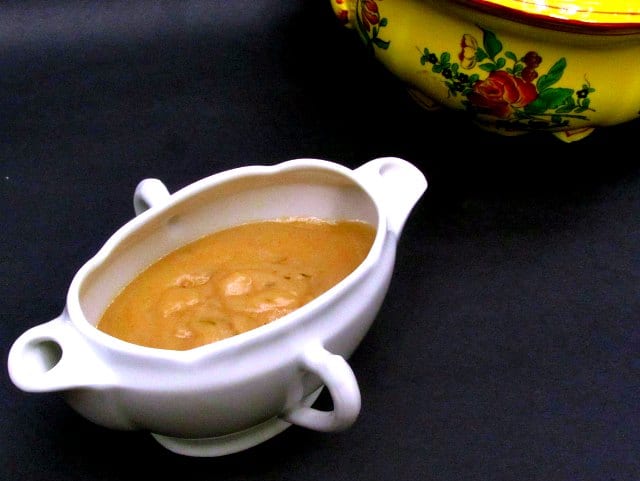 I make instant gravy (or sauce) all the time, and have done so ever since I came up with the original Magic Roux Cubes. As long as I have my roux cubes in the freezer, I can make gravy to dress up a super fast meal in which everything else is reheated because I got  home late. I can make it even with a (mild) migraine – Rich can make it himself, without direction, if I have a bad one.
When I went gluten free,  that was the first recipe I adapted… it's just too convenient! (And more so because so many packets and jars of gravy or mix contain gluten – though that situation is improving… Always read labels! ) And instant gravy improves so many meals for the parents – it's the easiest way ever to add flavor and moisture to almost any meal.
But going through the Sauce Recipes for my post a few weeks ago I realized that I never really wrote basic instant gravy up as a stand alone post. You know – so anyone can actually find it? Without having to search through every post tagged Roux Cube and just sort of hope? 'Cause nobody's doing that…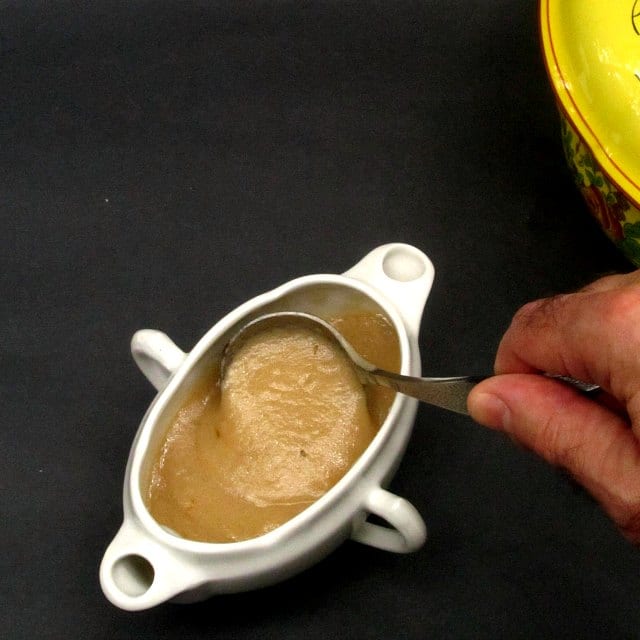 And again, this matters even more for gluten free readers, or those who might cook for them. Not only because their old recipes aren't working as well, or because they can no longer use a product they like – but because, particularly at family gatherings and holidays, you sometimes need one sauceboat of reliably gluten free gravy for one branch of the family while everyone else eats the gravy Grandma Must Make. And given everything else going on in the kitchen – the faster and easier it is to make the gluten free (and get it to the table before Grandma gets flour on the stove) the better…  (And honestly? I made this the last several Thanksgivings, for just the two of us, because it helped me get a holiday dinner on the table with a migraine.)
This is the stripped down version – I just used a commercial chicken broth, out of a container, and added a little thyme. Even the thyme is optional – I just wanted you to see possibilities. I used chicken broth. If you want turkey gravy, use turkey broth – beef gravy, beef broth, vegetarian gravy I'd use mushroom but you use your own preference.
You do want broth rather than stock, as it adds flavor from aromatics. If you have your own Bone Broth, which is really stock, and some Mirepoix, add a tablespoon of the mirepoix to the stock. Either blend it, still cold, to puree the vegetables, or simmer the mirepoix in the stock for a few minutes, then proceed as written.
In fact, I have often poached chicken breasts or thighs in water with a touch of salt and some seasoning, and then simply used the poaching liquid.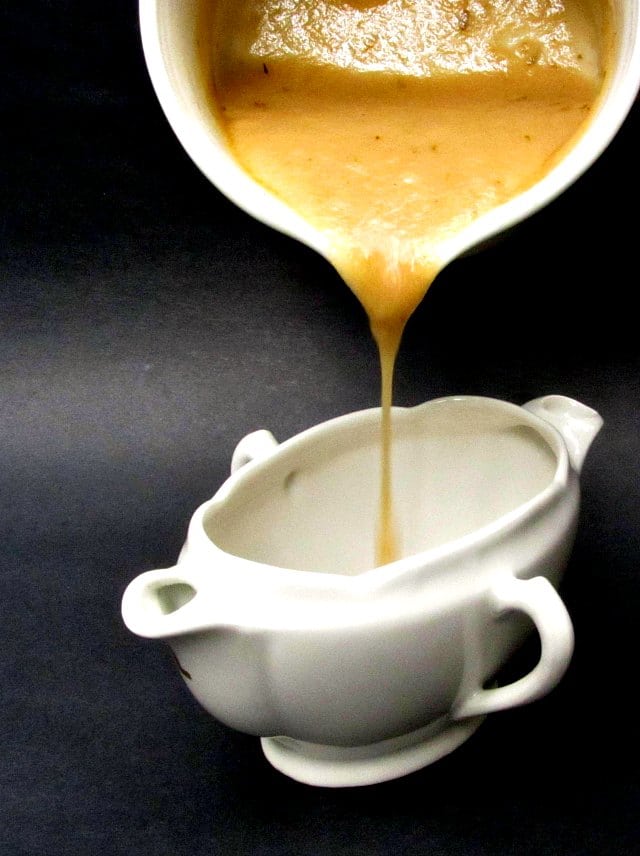 Now, if gluten is not an issue, you can use the original Magic Roux Cubes. I made and used them long before I knew gluten was an issue. If you have to avoid it, I have two posts discussing this, with recipes… I prefer making them with butter, both for flavor and because they freeze harder, but if you may ever need them vegan use olive oil. Since my move I have learned that millet flour is not always as readily available as it was in my old neighborhood, so while I like the combination (and used it, in this post) brown rice flour alone does work well.
And, just to clarify – this is, obviously, a traditional roux thickened gravy. I often see, in gluten free forums, the suggestion of cornstarch or potato starch, both of which have also been traditional for gravy – but they give you a very different texture. If you grew up with that, and prefer it, go for it! But you watched Grandma making gravy from drippings in a roasting pan, as I did, the shiny, glossy, slightly translucent cornstarch gravy will feel out of place with a turkey or a roast (though you expect it with Chinese food.)
Directions for Instant Gluten Free Gravy
Put a cup of broth in a small saucepan – I used chicken, here. Season if you want – I added a quarter teaspoon of dried thyme. Bring it to a low rolling boil.
Add two Roux Cubes. Stir steadily, allowing the cubes to gradually melt and release the flour slowly into the broth.
Once they are completely melted, lower the heat to medium, and continue to stir. Your gravy will thicken as you stir. After a minute or two, when it reaches the thickness you want, take it off the heat.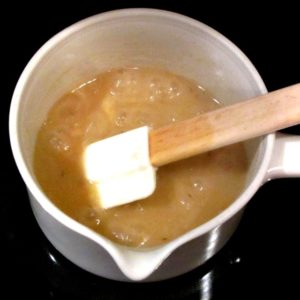 Now taste for seasoning. Does it need salt? Will a dash of hot sauce brighten it? Does it need more of your Herb of Choice? (I'd add sage, with the thyme,  but my mother in law doesn't like it. Instead, I often make tarragon gravy for her chicken.) Maybe just a dash of a commercial seasoning mixture. Make the flavoring as simple or complicated as you want – the bare bones version is still good, as long as you have a nice broth.
Special Diets
If you need it to be gluten free, use the Gluten Free Roux Cubes (obviously) and (less obviously) make sure your broth is gluten free. Some commercial broth and stock contains gluten, which you may not expect. (I sure didn't! Luckily Rich had learned to read ingredients obsessively…) If you want a vegetarian gravy, use a vegetarian broth – if vegan, also use roux cubes made with olive oil, not butter. If you use a fat free broth the gravy will be low-fat – there is less fat in the roux cube recipe than in the average fresh roux recipe.
Gravy makes food moist and adds flavor – which is the whole point of using it – and that can help people with either mild swallowing difficulty or low appetite.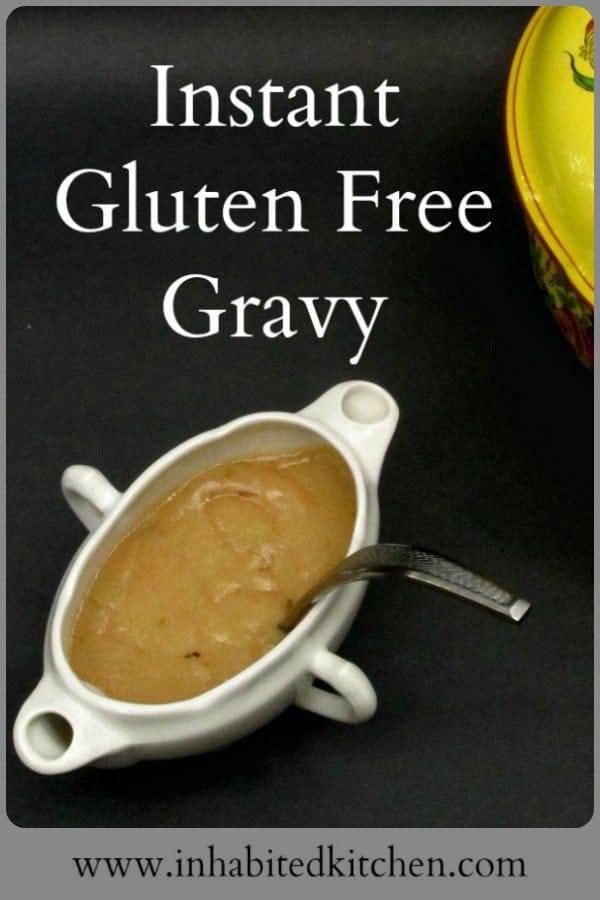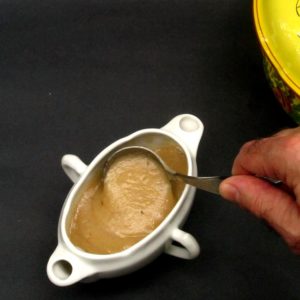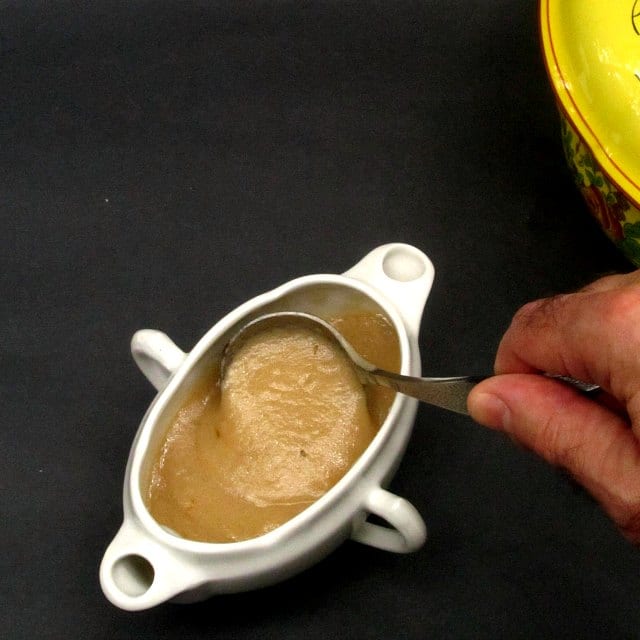 Instant Gluten Free Gravy
Make Instant Gluten Free Gravy in five minutes! All you need are Inhabited Kitchen's Gluten Free Roux Cubes, and a cup of flavorful broth.
Ingredients
1

cup

chicken

or other broth

1/4

t

thyme or other seasoning

opt.

2

gluten free roux cubes
Instructions
Place broth in small saucepan. Add seasoning, if desired.

Bring to a low rolling boil.

Continue stirring until gravy thickens.

Taste for seasoning, adjust if needed. Serve at once.
Notes
This is a base recipe for chicken gravy. The technique is the same for any other - just substitute beef, turkey, pork, or vegetarian broth, and season as desired.
---
---