Pressure Cooker Bone Broth
Use a pressure cooker to quickly and easily make Bone Broth from chicken bones – including the carcass from a rotisserie chicken!
First I should tell you that I never think of this as "bone broth" – I think of it as "chicken stock" as that's what I have called it for the many years I have made it. And I don't really make it for all the good (though occasionally overstated) nutritional benefits – I make it because it tastes good, it's an easy way to add flavor to recipes, and, well – I don't want to throw out a chicken carcass that still has plenty of good in it… At least, not when using it is so easy!
Most of these years I used a slow cooker – and indeed I still do, sometimes. I do think I get a richer broth using it (though I know people who argue the other way – try both and see what you like!)  But most of the time then I started with a larger amount – I would roast a large chicken, for instance, or use the slow cooker in the first place to cook a large Family Pack of legs.
Now, though, I have the little rotisserie chickens.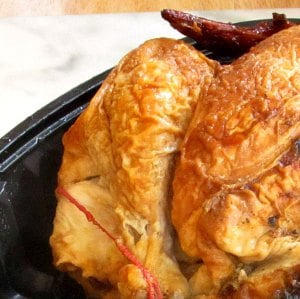 See – I never used them very much before. For me, the major advantage of a rotisserie chicken is that you can stop on the way home from work (especially if you're running late)  and pick one up, then serve hot chicken right after walking in the door. But our local store in New York stopped selling them at 6:00 or earlier – which was when I'd start to need one – and the local take out place where we used to get them went out of business about the time I started the blog. I never saw the point in buying one to eat the next day – I'd rather just cook the chicken myself.
The parents, though… Well, rotisserie chickens  had been very much part of their coping methods the last few years. Barbara has not been up to cooking for a while, and Don was never really a cook – so anything he could just buy and heat made life much easier. But now they really like the flavor and texture, and specifically want it, especially in certain recipes – and they firmly believe that it does make cooking easier for me. So when he shops, he often picks one up (or two, if they're on sale!)  And honestly, while it felt silly all winter, I'm not going to mind having cooked cold meat on hand around here in the summer!
I don't want to use the larger slow cooker for the bones from one small rotisserie chicken. But I don't want to just throw them out. And I don't want to collect them in the freezer until I have more – since we already collect bones to toss in the freezer until garbage day and I really don't want to get into trying to differentiate one bone bag from another. Also, the pressure cooker is smaller, faster, and puts less steam even than the slow cooker out into the hot humid North Carolina atmosphere. So, pressure cooker bone broth it is!
Directions
So take your rotisserie chicken. Remove the meat, use it however you want, and save the bones. Or, for that matter, take the carcass of a chicken you roasted yourself, or the bones from your simmered thighs, or your grilled breast, or your fried chicken, or… Take the wing tips you didn't want in your recipe.  Take whatever chicken bones you have. If you have skin from a roasted or simmered chicken, add that – discard any from fried (or oven-fried) that has been floured or breaded.  (If you are in a mixed gluten/glutenfree household, remember not to use bones from chicken coated with wheat flour either, or the broth won't be gluten free .)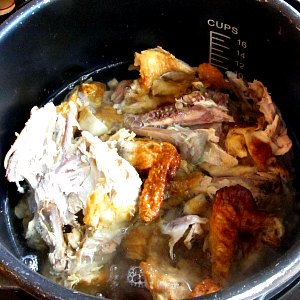 Put all that in the pressure cooker. Add water – not to cover, but it should come most of the way up over the bones. Now add a little salt and a splash of vinegar. These help pull flavor and nutrition out of the bones (and any meat clinging to them.) I just use supermarket cider vinegar – all you need here is the acid.
Close the pressure cooker and set it on High, for the longest time it will let you. (That is 99 minutes, on mine…) And turn it on.
I usually then run it a second cycle – it does make the broth richer, but you can skip that or set it for a shorter cycle if time is a factor. When it is finished, allow the pressure to release naturally before you open it. I suggest turning the pot off and  then letting the broth cool for easier handling. Strain it, and you're done.
I generally keep some in the refrigerator to use as needed, and some in the freezer for future use. We are coming out of hot soup season, but chicken broth is nice in some cold soup, as well. (In fact, usually this broth jells nicely!) Mostly, though, I use it in other recipes, to add flavor. I try to always have some broth frozen as ice cubes, because it is so easy to just drop a few into any dish where I need a little moisture and flavor! Try tossing one or two into sauteed vegetables for that last steaming.
The hardest part is boning the chicken, and you had to do that anyway to get the meat… Why not make just a little more effort and get the broth as well?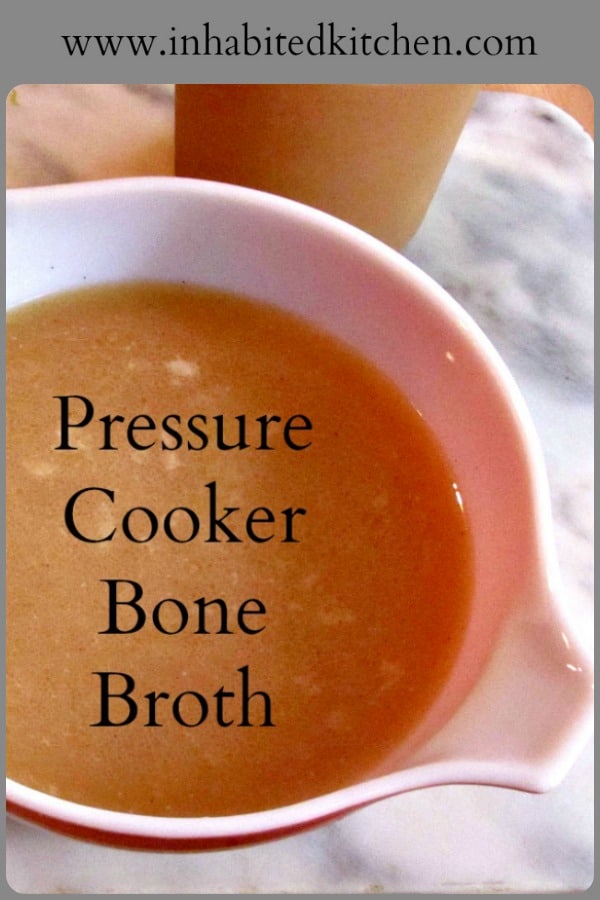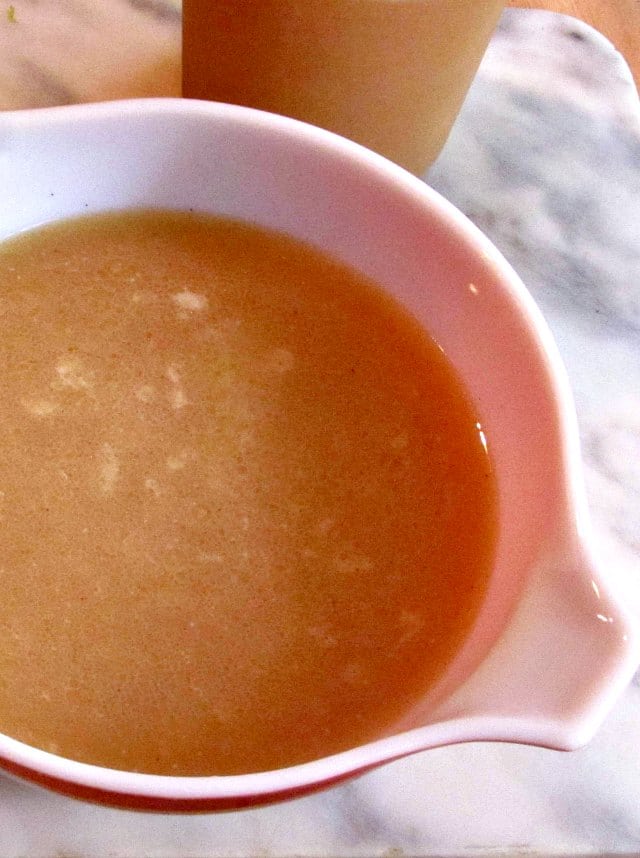 Pressure Cooker Bone Broth
Use a pressure cooker to quickly and easily make Bone Broth from chicken bones - including the carcass from a rotisserie chicken!
Ingredients
Chicken bones

meat removed (from rotisserie chicken, roast chicken, or whatever you have)

water

1

t

salt

1

T

vinegar
Instructions
Place the bones in your electric pressure cooker. Add water - it doesn't have to cover, but should come most of the way up. Add salt and vinegar.

Close the cooker. Set on High for at least 90 minutes - more if your cooker allows. Cook.

Optionally run another cycle to make the broth richer.

Allow pressure to release naturally. Let the broth cool, for easy handling.

Strain broth and package.
---
---