Mirepoix
Make a batch of mirepoix, the classic French blend of aromatics, and keep it on hand in the freezer to easily and quickly flavor meals.
I originally published this post in September of 2014. This is a repost with new pictures and some slight edits. 
Mirepoix. It sounds so elegant, doesn't it? A French culinary term that just drips with sophistication…  But really, you may well have used it without realizing it, and you've undoubtedly used similar preparations. It is very easy to cook and keep on hand to make stews, pot roasts, and soups faster, easier – and more delicious.
All it is is onion, celery, and carrot, chopped finely and sauteed. Nothing more. But it gives a rich flavor to your base stock, and creates a classically French taste. Poke around in old family recipes, and you'll probably find either this or another combination (sometimes called, as in Cajun cooking, a Holy Trinity) of aromatics…  Almost every cuisine has some base flavor notes. In European influenced cooking, usually some sort of onion, with a rotating cast of celery (or celeriac) and carrot, as above, or garlic, leeks, parsley, peppers (sweet or hot,) parsnip, tomato, whatever the commonly used local aromatics are.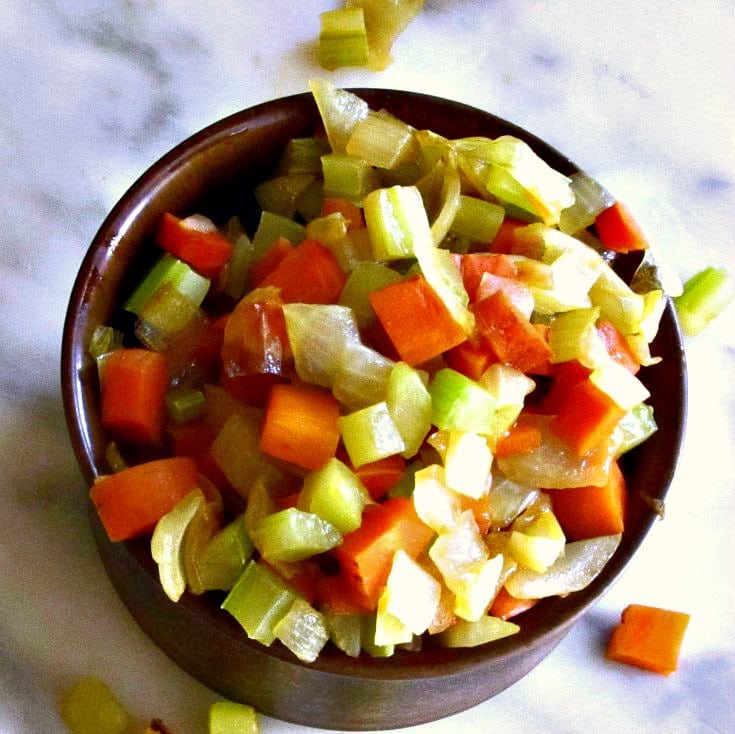 Now, the really great thing about understanding this is that it means you can vary the flavor of a basic dish merely by changing your aromatics. Last year, I wrote up a very basic Lentil Soup recipe, that did, in fact, start with mirepoix, though I did not call it that. I did make some suggestions in the post for variations – but just think how different it would be if, instead of using mirepoix you used sofrito – any of the many versions of sofrito…  (I grew up with New York Puerto Ricans, so I think of it as peppers, onion, and tomato – and cilantro when that was available – but it varies widely.)
But, looking at that lentil soup again – it would be so much easier and faster to make if you already had the aromatics mixture – whatever you choose to use – prepared. Professional cooks do this – they (or their assistants) start the day chopping and sauteing so that, when you order a dish, they can simply assemble and finish it at once. (If you ever wondered how they make several individual dishes faster than you can cook one – that's the primary secret… Every ingredient is ready to use. They never saute an onion to order.)  In a home kitchen, I don't want enough of any one ingredient to make it fresh – but having it in the freezer…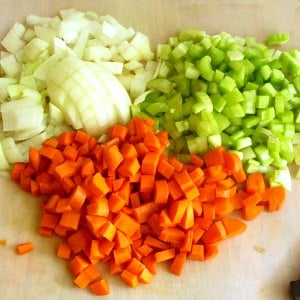 That also solves the problem of using these piles of lovely vegetables from the CSA/farmshare. I have deep green flavorful celery. (Most supermarket celery barely has enough taste to be worth it. See if you can get some from a farmer's market and you'll know why it is used as a flavoring.) I have orange and yellow carrots. And I bought super fresh onions bursting with juice at Greenmarket.
Classically, mirepoix is made in a ratio of 2 parts of onion to one each of celery and carrot, and then it is sauteed in butter. I used roughly equal parts of each vegetable, as I always have onion around, may use this in dishes that already have onion in them, (and I don't really care all that much – this is my kitchen, not the Culinary Institute of America.)  I used olive oil because I prefer it to butter for a long saute, and, again – my kitchen.
In your kitchen, you may well prefer to do it more traditionally – or use the ratio of what you have on hand (always valid, as far as I'm concerned) or whatever… You might also change your oil – use ghee or coconut oil or rice bran oil or whatever you prefer, as long as you remember that it will change the flavor profile. Do what works for you and yours.
Directions
Start by just dicing the vegetables. The easiest way to do this is to slash long cuts in the vegetables, and then slice across the cuts, so the pieces just fall in dice. Then heat a heavy pan, add just a little olive oil and swirl it around, and add the vegetables. Stir them to coat with oil, then lower the heat. Keep the pan over a very low heat, stirring occasionally, until the vegetables are cooked, about 15 – 20 minutes. Make sure the carrots are tender, but remember you will generally cook them further in other recipes – you don't want the vegetables too soft.
Let it all cool, and put it in a zip bag in the freezer. I flatten it so it will freeze quickly. I often then make more batches, breaking up the frozen parts in the bag and adding the new, so I end up with a bag full of frozen sauteed vegetables in distinct frozen bits. (This way I don't need to make massive amounts at one time! But if that works better for you, just increase amounts.)
And if I want to make a lentil soup (which I do every week or so all winter – it's a lunchtime staple)  and I'm in a rush, I can just pour some of the vegetables from the bag into my broth with the lentils – and I'm set. It's especially a good way to get a slow cooker set up before leaving for work in the morning…  Put in your beans, or pot roast, or whatever, pour in precooked mirepoix, add broth and seasoning, and go.
Now that I use a pressure cooker, I love it for that, too. Drop some of your cooked and frozen aromatics in with your other ingredients, instead of sauteing. The pot will take a touch longer to come to pressure – but much less time than the whole chop and saute step would! 
And while I'm making it now, partly to save the harvest, you can easily get the ingredients all year – it's easy to replenish your bag of flavor in the freezer!
Special Diets
Mirepoix is, of course, gluten free. Made like this, with olive oil, it is vegan – with  butter, vegetarian. You can make it with other oils or fats – coconut oil, ghee, etc. – as long as you remember that it will affect the flavor profile. Do what works for you and yours.
Special Situations
I started doing this because making it when I felt well meant I could use it to flavor food when I had migraines. I rapidly learned that it also meant I would cook something with more flavor when I was simply in a rush. In a caregiving situation, you might find that a batch in the freezer helps someone who would like to cook but no longer has the energy to chop and saute, or who finds it too much trouble for a single serving. It also, as noted above, saves time and energy for many slow cooker or pressure cooker recipes.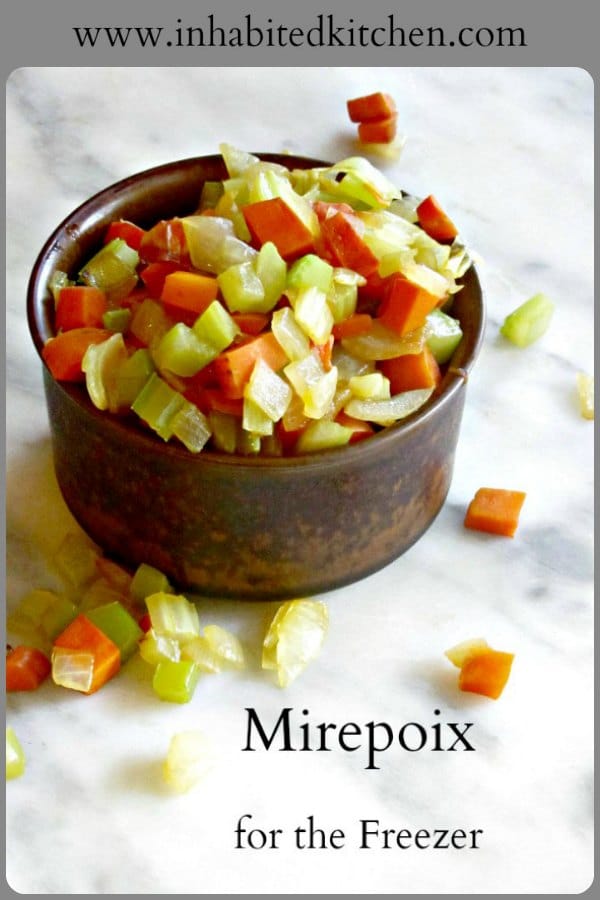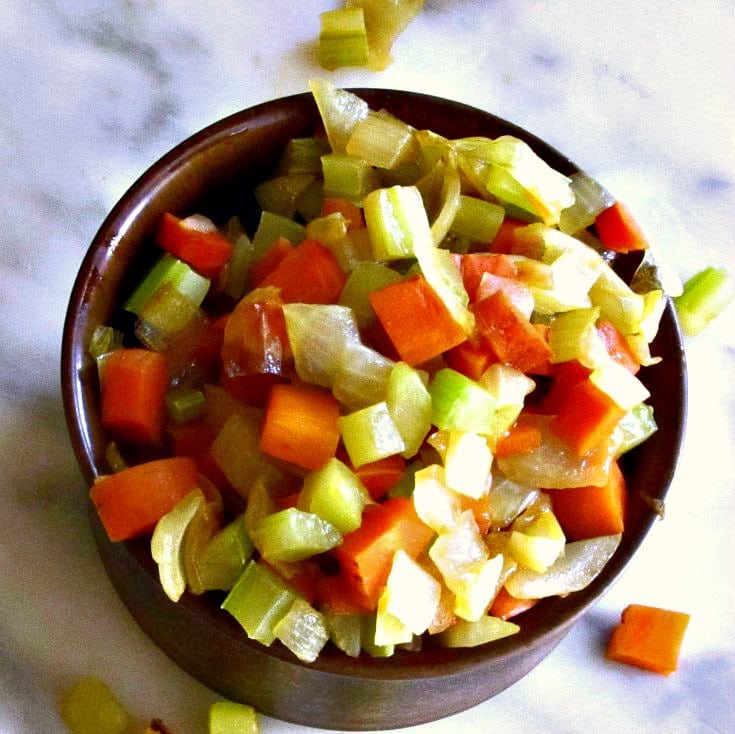 Mirepoix
Make a batch of mirepoix, the classic French blend of aromatics, and keep it on hand in the freezer to easily and quickly flavor meals.
Ingredients
1

onion

diced

equal amount celery

diced

equal amount carrot

diced

oil for pan
Instructions
Wash and dice the vegetables.

Heat oil in a heavy pan. Add the vegetables, stir to coat.

Cook over low heat, stirring frequently, until fully cooked and onion starts to color - about 15-20 minutes. Make sure the carrot is tender.

Let cool. Use as is, if you will finish it soon, or put in a zip freezer bag, flatten it out and freeze. Then break some off to use whenever you need a little mirepoix to start a recipe.
Notes
Precise amounts don't matter. Traditionally one uses two parts onion to one part each carrot and celery - I tend to use equal parts of each.
Save
---
---