Pressure Cooker Beans
Use an electric pressure cooker, an Instant Pot or any other, to cook beans easily and quickly!
This is one of those really exciting recipes!
Well… OK, no matter what I did I couldn't make a plain bowl of Great Northern Beans look all that exciting. But knowing that I can cook beans myself without hovering over a pot to prevent it boiling over or going dry, or having to remember to start it long in advance – that's exciting! This is the only way I have cooked beans since I started using the electric pressure cooker regularly. (And if you're still getting used to a new electric pressure cooker or Instant Pot, here is another thing to do with it!)
The first thing I'm going to tell you is that it can be even simpler… I give you a few optional steps – soaking and draining. You can skip them, if that works for you. But if anyone you cook for ever has what are coyly referred to as digestive difficulties with beans, the soaking may mitigate them or even prevent them all together. (It prevents it for me. TMI?)  I also do think that soaked beans cook more evenly, especially if you ever get an older batch of beans…  but that's more an impression than something I can point to as fact. Too many variables.
I just cook a full pound at a time, though you certainly can do fewer if that makes more sense for you. I may use all of them then in chili or soup, or my version of refried beans, so I have extra to freeze, but more often I use a cup here and three cups there… We typically use beans often enough that they move quickly. You can also of course freeze the beans themselves, if that makes sense – right now I actually have some chickpeas in the freezer,  I made a batch of Spinach Hummus last week, and I think I'm going to make some Tuna Chickpea salad later this week.  (And the parents have to watch their salt – cooking beans myself makes that so much easier than compensating for the salty canned ones!)
I use the Pot in Pot method – which I think is the best thing ever for beans! See – beans in a pressure cooker have always been tricky. As they cook, starch cooks out of them into the water, which makes it gloppy – and it foams up when boiled. The very high boil of pressure cooking make that foam up to the point where the starch can come up into the pressure regulator and block it – which was the cause of some of the horror stories we have all heard! Now, modern pans have fail safes built in – if the regulator is blocked they will release pressure, so you'll just have uncooked beans and a mess, rather than uncooked beans, a mess and an accident…  but we'd still rather not go there…
The pot in pot method keeps the gloppy starchy liquid in the internal pot, while pure water boils merrily away making steam in the actual pressure cooker pot. You don't get the mess, the regulator doesn't get clogged, and the whole process is much easier.  I talk about this in the Pressure Cooker Brown Rice recipe – I found a stainless steel pot that fits perfectly in my Cuisinart. If you look online, people have suggestions for inserts for various brands – and of course, you may already have a steel or heat safe ceramic bowl that will work.
DIRECTIONS
Optional Soak
Six to eight hours – or more – before you plan to cook them take a pound of dried beans, Pick over them carefully – yes, I have found pebbles in beans, and you don't want to bite on one. Also remove any that look moldy or discolored. Rinse them well. Put them in a bowl (I just use the one I'll use to cook them in) and cover the beans with water. the amount will vary some by the configuration of your bowl – I usually put enough to cover about an inch.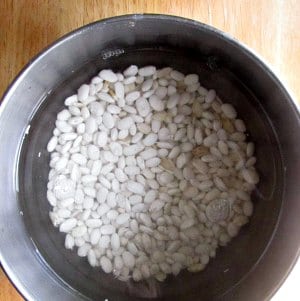 Classic directions tell you to soak overnight – which is fine if you plan to cook beans in the morning (and I sometimes do.) But really, most of us are more apt to cook them in the evening – or late afternoon on a weekend – in which case putting them to soak first thing in the morning makes more sense.
Cooking
If you have soaked them, drain the soaking water. If you skipped that step, now is the time to pick over and rinse, as described above.
Put the beans in the pot in pot, and put it in the insert pot in your pressure cooker. (I have to be careful with terminology, here – I think of my extra pot as the "insert pot" but the removable pot in electric pressure cookers is often referred to that way, because you insert it into the appliance.)  Pour water in your bowl to cover the beans – if they have soaked, you just need a half inch or so. If not, of course you need more – I'd give them a good inch and a half. And pour half a cup of water outside your bowl into the insert pot – that's what will boil and give you steam to raise the pressure.
Close your pot and set your pressure valve.
Now – set it to High. Timing will vary by the kind of bean – I've done small soaked pea beans in forty five minutes, but I usually give (soaked) chickpeas fifty five  or even an hour. (Lentils will cook in fifteen minutes, but I rarely even bother with the pressure cooker for plain lentils – as long as I'm at it, I usually make soup or whatever.) You can vary by a few minutes by how soft you want them, as well. I gave black beans fifty five minutes the other day, but I then pureed them for soup – I'd do fifty if I wanted them firm and individual for, say, salad.
All right, one of these days I need to make up a chart for  you… I need to take better notes, though, first!
But anyhow – set it, hit Start, and let it happily cook without your attention!
When it rings to tell you it's cooked, let it drop pressure naturally. Do not release it manually – even with the pot in pot, there is still some risk of foaming, and manual release risks getting that into the valve… just give it the ten or so minutes it needs. And once the pressure is released, you have a big bowl of cooked beans! Be careful – they are still boiling hot… I usually let them cool a while before trying to handle them. (And –  either if digestion is an issue or if you are going to use them cold, drain and rinse them yet again.  Chickpeas especially can give you a very soggy product later if you do not.)
It's one of those tasks that sounds more complicated than it is, once you've done it a few times… I just check my menu plans after dinner every night, and (since I'm around in the morning) if I'm going to want beans I soak them. In the morning I cook them and they're ready to make soup by lunchtime!
If you don't want or need to soak them, it's even faster – add about ten minutes to the cooking time, and start to finish (allowing for pressure to rise and fall) you have cooked beans in about an hour and a half. Either way, with the electric pot they cook while you change clothes, supervise homework, fix and even eat dinner (and plan the beans for the next day) or just relax…
And then use them in a recipe that is more exciting! Creamy Tomato and Navy Bean Soup, for instance (if you want something fast and easy) or Blizzard Beans (if you have time and feel like playing…) Beans are an empty canvas – you can do almost anything with them!
Pressure Cooker Beans
Use an electric pressure cooker, an Instant Pot or any other, to cook beans easily and quickly!
Ingredients
One pound dried Great Northern beans

Water as needed

Salt

opt.
Instructions
Pick over beans, Rinse well
Optional Soak
Put in a bowl and cover by at least an inch with water. Let soak 6 or more hours. Drain
Cooking
Put beans in a pot you can use in your electric pressure cooker. Place that, on a rack if needed, in the insert pot in your cooker. Add enough water to cover - with about half an inch more if soaked, an inch and a half if not.

Add half a cup of water in the insert pot of the cooker.

Cover and set the valve. Set the pressure to High. Set the timer to 50 minutes for soaked beans, 60 for dry. Start.

When cooked, allow pressure to release naturally.
Notes
This is the timing that works for me for Great Northern Beans. You will want to vary by the type of bean - less for smaller ones (such as black beans,) longer for larger or harder ones (such as kidney beans or chickpeas.) The technique, however, remains the same.
Note the optional step of pre-soaking, which will add time to the prep (though you don't have to be there) and subtract time from the cooking time.
---
---