Quick Chili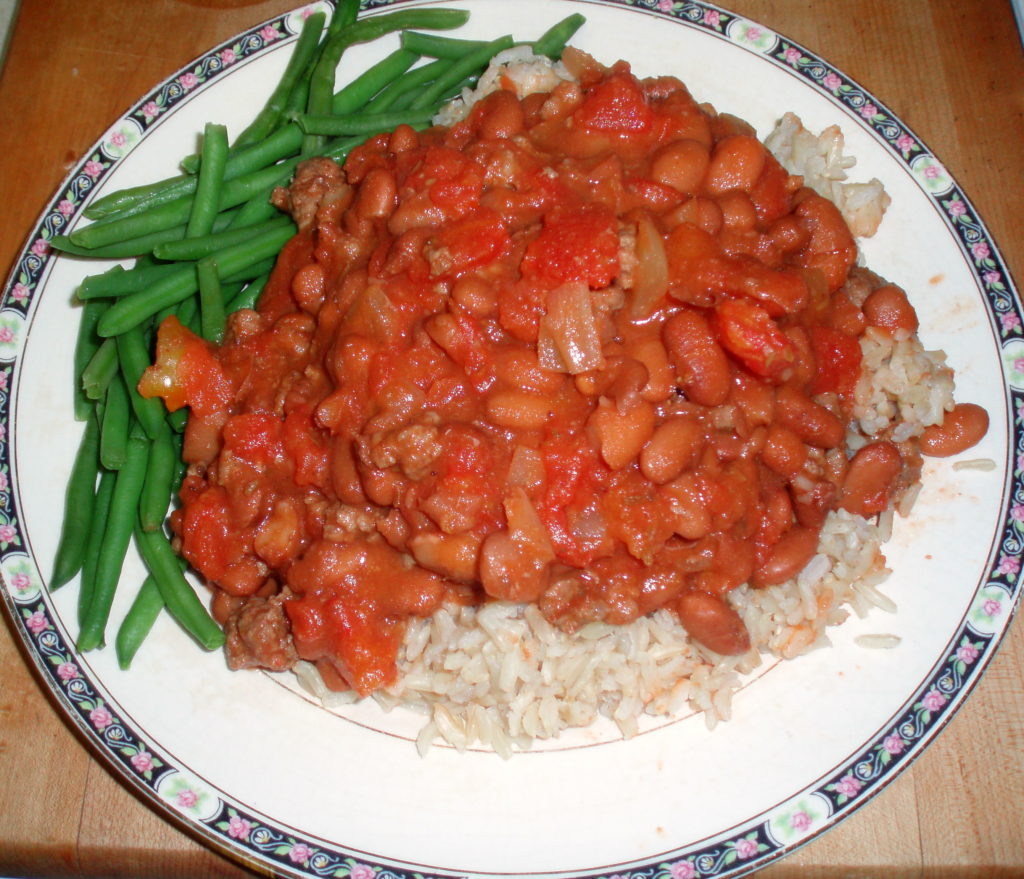 I said last week that, when I was sick, we finally fell back on a couple of cans of chili… I do like to keep a couple of cans in the cabinet, for times like that, but… normally, I'd rather reach for the container of my own home cooked chili in the freezer. We'd already eaten that.
Chili is one of the forgiving foods that I probably cook a little differently every time. It isn't really as much a recipe as an entire category of food – like "Stew" – that embraces many variants. I went through an odd phase, years ago, in which I was trying to find The Chili Recipe – and drove myself nuts before I realized there wasn't one…
People make chili with beef and no beans, with beans and no meat, with chunks of beef, with ground beef, with other meats, with TVP. They serve it with rice, with corn bread, with crusty white bread, with macaroni, with Fritos. They swear by, or at, tomatoes. They season it with hot peppers, oregano, cumin, and even cinnamon. And they argue which is the Correct Version.
As with all my recipes, this one is Authentically 21st Century Manhattan… I make no other claims. One of my odder experiences, actually, was taking an out of town friend and her sister (who lived in Texas) to a place called Manhattan Chili for dinner. The location and price were right, I knew the food was good… but it felt odd…  The sister (politely saying nothing about the chili LOL) said it was perfect – because, looking around, she was pretty sure they were the only people there who were not local – I'd taken them someplace in Times Square that was not a tourist trap. She was right – but I still wonder what she really thought of the chili…
I make chili differently depending on the circumstances. I've made large pots simmered long in a slow cooker – but this is the thrown together at dinnertime version. Not the best I make, not bad, and a good dinner with leftovers for later meals.
I had cooked a large pot of pinto beans earlier in the day. I'd wanted cooked beans for other purposes as well, so soaked them overnight, cooked them in the morning, and reserved three cups for the chili. You could also use 2 cans of beans, if that's what you have. Or substitute kidney beans for all or part of the pinto beans – I like a mix, sometimes.
I chopped a small onion, sauteed it in olive oil, and added seasoning.
Now we refer back to the Chili Powder Discussion. I'm still using the Chipotle Chili Powder, which is simply ground dried chipotle chilis. So, I used a teaspoon of it – but also a teaspoon of cumin, and half a teaspoon of garlic chili sauce (which really has the Wrong Flavor Profile, being Asian and fermented, not Mexican and fresh, but… it was handy and I like it… and there's enough else going on that I don't find it a problem. And it added a touch of garlic.)  The chipotle powder isn't as hot as some pure chili powders I've used, so I did want a bit more heat, though I also could have just used more of it. If I'd been using one of the commercial blends, I would probably have skipped the cumin, which is in those already. If it was a standard brand, I'd have used more – if it was one of the fancy Three Alarm types, I might not have. You really have to judge this by what you are using.
Anyhow, I let the onion/seasoning mix heat up a little, then I added ground beef. Again, I went with what I had – 1/3 of a pound. Yes, that's an odd amount… You may remember that, in my Convenient Proteins post I had ground meat frozen in burger containers? Well – I have two sets – one divides one pound of meat into five patties, the other into three. So I thawed and used one of the larger patties – 1/3 of a pound. You can certainly use half a pound, or a quarter of a pound, or whatever is more convenient and fits your preferences better. You can even leave it out all together.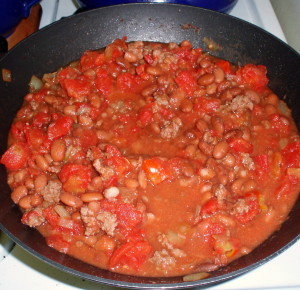 So, I broke the meat up, added it to the onion mixture, and cooked it until it was browned. I wanted that rich brown caramelized flavor – if you do want to use meat, make sure you get the most of it by browning it well. Once it was brown, I added the beans, stirred them in, and added a can of diced tomatoes. Since I'd used pure chili powder, not a blend, I also added dried oregano – that is already present in most blends. Then I let the whole thing simmer.
Ideally, it now simmers at a very low temperature for an hour or more, to blend the flavors. That wasn't happening – it was already dinner time. So I let it simmer for ten minutes, asked Rich to set the table, heated precooked rice and frozen green beans, and served…
We usually add some cubed cheddar cheese – he's particularly fond of that – but didn't happen to, this time. Other classic add ins – chopped onion, sour cream, pickled jalapenos (useful if one person likes it hotter than another – here, add your heat…)
It made one good meal – and now I do have a quart in the freezer, for future needs.
This is a very basic recipe. It's not going to win the Chili Cook Off – but it is something I can easily make after work. You can use it to make a basic chili, or, comfortable with this, you can vary it to your own liking. More heat? Less? Different beans? Stew meat (In which case, simmer it for an hour)? But it can help to have a framework to start with – and this is a good one.
Ingredients
oil for pan
1 onion, chopped
1 t Chipotle or other pure chili powder (or to taste)
1 t ground cumin
1/2 t garlic chili sauce
1/4 - 1/2 lb ground beef
3 c cooked pinto beans
1 28 oz can diced tomatoes
1 t dried oregano
Instructions
Saute onion in oil until soft. Add seasonings, stir, cook until heated through.
Add meat, breaking it up in little bits. Brown thoroughly.
Add beans, tomatoes, and oregano.
Simmer 10 minutes (or more, if desired.)
7.8.1.2
24
https://www.inhabitedkitchen.com/quick-chili/
Save
---
---