Pork Roast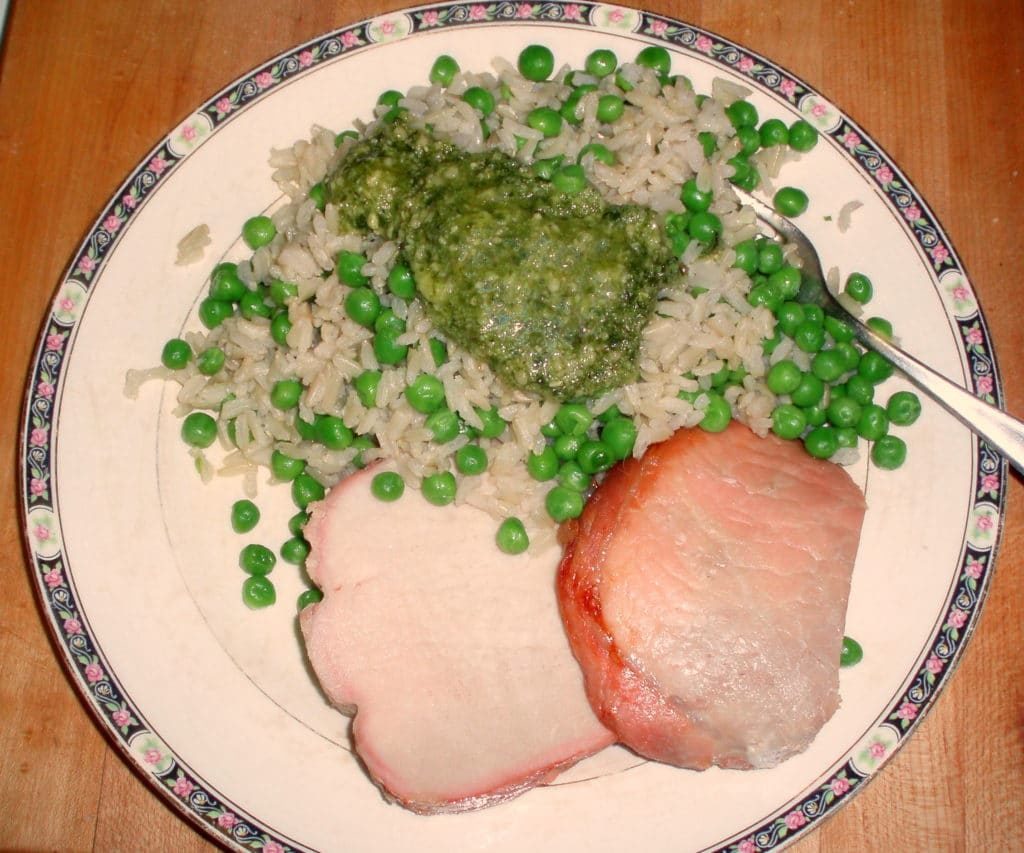 Wow.
What a winter it's been, here in New York. It did start late, but then it had more snow than usual, and more colder than average days than usual, and lasted long…
And, just for a parting kick – there seems to be flu going around – and I caught it.
I haven't felt up to cooking, let alone writing about cooking. We've lived off the contents of the freezer I just showed you – several days of soup quickly made from broth and meat, cooked meat with vegetables or jarred sauce, the rest of a batch of chili, cooked beans. Finally came the day when Rich just heated a couple of cans of chili – because to do that, he didn't need any input at all from me… (I was – finally – sleeping when I normally would have cooked. Since I hadn't slept well, he obviously wasn't going to wake me. But when I did wake, we needed Dinner Right Now. That's why even I keep cans of chili in the house… He added cooked rice and frozen vegetables, and it was a real meal.)
That seems to have been the peak, though, and I've been getting better since. Still coughing, still tiring easily, but – better. And the other day I actually cooked a pork roast.
This was a piece of a pork loin, about 2 pounds. I'd actually planned that for the day we ended up eating the canned chili, because the great thing about a roast like this is that you don't actually have to do much of anything. Pretty much what I said about the chicken – you sling it in a pan and put the pan in the oven…   Now, there are other things you can do. I make a version that I stab with a knife and then marinate. Many people put garlic or herbs in slashes. But they are all simply variations of the basic cooking method.
This time, I went for Really Simple. I preheated the oven, put the meat on a rack in a pan, put the pan in the oven, and set the timer. There is usually some fat along one side of the roast – put that side on top. It helps keep the meat moist.
Now, many of us are used to cooking pork until it is well done. The recommendations for internal temperature have been dropping, though. I've seen them as high as 180°, in my mother's old books, and it was 160° for a long time. But the meat is getting leaner, which makes it dry out more quickly, and they have learned more about food borne disease, and a few years ago the recommended internal temperature dropped to 145°. (Do continue to cook ground pork – and, indeed, any ground meat, to 160°. That's a different issue.)
Most suggestions for roasting meat call for a 350° oven, for about 20 minutes per pound, which works fine. I learned long ago, though, that a slightly lower cooking temperature lets the meat retain its moisture better, so I roast it at 325°, for 25-30 minutes per pound, depending on the size of the roast. (A smaller roast takes a little longer per pound.) In this case, since it was just two pounds, I gave it half an hour a pound, at the lower temperature, removing it after an hour. I used an instant read thermometer to check the internal temperature in the middle of the meat, and it was done.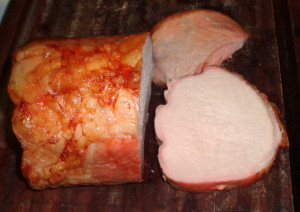 When you remove the pork roast from the oven, let it sit for five minutes – even 10, if you have a five pound roast. The internal temperature will continue to rise a little, and even out. (The USDA recommends sitting for 3 minutes for that rise in temperature.) Also, the juices that are coming out of the meat will reabsorb a little – less will be lost when you cut it. This is a good time to finish the vegetables, pour the beverages, finish getting the rest of the meal ready.
The original plan for this meal had been to go out and get sweet potatoes, and cook them at the same time. That didn't happen…  But I had rice (I usually have rice) and frozen peas, and I heated them together in a pan, and added a bit of pesto to dress up the plain rice. A useful side dish to throw together.  (I did not think to take pictures until I had started slicing the pork – I'm starting to come back to normal, but was not there yet.)
Now, the really great thing about a roast is that, not only is it easy to cook, but it gives you versatile leftovers. We had delicious fresh slices, and they were lovely. But I now have almost a pound and a half of cooked pork on hand… I can slice some thin for a sandwich. In summer, I'd toss strips in a salad. I have chick peas soaking right now – I'll cook them tomorrow, and add strips of pork, and whatever spices sound good at the time. I'll have several more easy meals from this.
Which is good, as I'm not quite up to par, yet… Easy is always good.
Pork Roast
Ingredients
pork loin roast from 2-5 pounds
Instructions
Preheat oven to 325.

Place roast, fat side up, on a rack in a roasting pan.

Roast for 25-30 minutes per pound, until the meat reaches an internal temperature of 145.

Remove from oven. Let rest about 5 minutes.
---
---