Creamy Corn and Leek Soup
It's September, and a woman's thoughts turn toward… soup.
I'm not tiring of my summer love, salad. (Better not – I think I have four different heads of lettuce in the crisper!) But we have had a few cool nights, and there is talk of cool days (though really, we haven't had any yet.) School starts this week. The season turns, we are looking toward cooler weather, even if it hasn't cooled yet.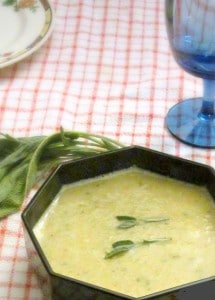 This soup is just right. It's pureed, so it feels light and creamy, almost a bisque. A small bowl would be a perfect first course with dinner, a large bowl with a salad is a lovely lunch, and in fact, we ate the whole recipe for dinner! Because while it feels light and creamy, in fact, it's a hearty bean soup. Which also happens to be vegan, as well as gluten free. I'm making a note of this recipe for use when someone is sick and food is not appealing, because it will easily glide down sore throats and tempt poor appetites. The "secret" – which isn't one – is pureed white beans.
I had cooked a large pot of white beans, for several uses. (I never cook beans for just one recipe – I always have them around for other things.) So I took four cups of cooked beans, and also reserved the cooking liquid.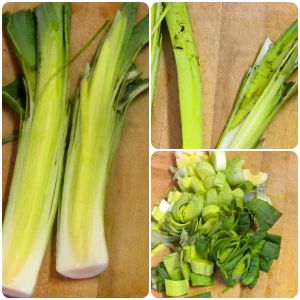 The CSA gave us a few lovely large thick leeks. Now, leeks are delicious, but they're a bit of a nuisance to clean. And one leek is normally larger than I need for just two people. So, when I get leeks, I clean and cook several at a time, and then freeze them for later use. (This is one of the Convenient Foods, as I call them, that I rely on – I cook something just once, and then have it for multiple meals.)
If you aren't used to leeks – they are very sandy. Soil is heaped up around them so that the long white mild part, which grows in the soil, is large, as the leaves become coarse and fibrous. Fine Cooking tells you to discard all the green parts, but I use as much of the leaves as I can, as far as it is still tender. (When I have my act together, I also use the coarse part for soup stock.) The easiest way to clean a leek is to split it down the middle – you can keep it attached at one end and carefully rinse it, if you will want to use it whole, but most of the time I simply then slice them and put them in a big bowl of water. I rub them between my hands to be sure the rings separate and release the soil, then drain. Then I saute them in a large pan with olive oil until they soften, and brown a little – then cool,  pack them flat in zip bags, and freeze.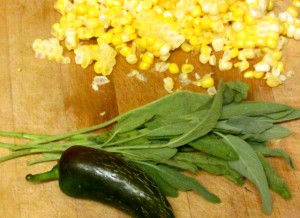 So anyhow, I did that first, and took a cup of cooked leeks. If I were starting from scratch with a raw leek, I'd make that a heaping cup, as it does cook down a  little – probably one small thin leek, but half (or less) of the fat ones we get at this time of year. I also chopped a jalapeno and sauteed it with the leek at the end. And I took a sprig of sage, pulled off the leaves and tiny stems and minced them – maybe three tablespoons of packed minced fresh sage? I tossed that into the saute pan for the last minute or so.
I also had two ears of corn. To be honest, the real inspiration for this soup was the fact that we really should have eaten the corn a day or two earlier… even the modern Supersweets lose quality after a few days. So I did the trick of microwaving the ears in their husks (three minutes for the two) and letting them cool. The corn was, so to speak, parboiled – the husks and silk were easy to remove, the kernels were softened enough to make them easier to cut from the cob.
I had measured out four cups of cooked white beans (navy beans, pea beans – the same thing, essentially – or you can substitute cannellini or any other you like) and returned them to the pot in which I had cooked them. (Why dirty another pot if I don't have to?) I added the sauteed leeks, jalapeno, and sage, and then the corn. I put the reserved bean cooking liquid in a quart pitcher, then filled it with vegetable broth (you could also use chicken broth if you want – or plain water, if you have to, though broth has more flavor) and added the liquid. I didn't add salt, because my broth was salty enough, but depending on your broth, you may want to now.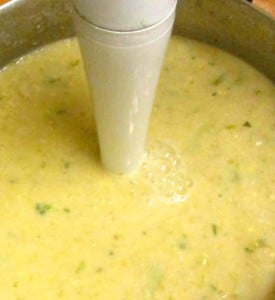 Then I took an immersion blender, and blended the whole thing until relatively smooth. Now, one thing I like about an immersion blender is that it does not easily get a perfectly smooth puree, and I do like a bit of texture – if you prefer the soup perfectly smooth, use a regular blender. (Or, for that matter, if you don't have an immersion blender…) You will have to use a jar blender in batches. Then I heated the soup to a simmer, and let it simmer for ten minutes, to meld flavors.
And it was even better than I thought it would be… The fresh corn and leeks made it surprisingly sweet, and if I hadn't cooked it myself I would have said there was at least a little cream in it. I suspect that it would chill well, but haven't tried that so cannot say for sure. The jalapeno and sage are much more subtle than I would have expected, and indeed, there is no dominant flavor. In fact, I've had trouble determining what to call it – discussing with Rich "But it doesn't really taste like corn, and I would not have recognized the leeks, and it doesn't seem at all like a bean soup…" Corn and leek soup? Maybe…
It's just good. Make it, eat it, enjoy it!
Creamy Corn and Leek Soup
Creamy corn and leek soup - gluten free and vegan, and perfect for the first cool nights at the end of summer!
Ingredients
I c sliced and cleaned leeks

1

jalapeno

minced

3

T

minced fresh sage

olive oil for pan

corn kernels cut from 2 ears fresh corn

or 2 c

4

c

cooked white beans

1

qt

vegetable broth

can include bean cooking liquid

pinch

salt if needed

depending on broth
Instructions
Saute leeks and jalapeno in olive oil in pan, adding sage at the end.

Put sauteed leek mixture, corn, cooked beans, and broth in soup pot. Use immersion blender to blend until nearly smooth.

Bring to a simmer, and cook for 10 minutes.
Save
---
---