Hearty Autumn Vegetable Soup
The weather report last night told me that this was going to be the coolest weather we'd had since April! Well, yes – it's October. That's what happens in October in New York… And it means we have moved firmly into soup season.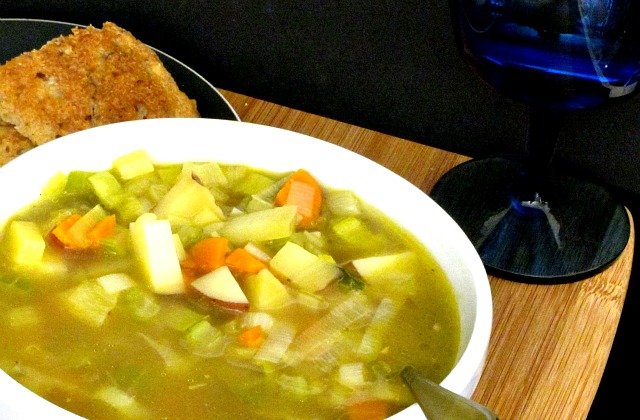 I love soup (as you may have noticed.) It is so versatile. Soup can be icy cold, though the default is hot. It can be light and smooth, or hearty and chunky, or anything in between. Soup can be the anchor of a meal, with just some crackers or perhaps a salad to round it out, or it can be an introduction to whet appetite. Often, it can balance the rest of the meal… adding that little bit more vegetable or protein, or something a bit more filling to round out another dish.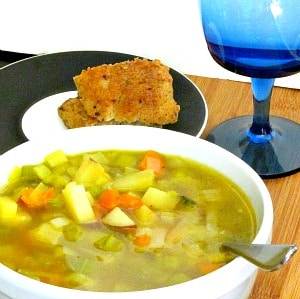 And it is a wonderful way to Empty the Fridge – use that one stalk of celery, those broccoli stems or the chicken carcass, or the leftovers…
I started with a leek. I had some potatoes, as well, and originally thought of some version of the classic French soup Potage Bonne Femme. But then I did have a stalk of celery left, and lots of carrots. I thought first of making just a little mirepoix to flavor the broth, but then they became more dominant… and the next thing I knew, I had a wonderful hearty vegetable soup made with the freshest October produce.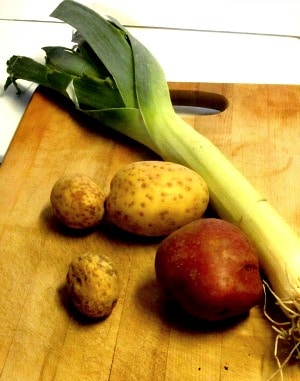 I trimmed, sliced, and washed the leek, and sauteed it in olive oil. Proportions in the recipe do not need to be at all precise – but for the record, I had about 3 cups of sliced leeks which cooked down to one heaping cup, cooked. Then I diced a large carrot finely, and an outside, flavorful stalk of celery, and added them. I'd pulled out potatoes – normally I would have just used white potatoes, but wanted a little more and had a red one, so used it. I diced them – and had 2 cups of small pieces of potato. Added that to the pan, and stirred it around a little.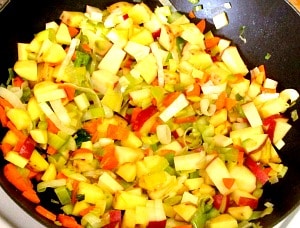 Then I added 6 cups of broth. (Actually – I added a quart of homemade chicken broth and 2 cups of water… because I make pretty concentrated broth to freeze.) You can use whatever combination you like of any stock and water – I used chicken because I had it, but vegetable or mushroom broth would be lovely. Add salt if you need it – that will depend on how salty your broth is. I brought it to boil and simmered for just 20 minutes, until the potatoes and carrots were just tender but still distinct. You can easily add ten minutes until they are softer – or even more time so they fall apart.
Now, all the vegetables other than the potato are ones I prepare in advance, in large batches, for the freezer. Which means that I could easily dice a potato, and then throw that, some frozen cooked leek, and some frozen mirepoix into a pot with broth, and have soup ready almost as soon as I could make a frittata and set the table… I could also add more broth, and some leftover chicken, and right there is homemade chicken soup. Or… think of this as a base soup – wonderful as it is, with, say, a sandwich or scrambled eggs, but also something you can vary to fit your needs (and the contents of your refrigerator!)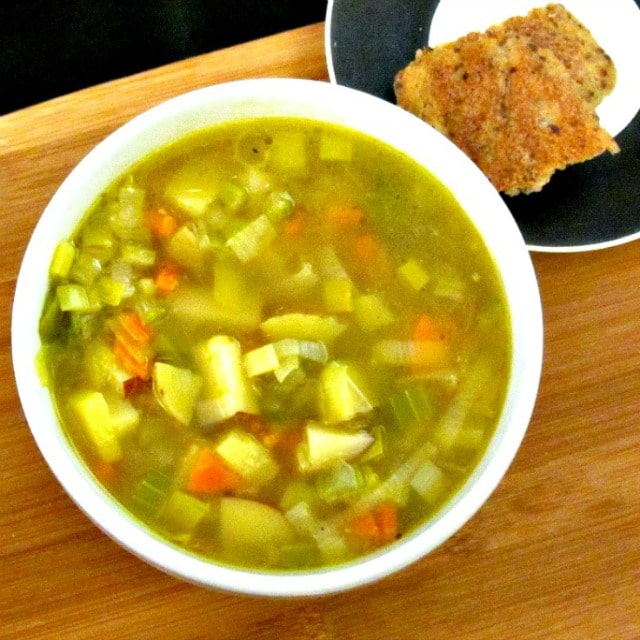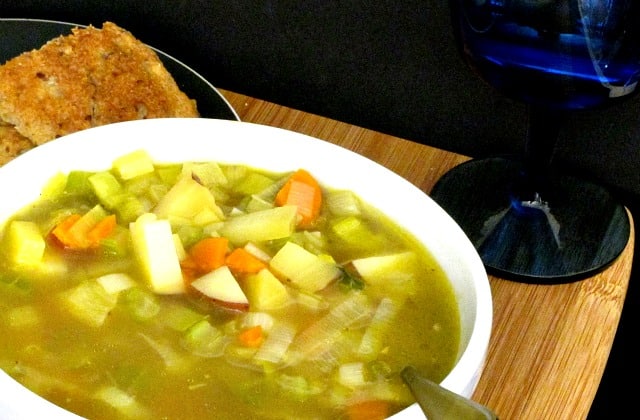 Hearty Autumn Vegetable Soup
Take an assortment of aromatic vegetables, add potatoes and broth, and make a hearty vegetable soup!
Ingredients
1

leek

about 3 c sliced

olive oil for pan

1

large carrot

1

outer stalk of celery

2-3

potatoes

6

c

broth

chicken, vegetable, as you like

pinch

salt or to taste

depending on saltiness of broth
Instructions
Trim, clean, and slice the leek.

Heat oil in the pan, add the sliced leek. Stir to coat with oil, and start to cook over low heat.

Scrub and dice carrot and celery, add to pan and stir.

Scrub and dice potato and add to pan.

Add broth to pan (and salt if the broth isn't salty.) Bring to a boil, then simmer 20-30 minutes, until vegetables are as tender as you like.
Save
---
---