Foundation: Vegetable Soup
Make a meal with a basic foundation – say, vegetable soup – then add components such as meat or grain, so a variety of meals can be made from one pot.
Cooking for just one or two people can be a nuisance.
This is particularly true if you (like me) want to cook fresh food from scratch. Sure some things are easy – some, like an omelet, are even easier to cook in small quantities. But how many omelets do you really want to eat in any one week? And while it may make sense to go ahead and make 6 servings worth of pot roast, you don't always want to keep eating the same thing… But making single servings of some foods is insane. I've seen a cookbook designed for that – and while a few recipes had useful information about compensating for the use of a whole egg, too many of them expected you to fool around with 4 ounces of chuck roast (I've never seen it sold in that quantity) or half a turnip.
It's even worse, of course, if you are cooking in small amounts for several people, because of food allergies, intolerance, or preference. I've spoken of that in passing, but I've learned it's a serious issue for many people, and I'll try to make more recipes that can be adapted for that use.
One answer I've found is to make, shall we say, a foundation version of a recipe to which I then add other components, either to just make a different meal on different days, or to permit several people to adjust ingredients for their own needs. I wrote last winter about doing that with lentil soup (which is really how I came up with the idea) and I have started varying it. This is the same approach I use all summer for salad – a foundation of mixed greens with a variety of vegetables and other foods added – carried over to soup or stew or bean dishes.
Basically, I made a vegetable soup, with no meat (I did use chicken broth, but don't have to,) no beans, no noodles or other grain, and very little seasoning. I can now just thin it with more broth for a light first course, add other ingredients to make, say, chicken rice soup (as I demonstrate here) or even combine this with the cooked lentils I previously wrote about (or a can of beans.) I can even add a cup of this to a can of, say, bean soup, and have a fast but better balanced meal.
So, in the last post you saw my freezer, and you saw my crisper drawer. (I can't believe I shared my crisper drawer…) Not much room in either, right? I had root vegetables I wanted to use, and that big savoy cabbage, and celery. I also had cooked chicken, and bone broth (I'd just done a package of legs in the slow cooker) and cooked rice. Ingredients for a good soup, right? But I didn't have room for gallons of soup, and I think rice gets soggy in soup, and…
So I took my regular soup pot, which holds about four quarts.  I sauteed chopped onion, celery, carrots (I had a couple of huge carrots!) parsnips, and a turnip. When they had started browning, I also added minced garlic (I didn't want it to overcook and get bitter.)
Now, in this case, I also had a whole stalk of celery, leaves and all. I'd already added two ribs, but I also cut off all the leaves and chopped them. I also had the greens from some thick scallions. I mentioned earlier cutting the white parts, freeing them, and using them in stir frys and soups, but the greens don't freeze well. So I chopped all these flavorful greens and added them. If I had not had them, I might have added more celery, or some herbs (though I wanted to keep flexibility in the flavor.) Then I added a quart of concentrated homemade bone broth, and six cups of water, (and salt, as the broth had not been salted) and let the whole thing simmer until the carrots and turnips were tender.
There was also that beautiful savoy cabbage, with the comparatively tough outer leaves. So often they are discarded, but they have great flavor, and that deep green means lots of vitamins! I trimmed off the outer leaves (and now the head takes much less space in the fridge!) and chopped them small. (The easiest way is to roll them, cut down the middle, then slice across.) When the root vegetables were tender, the cabbage went into the pot, and simmered about another ten minutes.
Now, to eat that meal… I'd needed the liquid to simmer it properly, but I didn't want broth taking up space in the fridge, so I used most of it – I can add more later. I had cooked chicken and rice. I put some chicken, and some rice, in the bottom of soup bowls, then added a ladle or two full of vegetables from the soup pot. Then I poured boiling broth over the whole thing, and served. My, it was good…
There is a quart (with almost no broth) in the freezer, and a quart in the fridge, and we'll get at least four more meals for the two of us out of it. We'll have the chicken and rice again, since we almost always have chicken and rice… I might add some herbs or other seasoning.  I'll mix some soup with cooked lentils or black beans. I'll probably mix some with mushroom broth and the leftover London Broil. When I figure out some kind of gluten free dumpling or spaetzle or  tortellini or something, I'll make a version, with plenty of broth, and add them. I could even add rice noodles if I wanted to!
And I can fix lunch in ten minutes…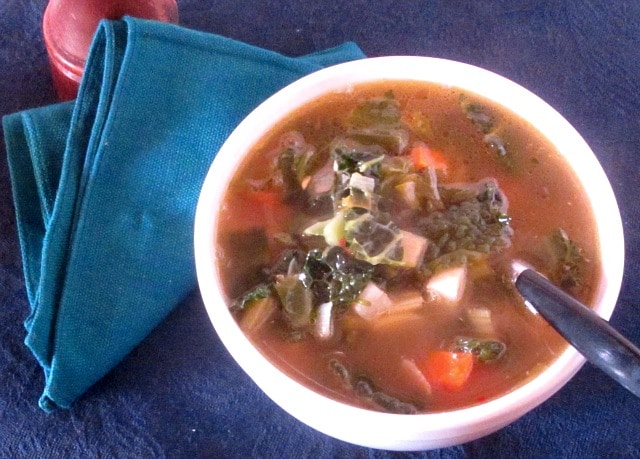 Foundation: Vegetable Soup
Make a meal with a basic foundation - say, vegetable soup - then add components such as meat or grain, so a variety of meals can be made from one pot.
Ingredients
olive oil for the pan

1

onion

2

ribs celery

2

cloves

garlic

1 - 2

pounds

root vegetables

carrots, parsnips, turnips, etc. diced

1

quart

broth

1

t

salt

if needed, depending on broth

2 - 3

c

chopped leafy greens

cabbage, escarole, spinach etc.
Instructions
Heat oil in soup pot. Saute onion and celery. Saute diced root vegetables, until starting to brown. Add garlic, stir, saute another minute or two.

Add broth and 1 1/2 quarts of water (and salt.) Simmer until root vegetables are tender.

Add chopped greens, stir in. Simmer until greens are cooked, which will vary considerable - spinach in a minute or two, cabbage in 10 or more.

Serve alone or with optional add-ins.
Notes
Use this soup as a base for several meals.
Add in cooked chicken or other meat, diced hard cooked egg, beans or lentils. Add in rice, dumplings, noodles, or tortellini. Thin with broth, add herbs or other seasoning.
Make it different every time you serve it, or set up a Soup Bar and let everyone in the family assemble their own, for their own preferences or dietary needs.
---
---