Red Lentil Coconut Soup
Red Lentil Coconut Soup – a very fast and easy meal (or first course) that is perfect for a busy season, with layers of warm flavor.
It's that time of year.
Everyone is running around like mad. People are shopping, and going to parties, and decorating, and planning, and running themselves ragged…  (This is the first December in some twenty years that I have not had a gig in a store – feels quite odd!) And every day another three people seem to be sniffling… or downright coming down with something. It's that time of year, too.
It can be hard to get good food in there, especially if you're terribly busy, and not feeling great. It needs to be fast and easy to make, it needs to taste good, and, well, it won't hurt if it goes down a scratchy throat easily… So, soup. I thought I'd share the delicious soup I made the other day, in the middle of a busy day.
You know by now that I like all kinds of bean soup, but beans take a long time to cook. Or do they? Red lentils to the rescue! Any lentils cook more quickly and easily than other beans, which is one reason lentil soup is so popular, but red lentils are also split, and really cook in 15 minutes or less! I've cooked with them for years, but used to only be able to get them in ethnic specialty stores, so hesitated to write about them, for fear people might not be able to find them. They seem to be popping up all over the blogging world this year, though, so I will take it that most of you can find them, even if you don't walk down the street to an Indian or Middle Eastern grocer. (And even if you need to hunt a bit, they are well worth looking for.) They taste wonderful, they're a staple dal in Indian cooking, they're great in all kinds of sauces – and hey, a bean that cooks in 15 minutes? What's not to like?
So what I did – I chopped a small onion, a carrot, and a small cooking pepper. This one had a little warmth, shall I say, more than heat… I ended up adding some peppers from the freezer to get a bit more zing. You can adjust that to your own taste. I also minced two cloves of garlic. I sauteed all that in a touch of oil, with a teaspoon of ground cumin, and added some chopped sauteed celery from the freezer – about 1 rib worth. I cooked all that about five minutes, until softened.
And I point out that you can go to your Well Stocked Freezer, and pull out sauteed onion, celery, carrot, and pepper (or any assortment thereof) and save the effort and time of chopping and sauteing them now. I didn't this time, because I don't have frozen onion at the moment, and I wanted to finish that pepper… but it's an option, if you have them. Dribble a bare touch of oil in a heated pan, add the cumin and garlic (and you can even use chopped garlic in a jar, which I consider a wonderful invention) toss in the frozen vegetables, and you've completed the first step. Wasn't that easy?
So your aromatics are cooking. Wash and pick over a cup and a half of red lentils. (Yes, they're usually clean and clear. I occasionally get a bit of husk. It's always worth rinsing and checking beans…) Now toss them in the pot with your aromatics, and stir. Then add four cups of water, bring to a rolling boil, and simmer for ten minutes.
It's a pity the lentils lose that bright pretty color… but they cook down to a delicate yellow/orange… You can see that at ten minutes, they are soft, and we could eat them now if we wanted to (and for dal or another sauce we well might.) But for this soup, I wanted another layer of flavor, so I added a can of coconut milk, and then two more cups of water. (Yes, you can add all six cups at the beginning – if you use a larger pan than I did. Red lentils are a bit prone to boiling over, though, like split peas, so I like to give them plenty of room. I also use the water to rinse out the can and get all the coconut milk.) At that point, if you're in a tearing hurry you can just heat and eat, but I let it all simmer another 10 minutes to meld flavor and let the beans fall apart completely, so I had, essentially, a smooth puree of lentils (without having to, you know, puree them) with the vegetables for texture.
I thought it was delicious, with layers of warm flavor. Rich would have liked a bit more zip, so you can use a hotter pepper, or add pepper flakes or chili paste, if you want the same – but I thought the milder version would be particularly nice for someone with a sore throat or a touchy stomach (as too many of my friends seem to have right now.) This one isn't really the sinus clearing kind of soup (which can also be popular in December! Maybe that will be the next soup recipe…)
Also, this is vegan. You can eat it as is – we did… But it also will accept a little cooked chicken or pork added to it, if you want, in the Foundation Recipe concept, to make one dish that works for several people with different needs or preferences. And the recipe will double easily – this made a hearty lunch for two, and would be plenty for a soup and sandwich meal for four (another way you can vary – everyone eats this, but had different sandwiches.) We ate it with gluten free seeded crackers (and some cheese crackers that Need  More Work before you see them…) And it was a perfect way to brighten a miserable rainy December day.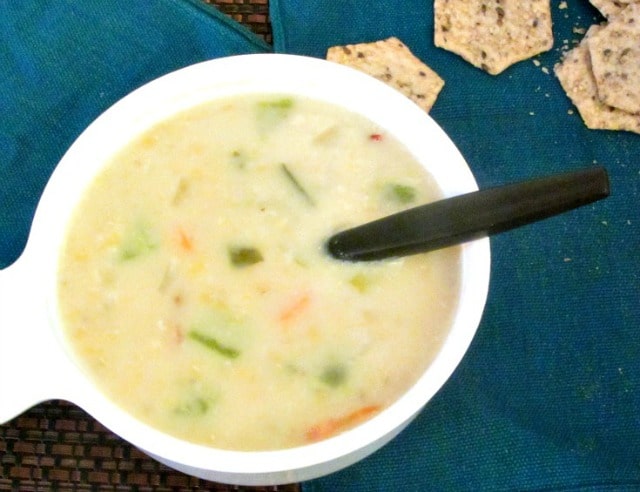 Red Lentil Coconut Soup
Red Lentil Coconut Soup - a very fast and easy meal that is perfect for a busy season, with layers of warm flavor
Ingredients
oil for pan

1

small onion

chopped

1

carrot

1

rib celery

1

cooking pepper

mild or hot, to taste

2

cloves

garlic

1

t

ground cumin

1 1/2

c

red lentils

1

can coconut milk
Instructions
Heat oil in a soup pot or large saute pan.

Chop and add to the pan the onion, carrot,, and celery. Chop a mild pepper, mince a hot one, and mince garlic, and add them. Stir after each addition. Add cumin, and stir again, and allow to cook until starting to soften.

Rinse and pick over lentils, and add them to the pan. Stir to mix well with the vegetables. Add 4 cups of water, bring to a boil, then simmer for 10 minutes.

Add coconut milk, and another 2 cups of water. Let simmer another 10 minutes to meld flavor.
Save
---
---