Lentil Soup with Pulled Pork
I've noticed that I have a bad tendency to give a basic recipe – such as Lentil Soup or Pulled Pork – and then airily wave a hand and say "And you can of course vary this in many ways!" Which is remarkably Not Helpful for someone who has not cooked much, or has not cooked without Tried and True Recipes, or is, for one reason or another, changing the way they cook, or is just not familiar with that particular food or its variations. I need to firmly remind myself of my own cooking failures when I was 20 (no, you can't just make single serving variations of stew by boiling it for 10 minutes instead of simmering for an hour…) and my own search for a Meatloaf Recipe much more recently. (I'd never made it. I wanted to try. But the recipes were so different I didn't know where to begin!)
Where to begin. That's the key.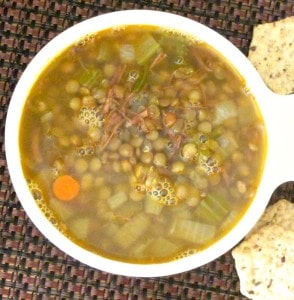 A staple in my kitchen is a slow cooked pork shoulder. You can cook this in a slow oven, but for us, simmering in a slow cooker has made more sense. I often cook it plain and unseasoned, to put it in a variety of recipes, but other times I season it, and then feature that flavor. Unseasoned I usually refer to it just as shredded pork, since, from what I see, the phrase Pulled Pork often refers to shredded pork further simmered in a sauce, with that flavoring.
I recently made a wonderful Chipotle Pulled Pork, which I did simmer in sauce, and I have some still in my freezer. Now, the great thing about flavoring it up front is that I don't have to do anything else to it – it's completely ready to heat and eat, and we all need meals like that. But sometimes…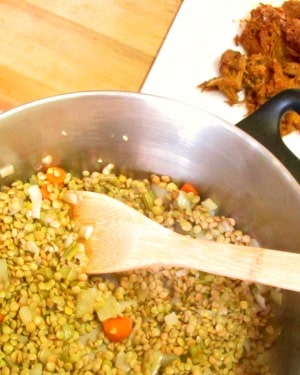 Another staple is lentil soup. I make that all the time, it's a wonderful easy lunch, and I try to regularly vary it to keep it interesting. And obviously one way to do that is to use the seasoned meat from the freezer!
So… I cooked lentil soup with Chipotle Pulled Pork, but you could use the more simply seasoned Slow Cooked Pork, or your own favorite recipe for pulled pork. You can also use unseasoned pork, and it will still be good but a little bland – in that case you might want to add some seasoning to the soup. (You can also totally do this with cooked and seasoned chicken, or leftover beef pot roast or Swiss Steak, if that's what you have – especially if you don't eat pork!)
I started with my usual base, the classic mirepoix – chopped an onion, a carrot, and a rib of celery – but you can use sofrito, the Cajun Holy Trinity, or whatever aromatic base suits your taste and your pork. Saute them in oil in the soup pot. Rinse and pick over two cups of lentils, and stir them in. To this add four ounces of seasoned Pulled Pork (I used the Chipotle Pulled Pork) carefully chopped into spoon sized pieces. The long shreds that simmered pork naturally falls into – typical of pulled pork – are a nuisance in a soup bowl. (Unless, of course, you eat your soup with chopsticks, which would traditionally be another recipe entirely…)
Stir all the ingredients together, to mix them, then add two quarts of water. Bring to a boil, and then simmer for forty five minutes, until the lentils are cooked. Then add a quart of liquid – broth, perhaps, or more water. (I added water with Better than Bouillon Ham base. Sometimes I have pork bone broth, I'd use it if I did. Or chicken broth, whatever…) Taste for seasoning – you are likely to need a little salt, and, depending on the seasoning of your pork and what liquid you just added, you may or may not want a little something else… herbs, hot peppers, a little tomato paste, more chipotle or sofrito or a bit of barbecue sauce…
Simmer another ten to fifteen minutes to blend the flavors, and let the lentils soften further, then serve.
Confession – I had planned to add some chopped cooked greens for that last stage. I made the soup, took all the pictures, sat down to eat it, noticed halfway through that I'd forgotten the spinach…  Well, it was good without it. It would be good with it, too. This is a great place to add frozen chopped spinach, or chopped green muffins, or chopped fresh escarole or chard or… even cabbage. Whatever soup greens you have on hand. Go for it!
And there you have it. A nice big pot of soup that took only a few minutes of your time, though it simmered away while you read the Sunday paper (Does anyone still read all the extra stories, sections, and analysis on Sunday morning, or even Saturday, or am I showing my age, here?) Lunch for the week. Very little work, attention, or thought, really, since you already seasoned the pork the way you like it…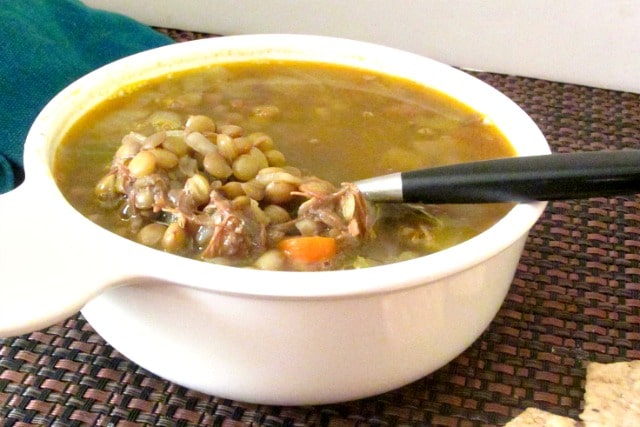 Lentil Soup with Pulled Pork
Lentil Soup with Pulled Pork - use already seasoned cooked pork to add flavor to a simple lentil soup. Great way to make a week of lunches from leftovers!
Ingredients
oil for pan

1

onion

1

carrot

1

rib celery

2

c

lentils

4

oz

cooked

seasoned pulled pork

2

qt

water

1

qt

broth

salt

seasoning to taste
Instructions
Heat oil in a soup pot. Chop onion, carrot, and celery, and add to pot, saute until softened.

Add lentils to pot and stir. Chop pork into bite sized shreds, add to pot and stir.

Add water, and cook 45 minutes, until lentils soften.

Add broth (or more water) and adjust seasoning to taste. Simmer another 10 to 15 minutes to blend flavors and further soften the lentils.
Save
Save
---
---