Chipotle Pulled Pork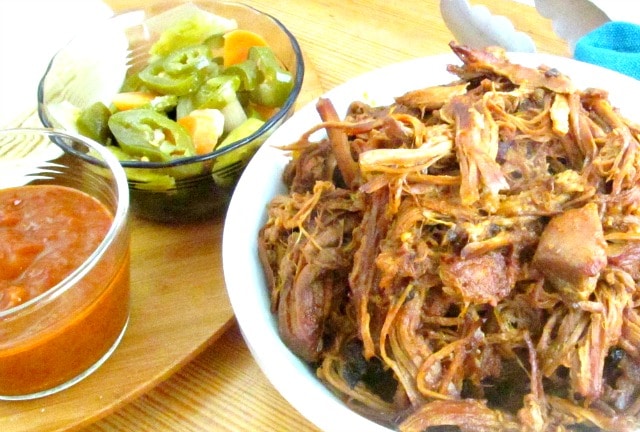 In our neighborhood I can frequently get a pork shoulder on sale for a good price. One reason I have a large slow cooker, even though there are only two of us, is that the whole bone-in shoulder fits in it (I've had a few Awkward Experiences with a smaller pot, or a round one.) Absolutely the easiest way to cook this cut is to throw it in the slow cooker with about half a cup of water to start and let it simmer away on Low for 8-10 hours. I do that, pull the meat off the bone, and have chunks or shreds of plain, unflavored but delicious pork that I can then use in dozens of other recipes – bean dishes, tacos, soup, heated in sauce, chilled on a salad, you name it. I almost always have a zip bag or two of this meat in the freezer. (See the post on Slow Cooked Pork from last year for a discussion of the cut of meat, and basic cooking method.)
But sometimes I do want to season it. Traditional Pulled Pork (I am told) can be either slow barbecued with a rub or cooked, shredded, and simmered later in barbecue sauce – depending strongly on the location! Well, I don't like typical bottled barbecue sauce, which is very sweet. Originally, the sugar in a sauce or rub was there to caramelize and help brown the meat, then people got used to the taste, and it got sweeter and sweeter… These days I don't eat sugar, for many reasons, but when I did I still didn't like my meat sweetened! But there is still a place for that tomatoey, spicy flavor…
I decided to essentially make my own sauce. I had recently opened a can of chipotle peppers in adobo, which I had then pureed. Most recipes tell you to take one or two of the peppers and mince that, and add a spoonful of the sauce but I find that taking a moment to puree it all and keep that in the fridge makes it much easier for me to use, cooking for only two people. (And I'm not trying to mince a slippery pepper drenched in red sauce…) I've written about that method cooking collards and a cheese sauce – it is very convenient.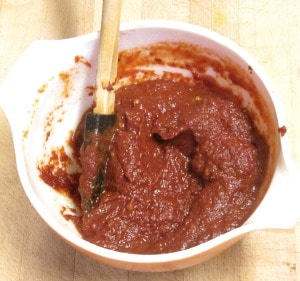 If you're not familiar with them, chipotle are jalapeno peppers that have been smoked and dried – the dried peppers are available, especially where Mexican foods are sold, and a powder made from them is turning up in seasoning departments. The adobo sauce is mostly tomato and vinegar. So right there, you have a mild heat, a smoky flavor, and a touch of vinegar… classic barbecue sauce flavors. So using it to make a chipotle pulled pork seemed a logical choice.
I mixed a sauce – a small can of tomato paste, a quarter cup of chipotle puree, and a quarter cup of water to thin it slightly. The pork itself will give off a lot of liquid, but I find it helps to be able to start it off with just a little steam. The quarter cup of chipotle is  a place to begin – I usually try to write the recipes a bit milder than we generally eat, following the great rule of seasoning – you can always add, you can never subtract. I may double the chipotle the next time – or not, since the meat is more versatile with a relatively mild flavor. We could (and did)  dribble a bit more sauce in when we wanted it. (And if you would rather use a bottled barbecue sauce that you already have and like, just use a cup of that. Try the chipotle sometime, though – it really is good!)
Then I diced two onions finely, and spread them out in the bottom of the slow cooker. I poured about half the sauce over them and spread it out. Then I took out the pork. I normally slash the rind, but just though the fat layer – this time I deliberately cut deep down into the meat, in a diamond pattern. I put that in the slow cooker, and added the rest of the sauce, working it down into the slashes so it would season the meat.
So, now, timing and how you handle the next couple of steps will vary a bit by your schedule. I'll tell you what I did, then I'll make other suggestions… I set it all up in late morning, and cooked it on low for 8 hours. At that point, the meat is soft and pulls readily off the bone, but is not yet absolutely falling apart in shreds. It was time for dinner though… So I took the meat out, carefully lifted off the layer of rind and fat on top, and discarded that. Then I put aside enough (already seasoned) meat for our dinner that night (and it was good…) and pulled the rest into smaller pieces and returned it to the pot. I then cooked it two more hours on high, removed the lid, and gave it one hour so the liquid would cook down a little. At that point, the meat completely shredded when I pulled at it with tongs and a cooking fork, and I let it soak in the sauce a while to cool before removing and packaging.
Now – you can cook the meat by itself and add the sauce for the last step. It's a bit less messy… and has the advantage that you can pull out some unseasoned meat if you wish. And the disadvantage that the meat is unseasoned if you want to eat it right away for dinner, as we did. You can add time to either step. You can start it early in the morning on a day you are at home, and have the whole thing done before it is dinner time. You can cook it overnight, pull it off the bone and let it cook on Low 4-6 hours in the sauce and then go to Keep Warm. You can skip the second stage all together, if you need to, though it does make the meat more tender and flavorful. (If you have to, cook it for 10 hours in the first stage, if you can.)  Make it work for your own schedule.
We ate it the first night just with rice and vegetables. We ate it the next morning with beans in tacos. Chipotle pulled pork would be wonderful in a taco bar, a nachos bar, a chili bar, any sort of Assemble Your Own setup. It will turn up in a dozen ways over the next month, in our house – and we'll love each one!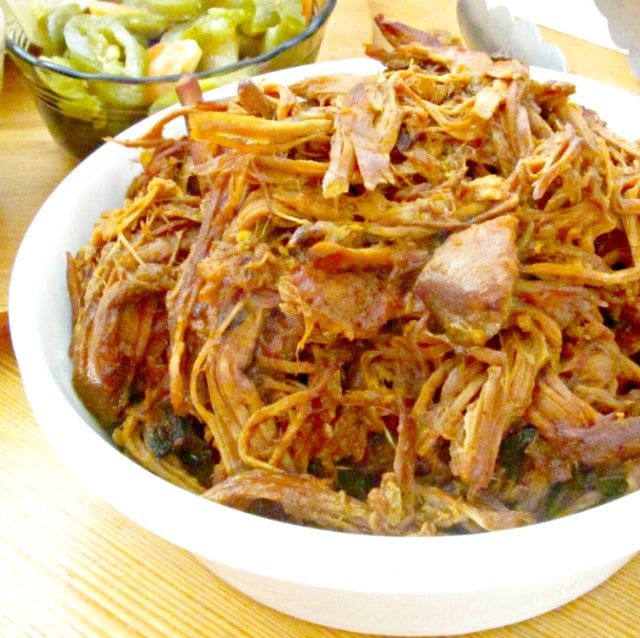 Chipotle Pulled Pork
Ingredients
1 6

oz

can tomato paste

1/4

c

pureed chipotle peppers in adobo sauce

or to taste

1/4

c

water

2

onions

1 7-9

pound

bone in pork shoulder
Instructions
Blend tomato paste, chipotle in adobo, and water, and set aside.

Dice onions and spread over bottom of slow cooker. Add about half the sauce mixture.

Take the pork shoulder. Using a sharp knife, slash through the rind and layer of fat and well down into the meat in roughly a diamond pattern.

Place the meat in the slow cooker. Take the rest of the sauce mixture and work as much of it as possible down into the slashes to that it reaches and seasons the meat. Spread the rest around the outside of the meat.

Cover and cook on Low heat for 8-10 hours.

Remove the meat from the pot. Remove and discard rind and fat layer, and bone. Pull meat apart and return to the sauce in the pot.

Cook another 2-6 hours on low. (You can skip this step if pressed for time - but it does improve the final result.)
---
---