Italian Sausage and Ceci
Mix Italian sausage and ceci – chickpeas – for a flavorful stew.
Ceci. Garbanzos. Gram. Chana. Besan. All words that have come into English for the humble – and amazing – chick pea.
Chick peas are one of the handful of Old World beans whose use spread across Asia, Europe and Africa centuries before Columbian Contact. They are a major staple in India, where not only are they cooked either whole or split as dals (bean dishes) but the gram flour is used in bread. As it is to make socca in Italy… where the beans are called ceci. They came to the New World with the Spanish, and joined the beans in Mexico and Central America as a staple.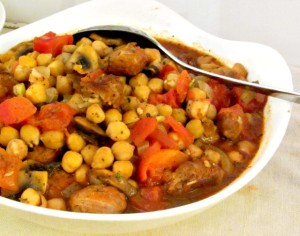 Because they are that good. They have great flavor themselves, and they also absorb the flavor of foods cooked with them. They don't tend to fall apart in cooking – you don't see a lot of pureed chick pea soup recipes – which gives them the so called "meaty" texture in many dishes – I'm seeing them being used in vegan versions of many classic chicken dishes, now, and of course they have always been featured in their own right in curries and stews. When you do puree them, though, they are smooth and thick. I see a tendency to call any bean spread hummus – but the word hummus is yet another name for chick pea, and the original spread is hummus bi tahini – literally, chick peas with sesame paste. Anything else is – something else.
I bought a pack of Italian sausage. I got hot sausage – partly I do like the peppers, partly I don't like the fennel seed that is featured more strongly in the sweet sausage – but sweet would work here, too, if you prefer it. And sure I'll cook the sausage with the last of the sauteed peppers in the freezer – and sure I'll simmer some in pasta sauce – but I decided to cook some in a stew with chick peas – or ceci, to use the name that has come to English from Italian.
I often pull Italian sausage out of its casing all together – and wish I could buy it that way, the way I do breakfast sausage…  and that is an option, here. This time, though, I took a very sharp knife and sliced two links – which were about 7 ounces together – into pieces. Then I put that in a pan over very low heat, to brown and render out the fat in them. See – most recipes will tell you to saute the aromatics in oil, then brown the sausage over high heat, then drain it… which people often skip but then the sauce is a bit greasy because you added the extra oil… I'd rather use the flavorful fat for all the cooking. So I let it cook out gently over low heat for 10 minutes – and then the sausage had started to brown, and there was enough fat to saute the onion.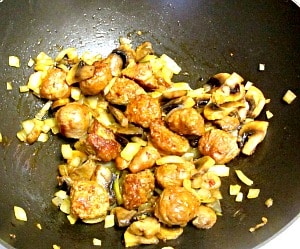 So I added a diced onion, and sliced and added four mushrooms – a little less than half an eight ounce container, as it happened. Nothing special about these proportions – I had four mushrooms left after cooking another dish, by all means add more if you like (or leave them out if you don't like mushrooms!) I stirred the onion and mushroom around to coat them with fat, and to turn over the sausage to brown the other sides of the pieces, and left it all over the same very low heat for another ten minutes. (That step could go faster over higher heat, if you want – but then you'll have to pay attention to it! I needed to work on something else.)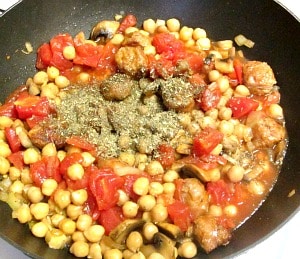 Then I added three cups of cooked, rinsed chickpeas (you can use two cans, if you like) and a 14 ounce can of diced tomatoes. I've started (to my own amusement) buying diced tomatoes in two different sized cans, because 28 ounces, while fine for some uses, is just too much for others.I also took a teaspoon of dried basil in my hand, rubbed it to release oil and flavor, and added that. Then it all simmered for about half an hour.
You can taste after 15 minutes for seasoning. The meat will be fully cooked by then, the longer simmering melds flavors. Depending on the seasoning of your sausage and your own taste, you may want more pepper, or other herbs – there is still time to add them and let the flavor develop. This was a little mild for our taste – that was the end of the jar of basil, which didn't help… it had lost a lot of its flavor. I do try to develop recipes with a slightly milder taste than we usually eat, so that you never find yourselves with a meal someone at the table can't (or won't) eat!
Now, usually my recipes have made enough for two servings – well, there are two of us, after all – but this time I specifically cooked enough for another meal. And I may start doing that more often… it does simplify lunch! I have hesitated to specify servings, because that varies so much. Serves four… adults with desk jobs? Adults with more physical work? Two sedentary adults and two small children, or one adult who works in retail, or nursing, or something else active, and three teenagers? But there we are – the concept of an arbitrary serving size. And we – two currently relatively sedentary, somewhat older adults – do seem to eat about what is viewed as Typical. (Meaning much less than some should eat, and more than some others need.)
Long way to say – this is twice as much as I usually cook, and I may start labeling that, on some (but not all) recipes.
Anyhow – I served it over polenta, with broccoli on the side. You could toss it with pasta, serve it with rice, or just eat it with bread on the side for the sauce… You could omit the sausage (and add more seasoning or it will be very bland.) You can make it to your own taste – but do try some variation – it's all delicious!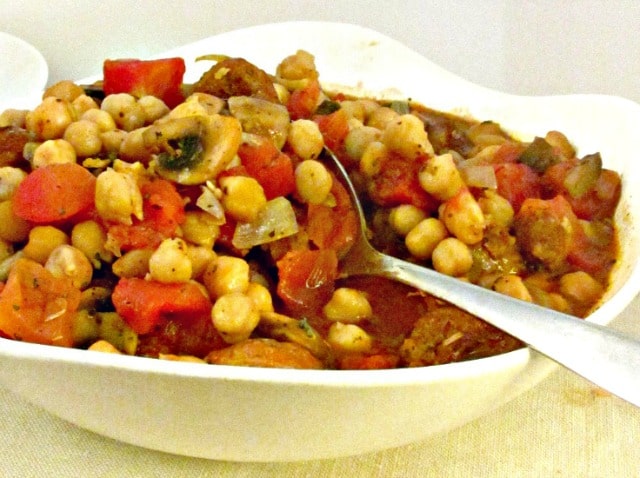 Italian Sausage and Ceci
Mix Italian sausage and ceci - chickpeas - for a flavorful stew.
Ingredients
2

links

7 oz Hot Italian sausage

1

onion

diced

3

oz

mushrooms

sliced

3

c

cooked chickpeas

or 2 cans

1 14

oz

can diced tomatoes

1

t

dried basil
Instructions
Slice the sausage in disks (or remove it from its casing, if desired.) Place in pan over low heat to brown and gradually render out the fat, for about 10 minutes.

Stir the sausage, and add the onion and mushrooms. Stir them around to coat with fat, then continue to cook over low heat until onion is softened and the sausage is well browned.

Rinse and drain chick peas, and add to pan, along with tomatoes and basil. Bring to a low boil, then simmer 20 - 30 minutes. Taste for seasoning and adjust if needed at about the 20 minute mark.
---
---