Cream of Asparagus Soup
You know how, in my last post, I talked about obtaining good quality food and getting out of the way? Finding simple ways to cook it, and not fussing over it?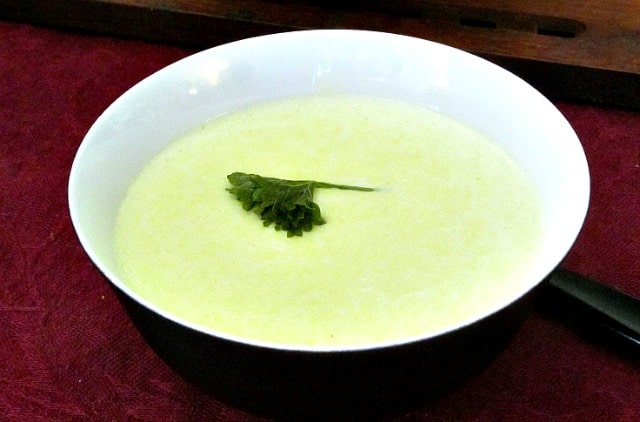 This is not one of those recipes…
Well, all right, it actually is fairly simple – using only a few ingredients, bringing out their best flavor. But it does require some fussing. But with that fussing, you have a lovely cream of asparagus soup I'd happily serve as a first course at any dinner party – from food that might otherwise be thrown out!
All right, so – as I told you, I bought asparagus at the supermarket, and the ends of the stems were woody. I snapped them off (as I describe in my first asparagus post) as that is the most effective way to find the point where they become tender – and these snapped fairly high (and still left some fibrous bits – when I ate, I ended up spitting out some woody pulp!) But you hate to waste the ends… because there is still flavor in there.
So the trick is to extract the flavor, and the soft part, from the fiber. Now, one classic way to do that is to simmer the food for hours and then strain it – but I don't think the flavor of asparagus stands up to that sort of treatment. And a briefer simmer does not transfer all the flavor to the simmering liquid.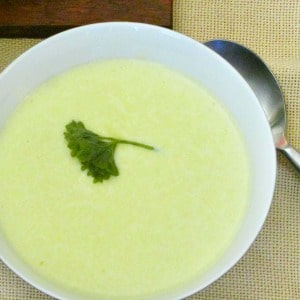 But… these stems aren't entirely fiber – they're not even mostly fiber. There is still soft – vegetable, for lack of a clearer word – nestling in all that wood. What if we can get it out?
I decided to make a cream soup. Cream soups (usually made, like cream sauce, with milk, not literally just cream, and then thickened) are a classic way to use odds and ends of vegetables or other foods. Use the scraps, the bits that aren't as pretty, the parts that are a little chewy, because they'll be pureed… Mushroom stems, broccoli stems, leftover spinach… And then the presentation is terribly elegant. Silk purses out of sow's ears, indeed…
I roll cut the ends of the stems, to expose the most center. You could also makes lots and lots of narrow slices, I didn't want to take the time… Then simmer in milk. I had four ounces of asparagus stems, here (I am so not throwing out a full quarter of a pound of asparagus!) so these measurements are based on that – it could easily be doubled. For a slightly more complex flavor, chop and add a quarter of an onion, and a dash of salt.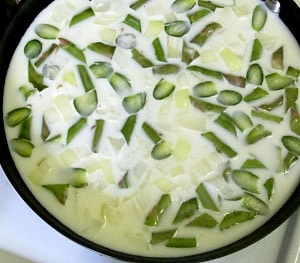 I put it in a frying pan so you could see it easily, but that did evaporate some of the milk. This also is a place to use non-stick, if you have and use it, as it helps prevent scorching. In any case, you need to stir regularly as you bring the milk to a low boil, then lower the heat and keep it low – scorched milk is not tasty… Then simmer, over very low heat, stirring frequently, about 20-30 minutes, until the stems are completely tender. I checked at 20, and ended up cooking these the full 30 minutes – they were pretty tough. Then let it cool, which will continue flavoring the milk, so leaving it as long as you practically can is good. You need to cool it enough to blend it safely in a blender jar.
Yes, this is a place for a traditional blender, not the cute immersion blender… Run it several minutes on high. Really pulverize that fiber! Blend until it looks like a smoothy! Then – well – if it tastes like an asparagus smoothy, you may be able to skip the next step (possible if you're just using fresh stems, not woody ends) – but if it's a smoothy with wood pulp added (ick) you need to strain it. Set a very fine strainer in a bowl or pitcher, and put the soup through it. Much will drain on its own, but then use a silicone spatula to force all the soft part through, leaving the fiber behind. You could also put it through a cloth and squeeze, like  using a nut milk bag. It does take a lot of stirring and pushing – this is the fussy part of this recipe – and you get a strainer full of slightly bristly green play dough… you will want to discard that.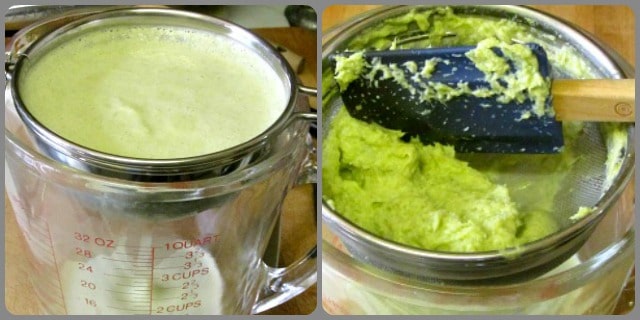 Now, everything up to here can be done in advance, so you could get this far while you're washing up, the night you eat the asparagus, refrigerate the liquid, and finish it up quickly to serve the next night.
When you are ready to serve, take the soup out and measure it – there has probably been some liquid lost to evaporation and the straining process. Add some more milk, to bring it up to two cups. Then pour it into a saucepan over medium heat, and take two roux cubes from the freezer – one per cup of liquid. Add them to the soup, and stir. Bring the soup to a gentle boil, remembering that you don't want to scorch the milk, stirring frequently (both to prevent scorching and to distribute the roux)  and simmer as the cubes melt and then the soup thickens. Once it is nice and creamy, it is ready to serve. (Use your prettiest small bowls!)
And there you are – cream of asparagus soup. If you feel fancy (and are eating this shortly after you eat the asparagus spears! You don't want them drying out) reserve a few tips as garnish – we ate all of them the first time around. The soup is a delicate green, the flavor is delicate but definite, an elegant starter rather than a hearty lunch. And – who knew cream of asparagus soup could be frugal? I love feeling decadent and virtuous at the same time!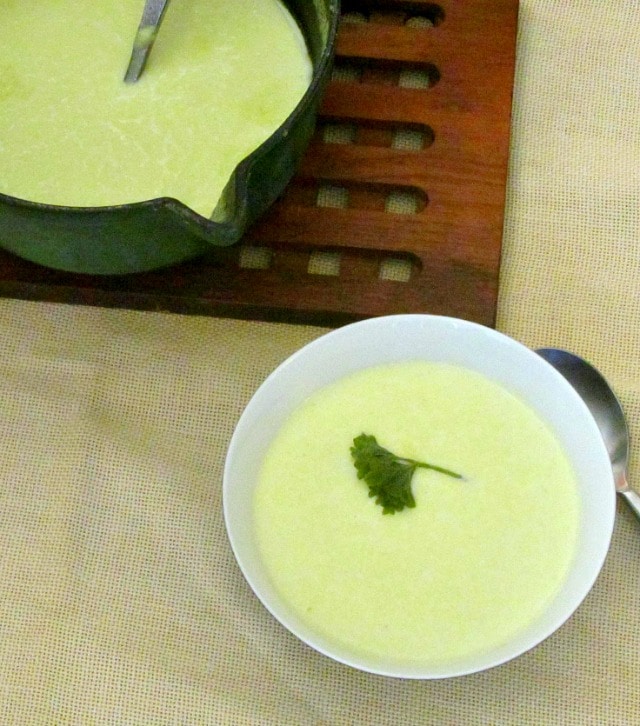 Cream of Asparagus Soup
A frugal Cream of Asparagus Soup, made with the woody ends of the spears that are usually discarded. Delicate, elegant, and thrifty!
Ingredients
4

oz

asparagus ends

the woody inedible bits you snap off

1/4

onion

2

c

milk

dash salt

2

Roux Cubes
Instructions
Roll cut the asparagus ends to expose the center, and chop the onion.

Place the vegetables in a saucepan with the milk, and bring to a simmer. Continue to simmer for 20-30 minutes, until asparagus stems are completely tender. Let cool in the milk.

Pour mixture into blender jar, and blend on High for several minutes, until completely liquefied.

Pour through a fine strainer into a bowl, using a silicone spatula to press liquid and puree through. Discard the fibrous mass left in the strainer.

Return to a pot, and bring to a low boil, stirring frequently. Add Roux Cubes, and stir until they dissolve, and then until the soup is lightly thickened.

Serve at once.
---
---