Freezer Planning
Freezer Planning – a freezer stocked with vegetables and meat (cooked or not) makes meal preparation easy.
The year winds down… Our last CSA pickup is next week, and Thanksgiving is the week after. We have armloads of dense autumn and winter storage vegetables, and I've spend some time preparing them for keeping. At the same time, I'll want room in the fridge for a turkey… I'm starting to plan the holiday meal.
Now, preserving the harvest does not work for me the way it classically does for the farm woman or gardener… I don't harvest (or even go buy) a bushel of beans and take an afternoon to can them (or even blanch and freeze them!) Instead, throughout the summer and fall each weekend I look at the food I still have from the CSA pickups, see what needs to be used, what is piling up, what I can do about it.
We often get a bunch of a single thing – more bell peppers than I can really use this week, for instance – and it varies. Last year, I wrote about pureeing and freezing cucumbers, of all things, after we got eight one day! The year before, I froze a few containers of simmered eggplant and zucchini, as a ratatouille base (added a can of tomatoes in midwinter – it was delicious!) This year I kept up with both cukes and zukes – but there is a pint of plain simmered eggplant, and a bag of sauteed bell peppers… I think of spinach as a Spring vegetable, but that's really because it thrives in cool weather, and we've had bunches recently – a while back we had a huge bag and I ended up pureeing much of it, and freezing some in cubes, and some in half pint containers… I've already stirred a couple of cubes into a cheese sauce with rice, for a delicious (and easy) green rice side dish.
I don't have a lot of any of these. I only have a relatively small apartment freezer, so I don't keep these as a serious source of our vegetables in the winter – just for the flavor… Every so often, I pull out a bag of summer flavor, and use it for a meal, as a change from the cabbage, root vegetables, and bland frozen commercial vegetables that fill our winter table. Greens, though, are another story. All summer long we cook a bunch and freeze any left over, then pull them out to add to quick meals. As the year progressed, the bunches of greens got bigger… and this last few weeks we've received big bunches of dense curly kale. I chopped them and cooked a big slow cooker full (since unlike other kinds of kale, that needs to simmer to be tender) and we have a gallon bag of just kale, as well as another full one and a partial one of random cooked greens. I'll still be able to buy greens at the farmers market for a month or so (depending on the weather) but when they finish up, we'll have these. (I'm highly unimpressed by the quality of the ones at our nearest supermarket…)
And we have two big cabbages – one red, and one green. I will similarly chop and cook the whole red one – it is assertive enough that I don't want to eat it all in a week or so, as we will the green cabbage, but it will be good all winter. We have a variety of root vegetables – so I'll roast them, partly because that tastes good, partly because it takes less storage space. (I may add a winter squash – that's good, and we have three!) This is quite a year for Brussels sprouts, which we love – they keep well (and we'll have them for Thanksgiving!) but I'll also probably blanch and freeze some.
Then there are the vegetables I keep mostly for flavor. The week we got three pounds of slicing tomatoes and 2 pints of cherry tomatoes I popped one pint in a freezer bag – they'll be a treat in March! We got celery quite often this year, so the outer stalks are ready to go into soup and stew all winter, as it already has all summer. (We ate the tender inner ones right away!) The last month we've had big intense scallions, too strong for salad, but perfect for an Asian soup or stir fry – I froze some of them, chopped and ready for use. Almost every week brought another bunch of herbs – I've been tossing them into all kinds of dishes, but also freezing tarragon, sage, and rosemary whole, and pureeing basil, oregano, thyme, mint, and parsley. This year, though, I didn't freeze onions, as I have in the past… I can no longer get ten pound bags of absolutely fresh onions at a great discount, as I had for several years, so it doesn't make as much sense. I will do some, just for the convenience, when I have more freezer space.
After all,  half my freezer space is taken by other food. There are only two of us, but it often makes the most economic sense to buy a whole pork loin, for instance, and cut it into roasts and chops. I buy a ham on sale, and use it a little at a time. So-called Family packs of meat are less expensive, and even if we just get a regular put up, or, say, a chicken,  there's usually more than we'll eat in one meal – it often makes sense to buy the larger amount and freeze it. I also, in the Plan for Meals concept, make sure I always have cooked meat – chicken, slow cooked pork – so I can just pull something out, heat it up, and make a meal. (We finished the last meatloaf muffins last week – time for a new batch… and I haven't made chili for a while.) I even have cubes of partly cooked azuki beans to drop in a pot of rice for Red Bean Rice… None of that is kept as long as some of the vegetables, of course – I make sure we rotate though meat regularly. I also often have either soup or homemade broth. (Usually at least some of that is frozen in cubes, to drop into other dishes for just a splash of flavor and moisture.) In winter, when I'll have more space, but we don't eat salad for lunch, I'll definitely have homemade soup…
Now – I don't expect anyone else to do exactly what I do. (I don't expect anyone else to be in exactly the same situation I'm in. I don't do exactly the same, one year to another.)  I am just trying to illustrate in concrete terms a few of the ideas you can use to – depending on your own needs – keep up with a busy CSA, or farmer's market or garden. Or take advantage of a sale at your supermarket (Great price on bell peppers! But they don't keep well, what would I… saute, freeze, use later. All right, then.)
Or just have food ready – as I have so often spoken about – to pull out, toss in a pan, and make a meal of. Put on a pot for your choice of pasta. Take cooked chicken, a cube of pureed oregano, some roast tomatoes, some sauteed peppers, onion if available, and a cube or two of chicken broth, toss in a pan and heat. Chop and add two greens muffins. Toss with cooked pasta, sprinkle with parmesan, you have a great meal in the time it took to cook the pasta…  I don't usually write these up as recipes (I probably should, a few times,) but many of my WIAW dinners are prepared this way. We need meals like that.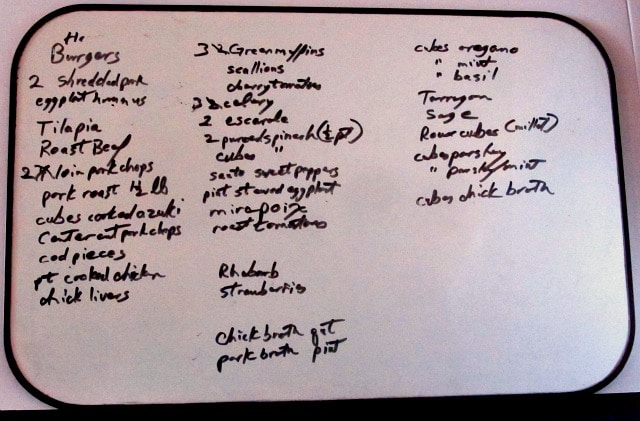 Save
---
---