Happy New Year – 2015 in Review
Happy New Year!
It's been a busy year, here at Inhabited Kitchen. I've learned about photography, and promotions, and gluten free cooking, and many more of you are here to share a cup of tea with me, and talk about cooking!
Last year, at this time, I reviewed the posts of the year before, and I found it useful – and I hope it was interesting for my readers. It's a good way for those of you who are new, here, particularly, to get a feel for the subjects I write about, and for everyone to notice, or be reminded of, an older post they might like.
I'm still tinkering behind the scenes, too – well, that's a continuing process, with a blog. I'm gradually switching from one recipe software to another – I like the old one for many reasons, but it is no longer supported, and that's just dangerous. There will be a new, visual index soon, as well. And I am sure other changes will come that I have not even thought of, yet!
This year, I deliberately decided that a Top Ten List did work well – so I selected ten posts. I've chosen them in several ways – posts that are most frequently Shared in social media or found in Searches – and recipes that people tell me they have made – and made again. And again. Because in the long run, the number of times a recipe is Pinned or Stumbled is much less important than the number of times it is cooked.
I'll start in March, with Irish Colcannon. It's a simple, classic dish, made of kale and potatoes. I did get a rather pretty picture, kale has been trendy – and people (including me) are starting to rediscover potatoes. They're natural, they're gluten free, if you eat the peel (as I do) they have plenty of good nutrition, they're easy to cook, and they taste good. I plan to write about more potato dishes this year, made with fresh potatoes, not frozen hash browns or flakes…
Quinoa Meatloaf was the second big hit. This picture was not as pretty… I may need to take a new one, next time I make it. But oh, the meatloaf is good… This one is on the list despite fewer Pins and Shares than some others, because this is the one people have told me they made – and made again, and made again at the family's request, and put into regular rotation as a Family Favorite. I was just looking for a substitute for oats – but many of the people eating it are not gluten free at all, and just like it. You can vary the vegetables (someone made it with kohlrabi) or the meat (I've made it now with turkey instead of pork.) Do make the muffins, especially if anyone carries a lunch, because they pack beautifully.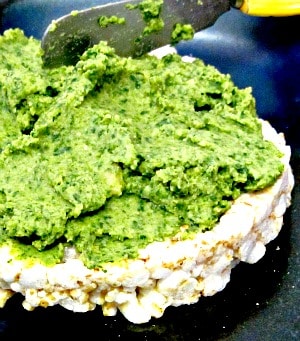 Simple Spinach Hummus keeps popping up as well. It really is easy to make, fresh and frozen spinach are both easy to get, it's delicious, that bright green is so pretty and festive… I like to have a bean spread of some sort on the side to round out the meal when I make a lunch of either soup or a salad, and this works well for that.
Slow Cooked Stuffed Pork Loin. Many of the people searching for this were really just looking for a pork recipe they could make in the slow cooker – but they seemed pleased with this one, given return visits and Shares… It's fancy enough for entertaining, simple enough for a family meal (with good leftovers!) and doesn't heat up the kitchen…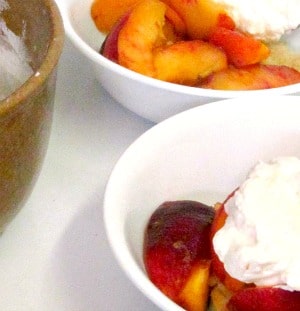 Sugar Free Peach Shortcake is intriguing me. I'd expected it to do better last August than it did… people liked it, but it wasn't the hit I'd sort of expected. But it keeps turning back up, in waves… Who'd expect that to be popular in December? But… Though I write from a strong Seasonal perspective, located firmly in the Northeastern US, I do have readers all over the world. (We all do, these days- it's fascinating!) And fresh peaches are coming in, in Australia… Even if you're around here, I guess it's not a bad way to dress up frozen peaches (when you can't look at another apple.) For whatever reason, this recipe has finished December strong. Who knew?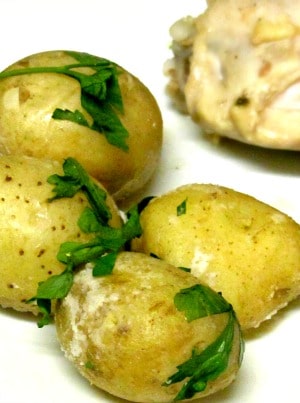 Syracuse Salt Potatoes, on the other hand, started strong and stayed that way. This recipe has had a nice steady flow since I wrote it. I'll tell you, it honestly is best with the new potatoes – but it's not bad at all with boiling potatoes now, either. And, yeah, potatoes… Coming into their own, again. (And high time, too!)
Now, the Creamy Corn and Leek Soup is far and away best with fresh corn, but since I originally made it with corn just past its prime, I suspect it would still work with good quality frozen or canned. The most interesting thing about the recipe, though, is the incredible creaminess of the white bean base, in a vegan soup. No dairy, no soy, no nut milk… This was one I thought would be pretty nice on the whole, turned out to be amazing. It felt very light, and would be a great way to up protein in a vegetarian with a hearty grain and vegetable dish that is filling but still needs a little something. I'll be making more white bean soups this winter…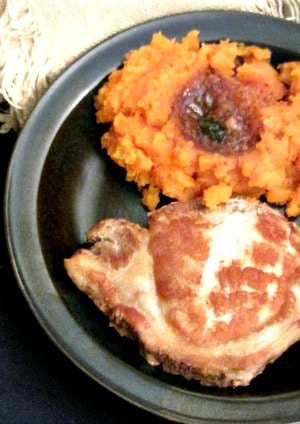 Spiced Cider Pork Chops went  in a different direction. Hearty, warming flavors, a definite Now it is Fall feeling. And it was a lot of flavor with no fuss at all – a perfect weeknight meal. (And I included suggestions to cook it even more quickly, if you need to!) Pork chops are a basic for me – so simple, so fast, so good, I have new recipes for chops all the time.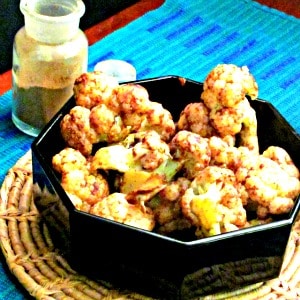 Masala Cauliflower is another very easy, very flavorful way to cook a basic. Cauliflower deserves to be featured for itself, not treated as a poor substitute for half a dozen other foods… and this treatment even brings out the best in (occasionally soggy) frozen cauliflower. It's wonderful in lovely fresh heads!
Potato Pancakes – Latkes. I think everything I did with potatoes this year turned out to be a hit! You're definitely going to see more potato recipes. On the other hand, posting a recipe for latkes just in time for it to be Shared, Yummed, Pinned and Stumbled on the first night of Hanukkah…  that definitely helped. (For some reason, it was popular all that week!)  So far, I've had more readers on that post than on any other – and while the numbers have dropped from the high, people have continued to read it all month. So we'll see how it goes down the road!
It's hard to pick ten, really… I left out Breakfast Egg Muffins, because, while they were popular, every blogger and her grandmother has a recipe for them… and I don't think this one is much different from others. (Good, sure, but… I make them differently every time, anyway…)  I chose not to include corn muffins, or biscuits, or any specifically Adapted for Gluten Free post, because while someone who is gluten free can eat everything I posted this year, most of my recipes appeal to everyone else, too. (Though next year I expect to do more with gluten free baking.)
I will add one Eleventh. It's an extra, because I just wrote it last week, and I have no idea at all how it will stand the test of time. (Everything else on this list has continued to be read well after the original post.) But the Essence of Onion Dip was shared all over last week, and I gather turned up around the country last night.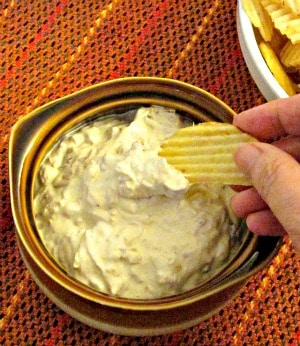 And nothing makes a food blogger happier than knowing that people are eating food made from her recipes, and sharing it with others. Because finally, feeding yourself and others with good food is one of the most basic human impulses… I can't really pour tea for you all – I would like to – but if you have, even once, served one of these recipes to your children, your spouse, your friends, if you have ever eaten this food yourself, you have in some way dined at my table – and I am thrilled.
When I was a child, older salesladies in Manhattan stores would wrap up your purchases, hand you the bag, and say "Wear it in good health!" So I say to you – take these recipes, cook them, eat them in good health!
And Happy New Year!
---
---