Potato Pancakes – Latkes
Potato pancakes – or latkes – are traditional for both Hanukkah and Christmas for people from Eastern European cultures. But you don't need a holiday to enjoy them – they are delicious!
My senior year in college, I shared an off-campus apartment with another woman. Though we were technically off-campus, the building was actually closer to many of our classes than our dorm had been. Friends passed our corner all the time on their way to classes or the library, and we constantly invited people in for some tea or a meal.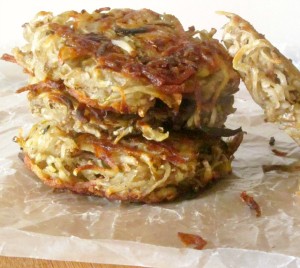 December was particularly, shall we say, active. End of semester, we were all writing term papers, finishing projects,  studying for exams… And every night, I lit the candles on my Advent wreath… (No Christmas Tree – I was going to be back home by Christmas.) By the time we got to Hanukkah and her menorah – and the last couple of days of term – everyone was revved up… So we told everyone we were religious pyromaniacs, come watch us light candles, and have a meal (not all of our friends were taking time for real food, though we all seemed to manage to get to the Italian bakery up the road…) We'd take a break, make, eat, and share latkes (and other food – I seem to remember that we ate a lot of eggs that week, they're fast and easy) and discuss class notes and term papers over dinner.
And somehow, every December since, I seem to want potato pancakes…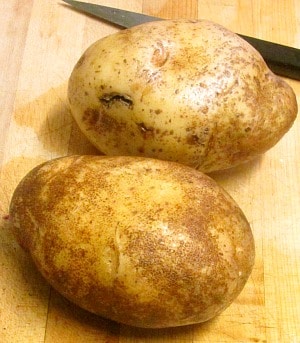 If you just had a box grater, as we did, they are a bit of a nuisance, but good enough to be worth it. They're simple enough that when I worked in daycare, I brought in a plastic grater (no grated knuckles!) had the children take turns grating potatoes (so no one got tired of it) and help mix them, though obviously I did the frying. With a food processor they're easy. And so good!
The kind of potato matters – the dryer and starchier the better. Big baking potatoes work best – I got a couple of huge Idahoes, the kind that's really too big for a single serving… I scrubbed them and trimmed out eyes and a few nicks, didn't bother to peel (you really can't tell in this) and put them through the food processor. (and of course you can use a box grater, as I did for years. Watch your knuckles!)
Then – this is key – I put them in a strainer, and left them to drain. Especially at this time of year, when potatoes are still fresh, they're quite moist. I want to get rid of as much of the liquid as I can. I added a pinch of salt to help pull the water out, and stirred it quite well, then drained it about half an hour, turning and pressing every 10 minutes or so, and you can see in the pictures how much the grated potato shrank.
While that drained, I also peeled and grated an onion. After about half an hour (and more time would not have hurt!) I discarded the liquid, beat two eggs in a large bowl, and stirred in the potato and onion. Then I added three tablespoons of flour – I used millet flour, here, but this is a place where you can use pretty much whatever works for you… it's there to absorb moisture and help the potatoes hold together. Start with two tablespoons, add the third only if you seem to need it. These potatoes were remarkably wet. There – I had my batter!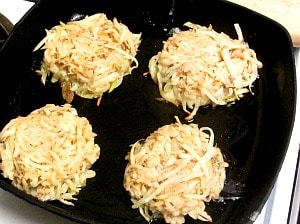 Now, the whole point of latkes for Hanukkah is that they are cooked in plenty of oil, which symbolizes the oil that miraculously  burned in the lamps in the Temple for eight days. Without any theological interest at all, though, potato pancakes do best with a good bit of oil in the pan… You do pan fry, rather than deep fry them, but you need enough oil to come up a bit around the rough edges and brown the grated potato – and it needs to be hot enough to crisp the potato, not just get soaked up. I used a cast iron pan, and put it over medium heat while the potato was still draining, as I wanted a good, steady, even heat. Then I added the oil, and let it heat a minute.
I took a big spoon, and formed the patties between it and my hand, letting liquid (which continued to come out of the potato) drain away. Then I carefully used the spoon to place each patty in the oil, which sizzled beautifully as I did…
You start with the pan fairly hot, let the patties cook about five minutes, to brown and start to hold together. Then turn them over, give them a few minutes on that side, and lower the heat… and cook until done. I'm sorry, I can't give you exact timing – it depends on the heat of your pan and stove, how moist the potatoes are, how large you make your pancakes (these are big ones) and other variables… The goal is that the outside is crisp and brown (but not burned – watch for that) and the inside is tender and creamy, but fully cooked. (By the time the potato is soft, the egg is sufficiently cooked.) Smaller pancakes have more crisp crust, big ones like these have a creamy soft center, it's all a matter of taste. And as long as you are going to the fuss of grating potatoes, make plenty – if you don't eat them all right away (and you just might!) they reheat well in a quick frypan. (We finished these for lunch the next day.) I cooked this recipe in two batches of four potato pancakes each.
Serve hot. They are traditionally served with sour cream or applesauce (or both!)  but you can certainly vary that. In fact, you can vary the whole recipe if you like. I have a friend who routinely adds minced jalapeno with her onion (not at all traditional, but excellent) You can substitute sweet potatoes, and the result is quite different, and quite good. (I've done that for both Christmas and Thanksgiving!) I made potato pancakes to serve with ham and sausage for Christmas to a friend of Hungarian background – a meal he'd last eaten at his mother's table. Try them – you may find you have a new tradition, too!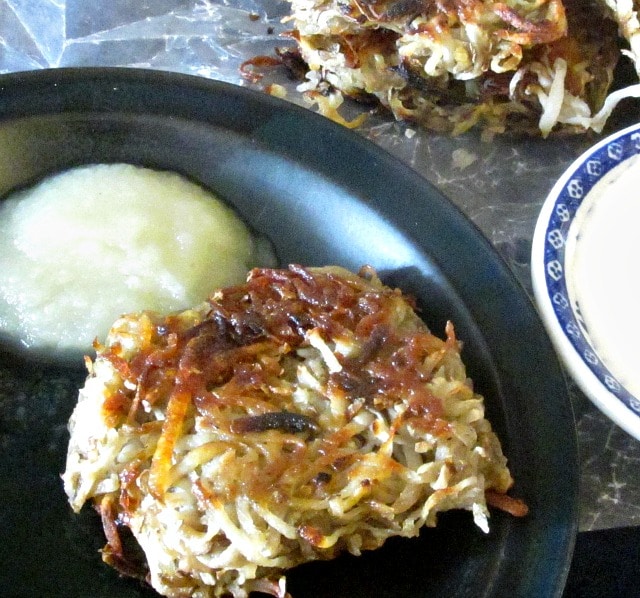 Potato Pancakes - Latkes
Potato pancakes - or latkes - are traditional for both Hanukkah and Christmas for people from Eastern European cultures - and they are delicious!
Ingredients
1 1/2

pounds

baking potatoes

sprinkle salt

1

onion

2

eggs

2-3

T

flour of choice

I used millet, other kinds work

Plenty of oil for the pan
Instructions
Scrub and trim potatoes, and grate. Sprinkle lightly with salt, and stir, then place in a strainer and let drain at least half an hour, stirring and pressing every ten minutes or so, to remove excess liquid.

Peel and grate onion.

Beat eggs in a large bowl, and add potatoes and onion. Stir well. Add flour, enough to help absorb some of the liquid and help the potatoes hold together.

Heat oil in a heavy pan. Form patties from the potato mixture, squeezing out excess liquid. Carefully place them in the oil. Cook about five minutes, until bottom starts to brown, and the patties hold together, then carefully turn them. After about three minutes, lower the temperature, and continue cooking until done, probably about ten minutes.

Place on paper towels to absorb excess oil.

Serve with sour cream, or apple sauce.
Save
---
---