Essence of Onion Dip
An updated, natural (and improved!) version of the onion dip we all grew up with – sweetly and intensely onion. Wonderful for holiday entertaining!
When I was a child, back in the Sixties, one of the recipes that Everyone seemed to make was California Dip. (I have no idea where the name came from…) You took a packet of instant onion soup mix, mixed it with sour cream, and there you had onion dip! And Marge told Betty who shared it with Mary… and it turned up next to the potato chips at every cocktail party, and even regularly at home.
When I was a young woman, in the Nineties, we updated it… We used leek soup mix – so much more sophisticated, you know… And the panic about dietary fat had begun, and not yet been met by commercial Fat Free Sour Cream (in those days if it said cream it still legally had to be made of cream…) so I blended cottage cheese and yogurt for the base. (That's actually still a useful trick, if you are serving someone who does have to be super careful about fat, or if you just want to make something that really is part of a meal, instead of just a nibble. Make the recipe with that combo, serve with vegetables and whole grain crackers, and you have the base of a nice lunch.) And Margaret told Beth who shared it with Jennifer… and you found it next to the crudité platter when you poured your white wine.
Now, though, I don't use packets of instant soup mix, for many reasons. But onion and sour cream continue to combine well… and convenience is as popular and classic as onion dip.  I did make a large batch of Onion Marmalade last week… (The version without bacon, so everyone can eat it.) Most of it has been packed up and given away as gifts, but I made sure to keep some for us – a bit of it, plain or with cream cheese on a cracker (or a bagel if you have one!) is so good.
New Year's Eve is coming up, and I'm looking for simple recipes. If I have the marmalade on hand (with or without bacon) this is as easy as the recipes for onion dip made with instant soup. If I don't, but do have melted onion in the freezer,  it's not much harder… (If I didn't have either, I'd go ahead and make some – takes some time, but not much work, and they are both so useful!)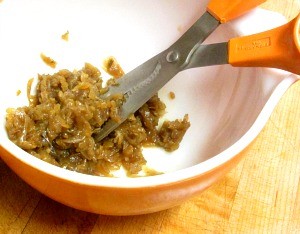 I just wanted a small amount, for a few people this weekend, so I took a quarter cup of the onion marmalade. Now, the way I slice the onions, there are long thin shreds from quartered onions – and that could be a nuisance in a dip – so I used a pair of kitchen shears to mince it easily right in the bowl.
Then I stirred in a cup of sour cream, covered the bowl, and refrigerated it overnight. Definitely do make it ahead and let it rest – it's nice when you first make it, but the flavor really develops, and becomes much deeper and richer. (And it's always good to have a dish you can make ahead for a party, anyway!) And the recipe easily doubles – or more – for a crowd.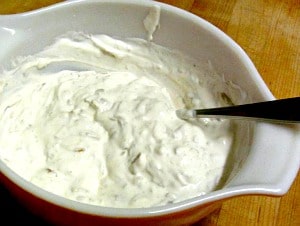 If I just had the melted onions (or caramelized onions…) I would add a teaspoon of balsamic vinegar. That really does deepen the flavor, and bring out the sweetness of the caramelized onion. I use the marmalade without bacon for parties, so everyone can eat it, but that choice may depend on who you are serving. It occurs to me that it would also be a wonderful topping for baked potatoes…
It also occurs to me, looking at the pictures, that you might want to reserve some of the onion, and use it as garnish…
But it's vegetarian for Maggie, and gluten free for Liz, and on the table with both potato chips and crudités, near the craft beers and seltzer – and I hope you like it enough to share the recipe with Megan and Alissa!
Essence of Onion Dip
An updated, natural version of the onion dip we all grew up with - sweetly and intensely onion.
Ingredients
1/4

c

Onion Marmalade

1

c

sour cream
Instructions
If desired (or needed) mince the onions in the marmalade.

Mix with sour cream. Cover, refrigerate overnight to let flavor meld and develop.

Serve with chips, crudites, or crackers.
Notes
Reserve a little onion marmalade to use as a garnish.
Save
---
---