Syracuse Salt Potatoes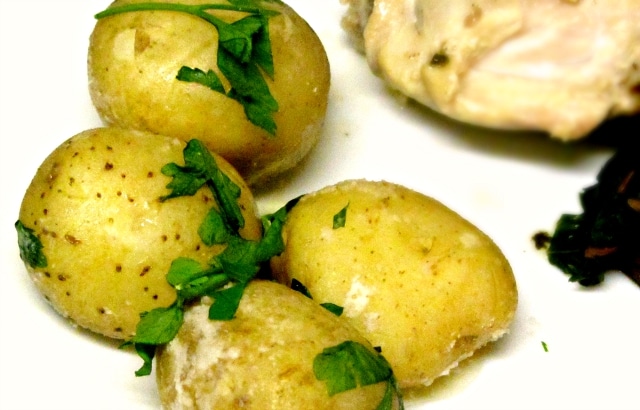 Yes, another post about Central New York, but this time it is not a story about my childhood and farm fresh vegetables… We never ate these when I was growing up. Dad didn't like potatoes, and if his family had ever eaten these, they didn't consider them worth mentioning.
But when I was still going upstate as a young woman, I noticed that – very abruptly – every August the local stores would all suddenly absolutely blossom with bags labeled Salt Potatoes – a bag of new potatoes with a large packet of salt. I had heard of them, at the local Fireman's Fair, and the like… So I tried them – and really liked them!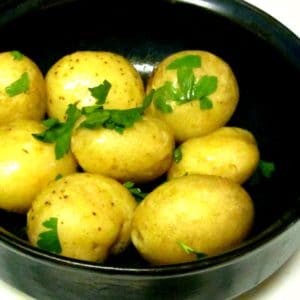 Then I learned the history behind them… I already knew that Syracuse was the center of salt production in the US throughout the 19th Century. It is often called Salt City, the main drag is Salina Street (and a town in the suburbs is also Salina – derived from the Latin word for salt.) Salt springs came to the surface here – springs of water that are, naturally, much saltier than any ocean. All you had to do was draw the water – eventually they dug wells – and boil it to get vast amounts of good pure salt. And salt was gold, when you needed it for food preservation…
In the late 18th century, a manufacturer was a few men and a five gallon kettle – but, like everything else, the process was industrialized. The natural brine flowed into huge vats for boiling – and cheap laborers tended the vats. Well, in Central New York in the 19th century, there was a seemingly endless supply of cheap Irish immigrant labor… (Who knew that one day, the great granddaughter of a poor Irish laborer would sit here writing about it?) The Irishmen learned that, if they brought potatoes with them to work, they could put them in the boiling vats, and cook them for lunch – and potatoes cooked that way were surprisingly good!
Well, people started boiling potatoes in brine at home, occasionally, and at clam bakes and fairs regularly (where a big pot of brine is easy to manage) and it became a standard of local fairs and festivals. And while the laborers presumably ate any potato they could get, the standard became new potatoes, just coming in during fair season in late summer. Eventually some bright person started to package new potatoes with salt – and there we were.
These are not simply salty potatoes. The theory is that, because the salt brine boils at a higher temperature than pure water, the starches in the potato cook more thoroughly… I can't guarantee that this is the mechanism, but I will tell you the texture is remarkably creamy – unlike any potato you are used to. Rich described them as being almost like mashed potatoes – but solid. Then you slather them in butter (which never hurt any potato.) If you feel fancy, you can sprinkle parsley over them (though honestly I don't remember seeing much parsley in the small village grocer… It's pretty, though, and it does taste good.)
We got beautiful new potatoes at Greenmarket – small, tender, with thin, papery skin. That's perfection, but any new boiling potatoes will work. Wash them (being careful not to scrub the skin off – they're never peeled.) Bring a pot of water to a boil, and add salt.
I've seen a variety of proportions, and don't know how much science the measurement really is – but you want more salt than you think you possibly could! I used half a cup to boil a pound of potatoes, here… Don't worry, you won't actually ingest most of it… if salt is a major issue, I guess you could even rinse the potatoes off at the end, and that will get rid of almost all of it. Really, though, only do that if it's a serious problem for you – this isn't something you eat often enough to cause difficulties for most people. If you have kosher salt, use that – the pure salt is the closest to the original brine. If not, ordinary table salt will work – don't waste sea salt or fancy colored mined salt on this. Stir the salt into the simmering water until it dissolves, though it may still be cloudy. And my potatoes floated…
Then you just boil the potatoes until done – usually around twenty minutes, depending on the exact size. And yes, unlike most recipes, this is boiled, not simmered – that's the whole point. (You can see the deposits of salt on the side of the pan where drops of brine have dried.) Then drain them, slather them with butter, and serve at once.
Salt potatoes, corn on the cob, thick, juicy slices of beefsteak tomatoes – and oh, yes, burgers or something, though they're almost an afterthought…
Syracuse Salt Potatoes
Syracuse Salt Potatoes - born as a laborer's quick lunch, become a Central New York fair ground classic. Creamy, moist, and delicious!
Ingredients
I lb New potatoes

1/2

c

salt

Kosher or table - not sea salt

Water

Butter
Instructions
Wash the potatoes carefully, getting them completely clean without scrubbing off the thin skin.

Bring water to boil in a large saucepan. Stir in the salt, stir until it is fully dissolved. Add potatoes.

Bring water to a rolling boil, and boil - not simmer - for around 20 minutes or until potatoes are done.

Drain, and serve at once with plenty of butter.
Save
---
---