Sweet Potatoes with Apples
Bake sweet potatoes with apples, for an attractive, elegant, slightly sweet presentation.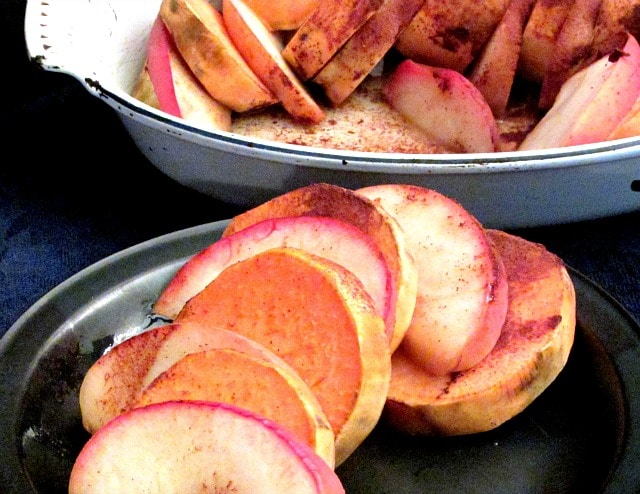 I did not grow up with marshmallows in my sweet potatoes – and, luckily, neither did Rich…
Most of the time, really, Mom just baked them, as I have since. Easy, delicious, just add a dab of butter… Other times I mash them. But sometimes (especially if I'm serving a guest who might expect a sweet treatment) I like to dress them up a bit. Adding slices of apple gives both pizzazz and that touch of sweetness.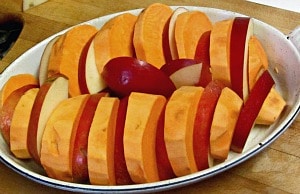 Now, the thing is that if you just layer them in a pan, the sweet potatoes never soften (never mind how I know this… It's not as if I served undercooked sweet potatoes to a dozen people one… well… yes, I did… But that was ten years ago.) They need steam to cook – when you bake them whole, the skin keeps the steam they generate inside and that's what cooks them. (Who knew?) So you need to cover the baking dish, and it's best to add a touch of liquid to get things started… Might as a well add some flavor there, too… and while I'm at it, a little cinnamon never hurt…
It starts very simply, with a large sweet potato and an apple. Your apple probably isn't this big… I'd gotten some enormous Romes at Greenmarket! And I alternated slices evenly because it all chanced to come out that way, but depending on the rest of the meal you might want to use less apple. (Or more… it's up to you!)
Basically, take a sweet potato (or a couple, or half one, depending on the size of the potatoes and the number of servings you need.) Peel it, then slice it.
And take an apple (or two…) wash it, peel it if desired (I didn't – the skin cooks soft, and is pretty.) I quartered it and cored the quarters – with smaller fruit you could core it first then slice full slices, if you want.
Alternate the potato and apple slices in a baking pan, with apple every one or two slices of potato. Add two tablespoons of cider or juice (or water, if you have neither of them – don't buy a quart for two tablespoons!) And since the cider is just to generate steam and start the cooking, you don't need to vary the amount if you increase the number of sweet potatoes. Sprinkle a little cinnamon over the top, if you'd like (depending on what other seasoning you use in the meal) and cover.
Bake at 350 for one hour.
Ideally you use a baking dish with a lid which holds the steam in. I wanted to use this gratin pan, which doesn't have a lid, so I covered it with foil – and some of the steam escaped… If you use foil, you may want to increase the liquid to a quarter cup… Once the apples themselves start to cook, you get juice from them, but you need some to get it all started.
And that's it. You can make it ahead and reheat it – it reheats beautifully – which might make it convenient for Thanksgiving… Bake it a day or two before and refrigerate. Let it come to room temperature towards the end of the time the turkey roasts, pop it into the oven when you remove the turkey, by the time you let the meat rest, carve, and have it ready to serve, this is hot…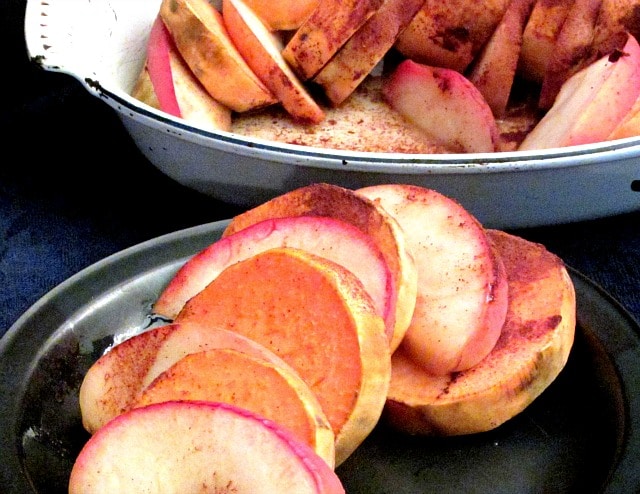 Sweet Potatoes with Apples
Bake sweet potatoes with apples, for an attractive, elegant, slightly sweet presentation.
Ingredients
sweet potato

apple

2

T

cider or water

dash cinnamon

opt.
Instructions
Preheat the oven to 350.

Peel and slice sweet potato. Core and slice apple. Arrange the slices in a baking pan.

Cover the pan. Bake at 350 for one hour.
---
---