Traditional Irish Colcannon
It is mid March – so we are surrounded by green. Green grass, green flower shoots – but also, for St. Patrick's Day, green mint pies and green pancakes, and, so help me, green bagels… I thought it would be a nice change to give you a green dish that actually is a traditional Irish food – colcannon.
Colcannon isn't a fancy food, a guest meal, a restaurant recipe. It's barely a recipe, really… everyday fare, filling, delicious, made with ingredients you can easily get all year round. Potatoes, of course, mashed with plenty of milk and butter… Kale, which overwinters well in the Irish climate, and is starting to grow again as it warms… Onions, either yellow storage onions, or leeks if you have them, or spring onions (scallions) if they're coming in yet where you are. Eat it on the side with meat or eggs, make a meal of it with cheese and good Irish brown bread (and more cheese.)
Like many traditional foods, you can vary the way you make it. I already mentioned different kinds of onion. Change the greens – cabbage is almost as traditional as kale, but you can certainly use other greens if you like – chard, mustard… (I'd steer clear of beet greens, for visual reasons.) An Irish American friend whose family has been making it with what was available here for 3 generations doesn't use the name – but once or twice a week serves frozen creamed spinach with instant mashed potatoes, because that's what she's eaten all her life. (I think we can do better than that…) It is a wonderful way to use leftovers – mash enough potatoes for two nights, then, the next day, saute an onion, add chopped leftover greens (perhaps in the form of my frozen "green muffins") and mix in the potatoes. Sometimes it's all mixed together in a cake, and then pan fried.
Potatoes. Traditionally, in Ireland, eating potatoes "coats and all" was a sign of poverty, so there was a major cultural antipathy to eating unpeeled potatoes. Here in the US we pick up our ideas about a culture from the generation of immigrants in our families – and forget that the culture in its own country continues to change, as ours does. So Irish Americans will assure you that no one in Ireland would ever eat the skin of a potato – because their great grandparents would not. My understanding is that in modern Ireland, eating the skins is not any more unusual than it is here (and it's still certainly not the norm, here…) and it no longer has as heavy a negative charge. So I mash my potatoes with the skin, as I always do. (I don't want to lose the nutrition in it – and it is easier – what's not to like?) If you must peel them, boil the potatoes whole, then slip the skins off – you lose less that way (and it is a traditional Irish way of doing it.)
So boil and mash a couple of potatoes. If you want the skins to be unobtrusive, use white potatoes or Yukon Gold, and cut them in small pieces. (I have served that to people who couldn't then find the skin…) As it happens, this time I used 2 big Idaho potatoes – they were the better choice in the store… so you do see bits of peel, which doesn't bother us… Mash them with a little more milk than usual, so that they are soft. (And if you want to use a bit of cream, or buttermilk, neither ever hurt a potato.)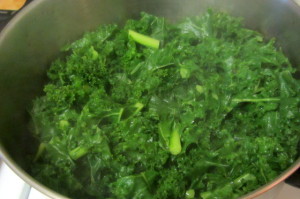 And cook your kale. Now usually, I cook kale the same way I cook chard or other greens, with a saute and steam method. That works well for the tender kale you get in summer. This, however, is the dense, tough curly kale – it needs a real simmer to tenderize it. I chopped it, washed it, and then filled a soup pot with it and added a couple of cups of water (the water does not have to cover the kale.) Not all the kale fit, which was fine – I covered the pot, brought it to a boil, and then, as the greens in the pot softened, I added the rest and stirred it down. Once it was all in, I covered and simmered for about 10 more minutes – check it periodically, as the time will vary. You need it tender, but I prefer it still a bright green. (Occasionally you'll get a really tough bunch that won't cook tender until the color has changed – I had some of that in November – so do check tenderness.) Once it is cooked, drain, cool, and chop finely.
All that can be done in advance – and, as I said, leftovers work well. When you want to make your colcannon, take a large pan, and melt butter into it. (Yes, butter, not oil, for this one!) Chop your onion (or leek, or scallions…) and saute them in the butter until soft and golden. (Very briefly, if you're using scallions… and use their greens, as well as the white parts.) Add the finely chopped kale, and saute it briefly while mixing it with the onion. (Or, if you are using a tender kale, saute the washed chopped kale with the onions as usual, cover, and steam until done.) Then add the potatoes, and stir around to mix, and heat through. Of course, serve it with butter.
There you are. Warming and filling, easy, a great way to cook kale, no wonder it's been a staple for generations! And for years, in my house – I'd make a meal of that with cheese and egg, when I was single (especially when I was mostly vegetarian,) and feel well fed. Writing about it reminds me to make it more often – we eat so many greens, and this is such a good variation.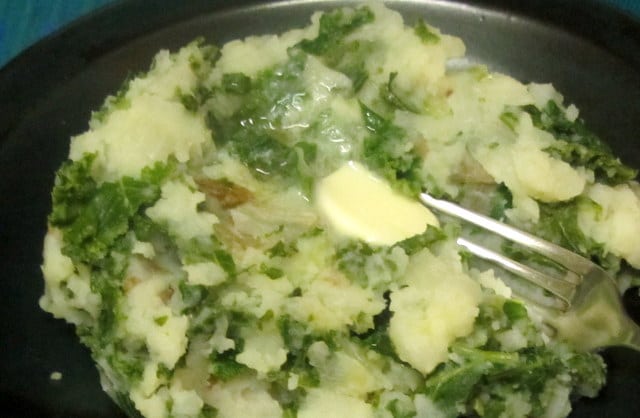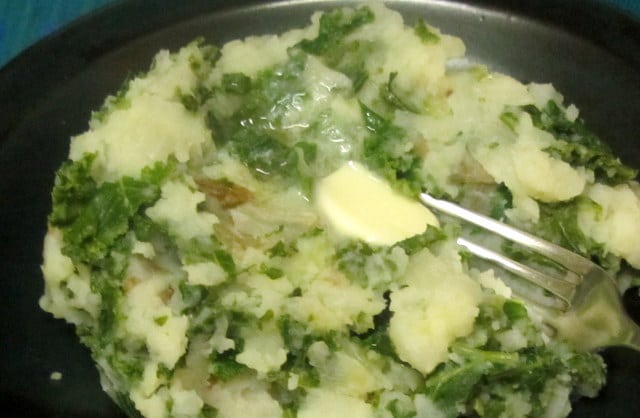 Traditional Irish Colcannon
Colcannon - a traditional Irish recipe. Combine kale and mashed potatoes for a delicious side dish - and don't forget the butter!
Ingredients
1

pound

potatoes

1/4

c

milk

or as needed

2

c

cooked kale

1

T

butter

1

onion

chopped
Instructions
Scrub potatoes, and cut in small pieces. Place in a pot of water, bring to a boil, and simmer until soft. Drain. Mash with the milk.

Chop the cooked kale into small pieces.

Melt the butter in a large pan. Saute the onion in it until soft and turning golden. Add the kale, and stir. Add the mashed potatoes, stir to combine well, and heat through, if needed.
Save
---
---