GF & AF Expo!
We do not have a hurricane. We didn't really expect one, but – after Sandy, I err on the side of extreme caution, and it never hurts to plan.
But in fact, I reverted to my original plan for the weekend – this!
The Gluten Free and Allergen (sic.) Friendly Expo out at the Meadowlands in Secaucus.
First, may I just say that I wish they would name this thing properly, instead of saying (and not meaning) that we are friendly to (happily welcoming?)  our allergens? What they mean is – everything here was gluten free, and carefully labeled for Top 8 allergens, to make them easy to avoid.
That off my chest… I'm glad I went. If one is in your area, I think it's well worth going. It was a nice size – I got around comfortably in a little over three hours, and that included a lot of chatting with vendors… though I did skip some (but not all) of the displays that were all sweets (and there were many.)
People do miss cakes and cookies, so there were many version of them. Several cereals, also – a few even without oats! – but mostly sweetened… For those of you who can still eat oats, the good news is that McCann's Irish Oatmeal is coming out with a (clearly labeled) Gluten Free product! (It is not yet on the Irish web site… we'll have to wait for more information.) And the traditional steel cut, not just the quick cooking! (I miss steel cut oats…)
I miss them because they are chewy. I'm all about texture, and I like things that have a bite to them – and if you didn't know that before, you will by the end of this post, because the products that interested me the most are making progress on the texture issue. See – we often talk about the way gluten allows a light and fluffy bread because it creates the elastic structure that holds the carbon dioxide the yeast emits and allows a high rise. But that elastic structure is also what gives a firmer bread a good crumb, what makes a chewy bagel,  al dente pasta, crisp pizza crust. Those are the textures I miss.
So I walked over to the booth for Living Now products, looked skeptically at the Quinoa Penne in sauce they served, and tasted some. And it was al dente! I bit it, and there was some resistance to my teeth (as there should be with good Italian style pasta)  but it wasn't hard, brittle or grainy! I spoke to the demonstrator, who told me that it is a new product, made of rice, quinoa, and amaranth. This had been cooked and then was being kept in the sauce in a slow cooker – and you know what that would have done to rice pasta… She said that she's starting to play with it in the test kitchen in casseroles and bakes – think Mac & Cheese, Baked Ziti (OK, so make it with penne, close enough!) a whole host of Hot Dish meals… and so far, so good. My, that was a good way to start the expo! (Oh, yeah, they have other stuff – grains, mixes and things –  the pasta is what I'm interested in!)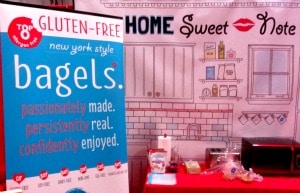 Then I wandered down the aisle, and found a booth that purported to have a New York Bagel.  (I'd passed one already that didn't have any resemblance to a bagel, to my critical New York eye…) I accepted a sample, bit it – chewed it – and exclaimed to the woman "You have achieved chewy!" She beamed… turned out to be the CEO and Founder. She explained that when several family members were diagnosed with celiac disease, they really, really missed bagels – so she started looking into it…
Now – it still isn't quite quite bagel texture… though closer than wheat rolls-with-holes "bagels" I've encountered. She did point out that toasting would help, and I'm sure it would (since I usually ate my bagels toasted anyway.) And it does have more sugar and starch than I normally prefer… but not everyone has those restrictions. On the whole, I'd say that if you miss a real bagel, it's worth a try. I just looked at the store locator – and you can get them at Russ and Daughters! (Both the store and the cafe.) Well, that's an endorsement… Sweet Note Bakery.
Another booth that caught my eye – GeeFree – had puff pastry (available in your grocer's freezer…) I never used commercial puff pastry, but I know people who did, so it seemed worth looking at. Then I realized they also sell several frozen products made with it – including spanakopita. Well… I did use filo, and  I've enjoyed plenty of spanakopita over the years. I tasted it and thought it was pretty good. It didn't have the crispness you get from filo (though how much that was affected by being held in a covered steam table is hard to say…) but it was very like some I've had made from homemade pastry.
Again, chatted with the vendor a while, tried the pot pie (pastry was OK, I make a better filling… so fine, I can make it and use their crust, in a pinch!)  They make pigs in blankets, too, for those who miss them. It's pretty much all potato starch (with butter and binders and all) so I, personally, won't be using it much, but it looks like just the thing to fill one of those gaping holes many people have when they go gluten free.
When I saw the San-J display I went right over – less to learn about product than to say thank you… Soy sauce would have been a gaping hole for me, but I knew about them and could make the change right away. (I've used Kikkoman's all my life. La Choy is gluten free – but it isn't really soy sauce… just salted flavored water…) We call wheat free soy sauce Tamari in the US (which is a misnomer but that's a discussion for another time. It is a useful differentiation.) San-J is the real stuff, fermented from soy beans, equally traditional, with the flavor to prove it.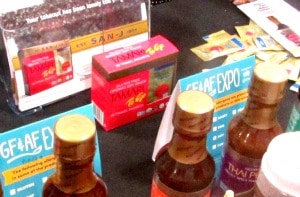 Now, they had a number of other Asian sauces, but most are sweetened, so after looking at a couple I stopped blocking the display from people who were interested in them. I talked to one of the vendors for a while, and was delighted to discover that they sell a box of individual packets of their tamari. You can pack it with a carried lunch, you can carry it to the place that's willing to be careful about cross contamination but doesn't have soy sauce for you – you can even use them if you do eat wheat but the place near your office sends packets of the fake stuff!
And I didn't even register it there – but the handout tells me they have brown rice crackers… I will look for them!
Those were the real highlights for me – but there was much else of interest. I was generally unimpressed by the bread, which was all trying for light and fluffy, or spongy, but Luce's Gluten Free Artisan Bread Mixes produced bread with a good crisp crust and a not bad at all crumb. Much better than any other bread I tried.
Trans Ocean makes a gluten free surimi (imitation crab) – between that and San-J you can now have your own California rolls again! This is mostly Alaskan pollack, with some crab (no scallops – my allergen – I haven't eaten commercial imitation crab unless I can read a label since I discovered that some uses scallops!) It does have other shellfish, though, if that's an issue.
Full Flavor Foods had a variety of dried base mixes – cream sauce, chicken gravy (made with actual chicken broth) – and a wonderful collection of recipes to use them in. Here's a sub for the ubiquitous Cream of Something Soup (I use my roux cubes to solve that, but this is another option.) They have food service pack, too – aside from the obvious use in restaurants and things, this might be workable to make the Church Supper, Club Dinner, and the like safe… And their handout lists their ingredients – not everyone is that upfront about it all.
Nona Lim has packaged fresh rice noodles (whisk them through boiling water) and some excellent Asian broth and soup – all in the refrigerated section. Go Picnic sells packaged shelf stable snacks and meals – hummus and pita, turkey and crackers. They seem to be aiming at the lunchables market (with better food, from what I could see) but I saw it as a useful thing to toss in a bag for delays. (Indeed,on the bus on the way home I was thinking I should have gotten one of them… my sampling did not quite a meal make.) I understand they're getting into airport and office building convenience stores… which makes a lot of sense.
There were a surprising number of companies with some sort of bean based snack chip… Snack chips aren't something I've missed (since I can eat corn chips and potato chips – not all the flavored ones, but I didn't like them anyway.) Obviously, though, there is a market… Lots of sweets, of course, but since I don't eat them, I can't really tell you about them.
And if you're in the East and near a ShopRite, I was intrigued by the number of products that listed them (as well as Whole Foods and Target) as sources – and more intrigued to learn that many of their stores actually have Registered Dietitians you can consult (for free, I gather…)  They seem to be taking this pretty seriously…
These are really just the highlights – information I'm sure people will be interested in. I definitely recommend checking out an Expo if there is one near you – many of the vendors were the owners of new, small companies trying to fill a need, and they need customer support to stay afloat and do so. It's amazing how much is out there now!
I'll go back to posting Real Recipes, if that's what you are here for – honest… but I had to share this. And – for the record – I was not compensated for anything by anyone, I paid to get in, none of the vendors knew that I blog (though some may have wondered when I took pictures, at the end of the conversation) and this is all completely my own opinion.
And now I know I can walk down to Russ and Daughters Cafe and get my lox with schmear on a bagel. And that is something to know.
---
---