Planning for Meals – In Practice
So now you have read Planning for Meals and you've started your list (or you haven't, because you want to see if the concept makes any sense before you put any work into this – that would be my approach…) Now you are wondering what this would look like in your own life.
First, I want to make it clear that I think this can be adapted to most ways of eating. When I was a kid, Columns A and B would have been labeled Meat and Potatoes. I want to be clear that you will fill the columns with food you will actually eat. If you are Vegan, A is a variety of beans, soyfood, quorn, homemade or commercial bean burgers, and so on. Ovo-lacto vegetarians will add several kinds of cheese and eggs. Omnivores have all that and meat. Someone who is gluten free will, of course, have gluten free (if any) bread and pasta in B – as well as rice, potatoes, corn tortillas, polenta, and quinoa, which others eat, too.
And I did not list food in order of importance. Rather, A can be the most perishable, so if I have fresh meat or tofu I need to remember it, and B is the most apt to take at least some advance planning – set up the rice cooker in the morning, put the pot of water on for pasta as soon as you get home – while C works in nicely with everything. I often do plan meals around my fresh vegetables, though, and then fill in everything else!
In my life – I always have the ready to eat food stocked, but most of the time I work with at least some fresh – I always have fresh vegetables in the house – and I usually have at least some time to cook. So I know what I expect to cook. Pork chops, say, and kale, with brown rice – I'll make a gravy…
Unless, of course, I then get a migraine. Or get home late. Or anything else that can mess up timing. At which point, I can say – I don't have time to braise the pork chops for half an hour, I'll cut them up for a stir fry and use zucchini instead of kale, it takes less prep and cooks quickly. Or I don't have the time even for that, I'll pull cooked meat out of the freezer, heat it in a jar of pasta sauce, add frozen peas, serve it over microwaved ready made polenta – dinner in ten. Or, worse, the migraine is bad right now – Rich? and he heats chili (either homemade from the freezer or a couple of cans) with a can of corn, serves it over rice with microwaved frozen vegetables on the side… (It happens. We still eat.)
When I first wrote about this concept, a year and a half ago, readers asked me about specific situations. I'll address a few of them here.
First, there were several versions of the situation that many of you face – the cook gets home close to the desired dinner time, and must get food on the table for a hungry family as soon as possible.
I'm sure most of you already do some Once in a While cooking (as a friend of mine calls it.) Fill the whole slow cooker with Your Famous Chili, eat tonight, freeze some for later. Pot roast, bean soup, stew, pasta sauce… And I'm sure most of you already can pull out the contact grill and get burgers or chops on the table quickly. And I'm sure many of you are already getting bored with the lack of variety… and that's where The Inhabited Kitchen comes in…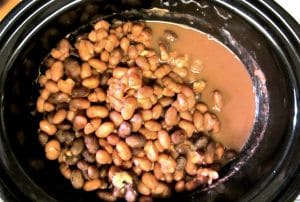 Next weekend, as well as (or instead of) the pot of chili or whatever, cook a full slow cooker of chicken, or a pork shoulder, or beans. Or brown a couple of pounds of hamburger meat (you might want to add onion to that, to save time later.) Or roast a chicken, pork loin, round roast. You have dinner that night – then freeze what you don't eat, in appropriate amounts for one meal. And buy a few packages of tofu, or individually frozen chicken tenders or fish fillets, which can be cooked quickly as is. Or just buy a rotisserie chicken, instead of cooking your own – because weekends can be busy, too…
Each weekend, do a different one or two of the above. After a while, you have a freezer with one zip bag of chicken from a few weeks ago, and three of browned meat from the other day, and a few of sliced roast pork, and two of marinated baked tofu, and a quart of vegetarian chili…
When you do cook, as long as you are slicing and sauteing an onion, do two or three, and freeze the extra. (This is especially handy if you cook for one or two, and don't even want one whole one, much of the time…) Freeze leftover greens. Chop and saute the outer stalks of a bunch of celery (keep the tender inside ones for salad!) Add carrots if you want mirepoix.  Do the same with peppers – sweet or hot. If you want homemade gravy and sauce, make roux cubes. (Look under Convenient Foods for all of these.) And either make broth when you cook your meat, or buy commercial broth – chicken or vegetable are the most versatile, and I love the reclosable containers!
Take your cooked chicken, pork, or ground beef, or the frozen fish fillet, or canned beans, or tofu, or some combination of the above (I often mix meat and beans!) and heat it with a jar of spaghetti sauce, then serve it over pasta with a big salad with lots of raw veggies. Or add it to cooked onion with curry powder, and plenty of vegetables, serve it over rice. Or heat it with chili powder, add a can of tomatoes, serve with rice or corn chips. Or add a splash of soy sauce and rice vinegar, heat frozen green beans with miso, serve with rice. Or add garlic, frozen parsley in olive oil, and lemon juice, and serve it with rice and steamed broccoli.  Or add gravy (either homemade or out of a jar, whatever works,) onions, carrots, and serve with potatoes. Or simmer it in broth with collards and hot pepper, and serve with biscuits (again, homemade or from a package) to sop up the liquid. Or… are you getting the picture?
Do you see that there are a month's worth of different meals in that last paragraph? And I haven't scratched the surface…
Yes, I've mentioned using packaged food. I don't use it often. I'll tell you right now, though – I'd rather use biscuits from a tube, and get home cooked chicken and gravy on the table than scorn the packaged biscuits – and then eat the whole meal from McDonald's because I can't make biscuits tonight… On the other hand, if the chicken is already cooked, and heating in Homemade Instant Gravy (with broth and a Roux Cube) and there are frozen peas and food processor coleslaw I made last night, I just might be able to make those biscuits… I can decide where I want to spend my time and energy.
Now – those packaged biscuits (which I cannot eat, but Rich can) bring us to the next issue readers asked about – allergies, food intolerance, dietary restrictions of any kind, especially when different members of the family eat differently.
So –  cook your aromatics, your sauce, your vegetables, and your seasoning together. Brown tofu cubes in a small skillet. Add some of your sauce to that, add your cooked chicken to the rest in the larger pan.  Or make a vegetarian chili, heat up some browned meat in that small pan, add some of the chili to that and serve to the meat eater.  Set up a Taco Bar or Sandwich Platter, or even Soup Bar so everyone can make their own. (Assemble ingredients in a bowl, pour boiling broth over…)  It still all takes some attention, but if individual ingredients are already cooked, it is easier to then combine them in different configurations than to make two dinners from scratch. You can always add, you cannot subtract, so bring individual ingredients up to the point of addition.
And if you are single (or cook for two, as I do now) the method is a life changer. I really started this when I was single – the packs of meat were too big, I didn't want to bother, I didn't want to eat the same thing all week…  but I also didn't want to live on frozen dinners. I started to realize how much I could change a meal with different seasoning, that I could buy chicken legs in bulk (which were cheaper, too!) fill the slow cooker, and have chicken for the next month… and I went from there.
Does all this make sense? It seems harder to explain than to do… Much of it is understanding how versatile ingredients you already use are. Sure you can put marinara sauce over spaghetti – but you can also simmer a pork chop in it and serve with potatoes, or add chicken and put over rice, or use it to moisten pulled pork, or add a few spoons to vegetable soup, or… Think about alternate uses for family favorites.
I could put this together as a Meal Planning Service – and one day I may go in that direction, if there seems to be enough interest –  but really, I want you to be able to do this yourself. Your own preferences, your own dietary restrictions (if any,) your own family…
Cooking and planning for meals does not have to be hard – plans do not have to be set in stone, but can flex with life. And we all know that Life is what happens when you have Other Plans – even if that plan was just a roast chicken! We still need to eat.
Save
Save
---
---