Tuna Chickpea Salad with Carrot
Why eat a plain tuna salad when you can have a Tuna Chickpea Salad with Carrots? An easy pantry meal with so much flavor, and a quick, terrific lunch!
Well, this will be quick, because I'm having a crazy busy week – (virtually) attending two separate online Summits!
Of course they overlap! Doesn't it always work that way? But at least I can do this online – I could not physically attend two conferences in different cities. I am so often amazed by the resources available to me now that weren't – well, sometimes even five years ago! Let alone when I was a young woman and the internet did not yet even exist.  And by the end of a week, I will have a melted brain, and a great deal of information about both blogging and the migraines that originally inspired my methods of easy cooking. (There is nothing like knowing that one of the best treatments for your disabling condition is eating regular, balanced meals of good, whole, unprocessed food when the condition itself makes it difficult to prepare those meals…) And yes, in fact, my migraines have improved considerably, or I could not even think of doing this, even online!
But this is a perfect recipe for days when you need a solid, balanced meal, but don't have the time or energy…  I threw it together a few weeks ago, and liked it so much that I promptly made notes, and have made it a few times since. (I had not done anything silly like measure anything the first time… and it took a time or two to recreate it!)
See – I went into the kitchen to make tuna salad, and took out the two cans of… wait… the one can of tuna? I thought we had two cans? No? But…  it's lunchtime, and we need to eat. Well, I had some cooked chickpeas sitting next to the tuna, so, why not a tuna chickpea salad?  And I went from there.
Directions
Take a cup and a half of chickpeas – one can, if you use canned, or the cooked beans if you have them. Rinse and drain them, as the liquid will just make the recipe soggy, and let them drain a few minutes while you follow the next step.
Grate two carrots. I just used a little hand grater, I don't bother with a processor for this amount, but you can if you want – and I certainly would if I doubled the recipe. (And it doubles quite nicely.)
Now put the chickpeas, grated carrots, and a drained can of tuna (again, the liquid would make the salad soggy) into a bowl large enough to mix them well. And then, in fact, mix them well… It is easiest now, before you add anything else.
Then add a quarter of a cup of mayonnaise, and two tablespoons of (drained) capers. Now mix all of them well, until fully blended. Now taste. These are the measurements I used here for the pictures. We did like it when I used more capers, but not everyone is as fond of the briny little buds, so I gave you a baseline – add if you like. You certainly don't need salt – every ingredient other than the carrot is already salted! – but you can always add a touch of a salt free seasoning if you like. We preferred it plain.
Also, other vegetables can be a nice add in. The first time I made it, I happened to have and use some bean sprouts. I skipped them here, because they're not an ingredient in every refrigerator…  It is still good without them, but we liked the crunch. A little celery or diced cucumber would be a lovely option, and I'm sure I'll use them as the summer progresses and I have them on hand. And we will definitely eat variations of this as the weather gets warmer!
You can eat it at once, and it's good, but the flavor improves with a few hours in the fridge, and it keeps well for a few days. You can easily double or triple it, and use it for lunch all week. It also works well as one salad in a salad bar – make a meal of this, a few stuffed eggs, and some potato salad, for instance, with a nice big tossed green salad, and you have a feast!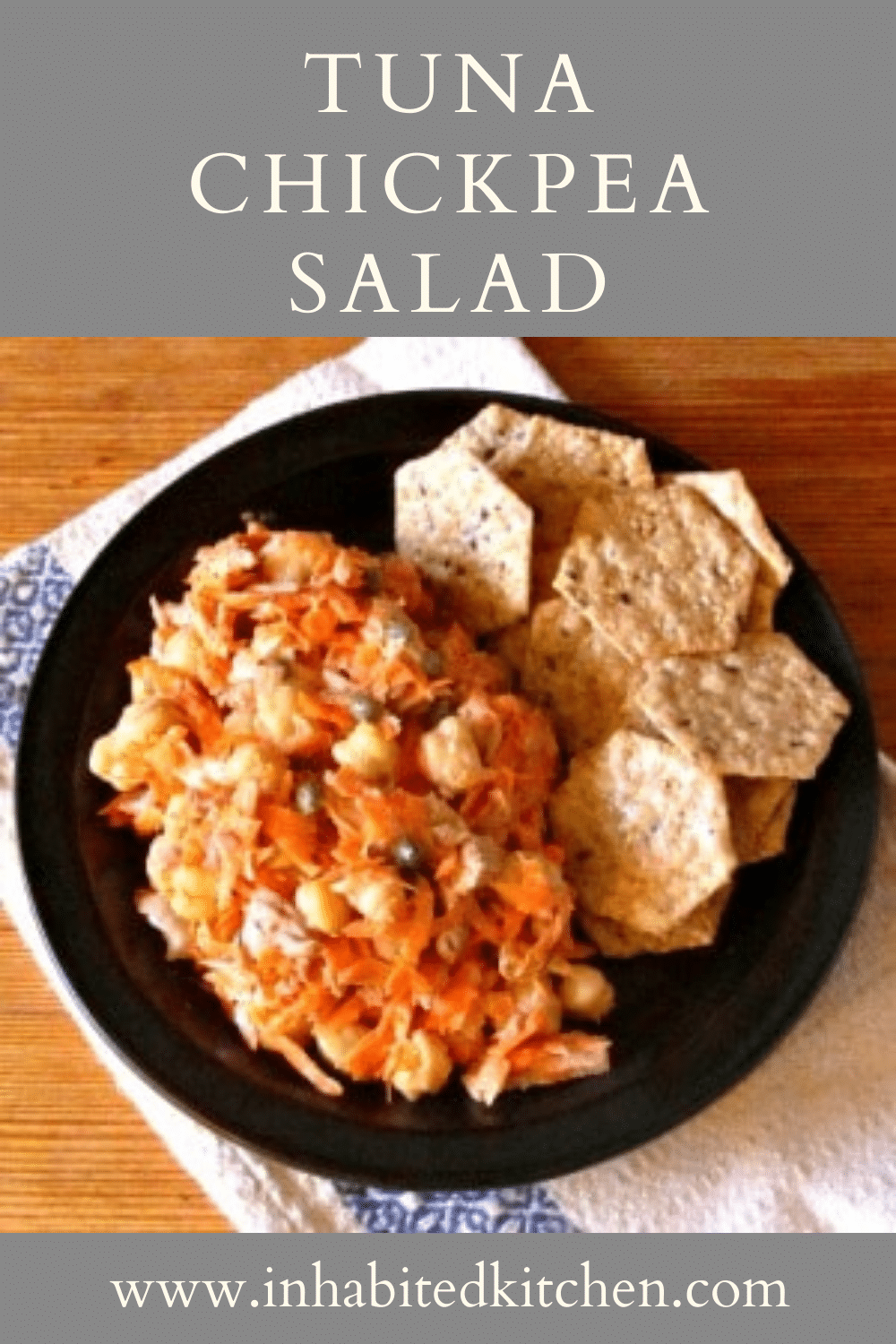 Tuna Chickpea Salad with Carrot
Why eat a plain tuna salad when you can have a Tuna Chickpea Salad with Carrots? Several textures, so much flavor, and a quick, terrific lunch!
Ingredients
1

can chickpeas

1

can tuna

2

carrots

1/4

c

mayonnaise

2

T

capers
Instructions
Rinse and drain the chickpeas. Drain the tuna. Grate the carrots.

Mix those ingredients well. Add the mayonnaise and capers, and mix that well.
Notes
You can serve it at once, but the flavor improves if you let it rest a few hours, or overnight, in the refrigerator. Which makes it a great recipe to double for lunch later in the week!
---
---