Pizza Turkey Burgers
This is the first burger recipe on Inhabited Kitchen.
That might tell you that I'm not really that fond of burgers – which is more or less true. I particularly don't like them in buns, which I think get soggy, and which probably makes me unAmerican… But in general, they just aren't really that much a thing for me.
The other reason, though? Well…  When I was a kid, my mom made good hamburgers (as we called them then.) Not the flat gray disks that even then were appearing in burger joints, but thick cakes of meat, brown and crunchy on the outside, pink, tender and flavorful in the middle. And that's how I learned to cook them. You didn't normally do anything but form the patty – gently – and cook it. OK, a little salt and pepper, and once in a while she'd hide a bit of cheddar cheese in the middle, for fun and variety. But really, it was all about the meat.  Ground chuck, always, because it has more flavor – not the generic Ground Beef which could be anything, nor sirloin, since she believed grinding it was a waste. (Cost more for less flavor – why?) And they were delicious. We didn't serve them on buns (which my father didn't like, and she was avoiding in the perpetual diet she lived on) and that is probably one reason I don't care for them myself, but the flavor sang out without need for bread or condiments.
But times changed… For one thing, we now avoid undercooked ground meat, because food borne illness is more pervasive. And the price of beef started to soar around the time I started housekeeping, and has kept going up, in comparison to other meat, ever since. Meanwhile as a culture we started worrying more about fat than white bread. Between the two, beef burgers stopped being the cheap and healthy option, and we moved to chicken and turkey (which is lower fat – and lower flavor, and often dry.)  Along the way, the quality of ground beef deteriorated – all I see now is that generic Ground Beef, usually blended to be lower in fat (though the fat carries the flavor) and when I cook it, the water flows out…
For all those reasons, people have started to mix all kinds of things into burger meat, and layering burgers with other foods on buns so that half the meal is not the meat. (Again, we used to add a dab of ketchup – all the "special sauce, lettuce, cheese, etc," came on commercial burgers that just didn't have the flavor you'd get at home or a good barbecue.) In many ways this does return burgers to their roots – the Hamburg Steak of the early 20th Century might have onion added or sauce poured over it…
But still. I make other recipes with one or another ground meat. so I do often have it in the house, and sometimes it just makes sense to eat a burger, because it is fast and easy. But I'm still not wild about them, and Rich really didn't like turkey burgers (though that's the meat I'm more apt to have) though he does eat them without complaint. So one day I was throwing some together and remembered both my mom's occasional burgers with cheese inside, and the half used package of mozzarella in the fridge. So I folded in a cube of cheese, and it helped enough that I knew I needed to follow this idea… And I ended up with something better than I had imagined!
Directions
I wrote this recipe to serve two with half a pound of meat, but it easily scales up. The mozzarella started me thinking of pizza, and once there… the pizza burger was not far behind.
Mix one tablespoon of tomato paste with seasoning in a bowl. I use just basil, but you can use basil with oregano if you prefer, or an Italian Seasoning Blend, if you use one. And I use a full teaspoon of crushed red pepper, which is a bit zippy. Use more or less to your own taste. Mix the seasonings well into the tomato paste. (And if you had to open a can for just a tablespoon? Freeze the rest in an ice cube tray… I love being able to grab small amounts for a recipe!)
Let it sit while you cut one ounce of mozzarella in two pieces. Alas, more is not better – you won't be able to fully cover a larger piece, and it will leak.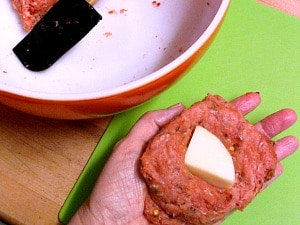 Then mix your ground turkey (or chicken)  well with the seasoning. I like to use a two pronged cooking fork for this, as it doesn't pack the meat. When it's mixed (and has the happy side effect that your turkey is now all pink!) divide it in half. Form each section into a patty around one piece of cheese, making sure the meat is as even as possible. You end up with a big rounded burger, instead of a flat patty.
Now, I have a grill pan, so of course I use that, but a fry pan will work perfectly well too. I'm sure an outdoor grill would also, with one warning – no matter how careful you are, occasionally the cheese will leak out… so if mozzarella dripping on your surface would be a problem…
Heat the pan over medium heat for several minutes, until a drop of water sizzles. (Use medium rather than high heat, as the pan heats more evenly.) Add the burgers, and cook for three minutes, then lower the heat slightly to… low medium? Medium low? The level at which you would keep a rolling simmer, not the lowest you can get… And cook for ten minutes.
Yes, you are cooking this longer and at lower heat than usual. The first thing I learned was that high heat burns the tomato paste… but the second was that, with the longer slower cooking, and the tomato paste, the meat holds its moisture, and you will get a moist, tender burger. After ten minutes, flip the burgers, and give them another ten minutes on the other side, until done.
Serve at once – you want the cheese to still be runny! (And if you serve them on buns, do warn people that there is cheese in the middle.) They're moist, flavorful, and easy. And who wouldn't like a Pizza Burger?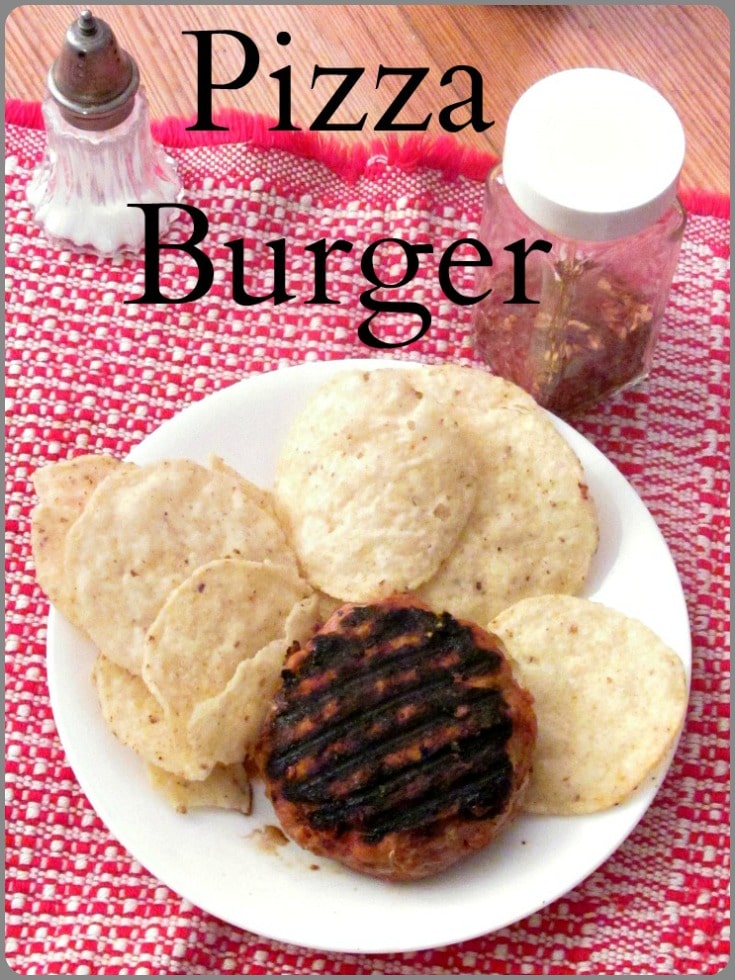 Pizza Turkey Burger
Bored with turkey burgers? Make a Pizza Burger! Moist and flavorful, with seasoning that helps browning, holds moisture, and improves the taste!
Ingredients
1

T

tomato paste

1

t

basil

1

t

crushed red pepper

1

oz

mozzarella

1/2

lb.

ground turkey

or chicken
Instructions
Mix tomato paste with seasoning in a bowl. Cut mozzarella into two cubes.

Mix the ground meat well with the seasoning paste, until thoroughly distributed.

Divide the meat in two. Take one portion, and form a flattened ball around one cube of the cheese, so that the cheese is completely and evenly covered buy the burger. Repeat with the rest of the ingredients.

Heat a grill pan or fry pan over medium heat. When hot, put the burgers in it, and cook for three minutes, then lower the heat slightly, and cook another ten minutes.

Flip the burgers and cook another ten minutes until done.

Serve at once.
---
---