Pressure Cooker Lentil Soup
Lentil Soup in a pressure cooker – fast, easy, and delicious, Great for warm days and chilly nights – don't heat up the kitchen!
Why, you ask, have I posted a hot soup recipe when it's 80° in the shade where you are today? Well, because it was only 50° when we ate it… Right now, the weather is just confusing!
But then I realized that this is just the recipe some of us need in summer! See, here in the city, once it is really hot, it stays really hot… all day, all night, asphalt and brick absorb and reflect heat. I won't be eating hot soup again for several months. But there are places – up in the mountains, and down at the shore – where a sunny warm day can become downright chilly at night. Some of you live there, and they also are popular weekend or vacation spots for people fleeing the urban heat. My grandmother's place in Central New York hill country was like that – bathing suit in the afternoon, sweater in the evening, flannel and quilts at night…
On a day like that, no one wants soup simmering for an hour or more. (And if it's a vacation rental, you have better things to do – or not do – with your time!) But when the sun goes behind the hill, or the wind picks up off the ocean, suddenly a nice warm bowl of soup sounds just right. And an electric pressure cooker is perfect for that – set it up when you come in, and your soup will be ready when everyone has showered off the sand and salt, and maybe had a few minutes to relax with a nice glass of something cool. (For that matter – you can set this up before you go out after lunch – the electric cooker will then cook it and keep it warm all afternoon for you! And that won't hurt this recipe one bit. Ah, technology…)
I use the same pot in pot method for this that I do for rice. I find that cooking beans of any kind in the extra insert pot cuts down considerably on the foaming that can be an issue when pressure cooking beans. Lentils in general foam less than others, but still – it helps. It means that the liquid at highest heat, creating the steam that builds the pressure, is water – which affects the actual ingredients in the recipe less. I prefer the texture of the food I cook this way.
And it is super easy. Wash and pick over a cup of lentils, and put it in the pot. Cut up two carrots and add them. (I prefer the roll cut for my carrots – I like the texture.) I had ham on hand, so added half a cup of it, also in bite sized pieces, but that is optional. And I added some garlic – I used some from a jar, which I consider a wonderful timesaver, and particularly useful cooking for one or two… but if you have fresh by all means just chop a clove or two roughly and toss it in.
Then I had some ham stock, from simmering the bone of that ham in a slow cooker, so I used that. If you don't (I often don't) use whatever broth you have handy – a can is fine. For that matter, broth base – not the little bouillon cubes that aren't much but salt and MSG, but a good commercial base, or Better Than Bouillon – works well here too. (I never see ham base in New York, but stock up when we visit family in North Carolina!) You can even just use water. I often do in lentil soup, but usually with more vegetables to make a broth themselves… I didn't add any salt, because the ham and its broth are salty enough, but you might want some with another broth, and definitely would with water. Keep it on the side for now.
And measure out a cup of frozen chopped spinach, or other chopped cooked greens, and set that aside – it will be added later, but may as well start thawing now.
Now – put half a cup of water in the regular insert pot of the pressure cooker. Place your pot in pot into that. I can put mine directly in, I have found, as the bottom tapers to be quite narrow. If yours is straight sided, though, put it on top of a small rack to hold it up off the bottom, so the water makes contact with the pot. Then I add the broth after that, just because it is easier than fussing with a bowl full of liquid. Now place the lid on top, seal it, and set it on High for 15 minutes.
Now – do remember, planning this, that setting a pressure cooker at 15 minutes does not mean it will be finished in 15 minutes! First it comes to pressure, which I find usually takes about ten minutes, and actually took fifteen, this time, because the broth was very cold. (All those variables…) Once it has cooked, and beeps, then let the pressure release naturally. Always do that with any kind of beans – manual release runs the risk of clogging the vent if they have foamed. That again, usually takes a touch more than ten minutes – you can safely release pressure manually after the ten minute mark if you need to.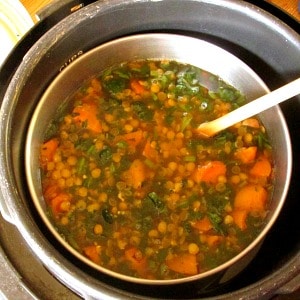 Now – remember those chopped cooked greens? I used spinach, here, because I had it – later in the year I'll use my green muffins or chard, kale, or other cooked greens, and chop them. You could also use just the leaves of fresh spinach – but strip it off the stem. Because you're going to carefully open the pressure cooker, see the soup still merrily bubbling away, and stir in the greens, which will heat up sufficiently in the boiling soup. Stems, or tougher greens might not cook enough.
And that's it. Taste and adjust for salt. I sometimes pass a good wine vinegar at the table to add just a dash – this is particularly good as a little complexity to add if I don't use the ham, but it's nice with it, too.  You have four large bowls – a hearty lunch for two of us, with just some crackers, but also a fine first course for four or even six. In midsummer, this followed by a big salad would make a wonderful dinner!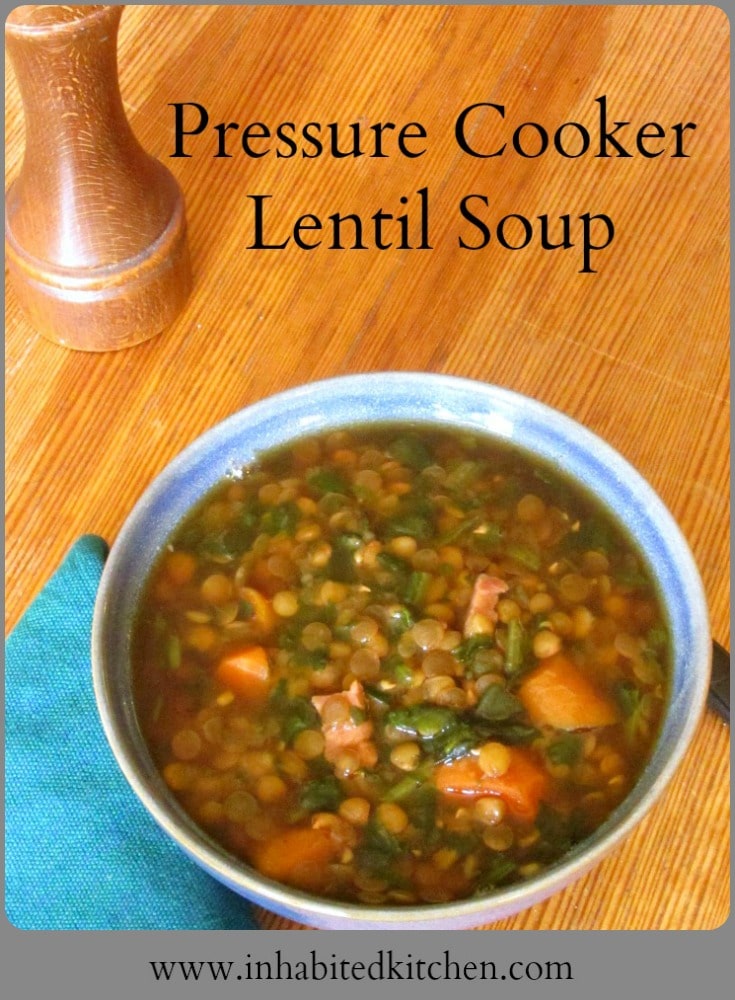 Pressure Cooker Lentil Soup
Lentil Soup in a pressure cooker - fast, easy, and delicious, Great for warm days and chilly nights - don't heat up the kitchen!
Ingredients
1

c

brown lentils

2

carrots

cut in bite sized pieces

1/2

t

chopped garlic

1/2

c

cooked ham

4

c

ham

or other broth

1

c

frozen chopped spinach
Instructions
Use an additional insert pot (pot in pot)for an electric pressure cooker.

Wash and pick over lentils, place in pot.

Add carrots, garlic, and ham.

Put half a cup of water in the pressure cooker, Place the insert in that (on a rack if needed.) Add broth to the pot.

Place the lid on the cooker and seal. Set the cooker on High, for 15 minutes, and start.

After cooking is finished, allow to release pressure naturally.

Once pressure is released, remove lid, and stir spinach into the soup.

Serve.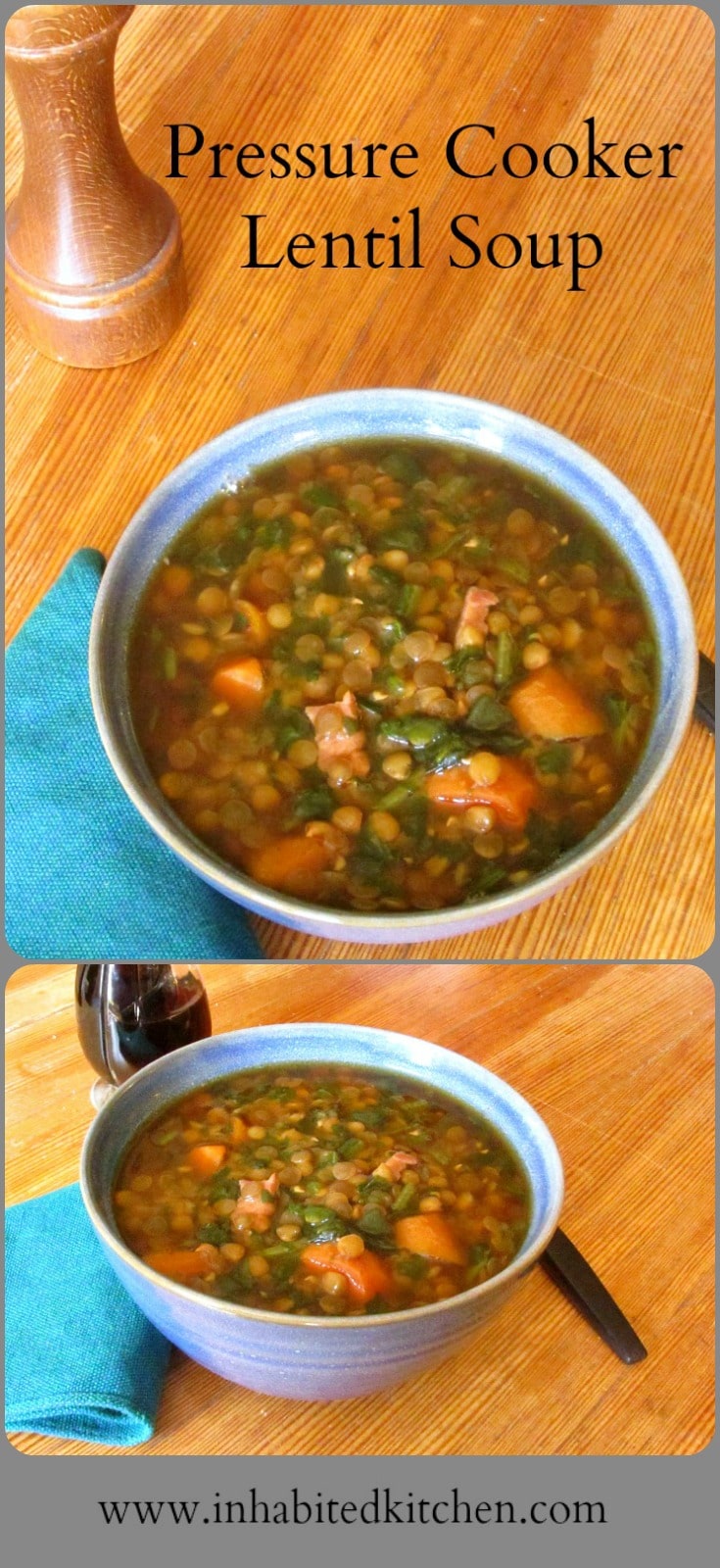 ---
---