Chestnut Soup
Rich and sweet, Chestnut Soup made with butternut squash is gluten free and vegan (with optional dairy garnish.) Luxurious first course for an elegant meal!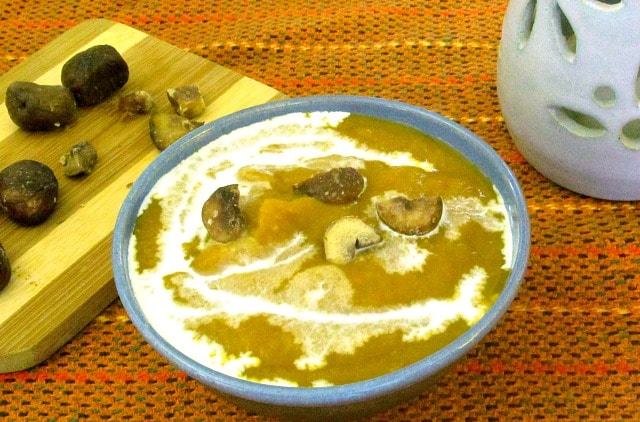 Last year I found, and we feasted on, ready to use roasted and peeled chestnuts. Looking through old posts I found the Brussels Sprout Chestnut Rice, and it reminded me of that, and how easy it was to cook with them (especially recipes for just the two of us…) so I looked for them again.
Now, if you can't find them and/or have a good source of fresh chestnuts, please go ahead and use them! Roasted chestnuts smell so heavenly, and it is a wonderful tradition at this time of year! But I've been up to my ears in gingerbread, so appreciated a chance to experiment with another holiday food without complications.
I wanted to try a chestnut soup, this year, but I didn't want it to be only chestnuts. They're very rich and sweet, and it just seemed too much… Though perhaps a similar flavor? Well, I'm still working on all the squash I got the last few weeks of our CSA. There's just one butternut that still doesn't fit in the fridge – and that is also a sweet flavor, though different enough…  Well, let me tell you, the combination is delicious.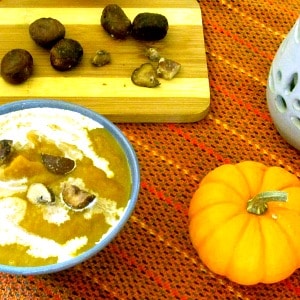 Directions
So, first I cut and seeded the butternut, and microwaved it. I didn't need it to cook completely, because it would simmer in the soup, but I wanted to be able to easily scrape it out of the peel. If you had leftover roasted squash, that would work, too – and of course you can peel it, cut it, and cook it completely in the broth. This was easier, though… Once it was cooked, I set it to cool enough to handle.
Since the goal of the operation was to be easy, I used a cup of sauteed leeks from the freezer. If you don't have such on hand, cut and wash a leek, then saute one cup of the white part. (I'll write that up, in the recipe – just remember that if you have them cooked, this is a good time to use them.)
So – however you get to it, there you are with a (cooked or partially cooked) butternut squash, a cup of cooked leeks, and a light vegetable broth (or possibly chicken, if that's what you have and want to use.) Well, you could use water, but I think the broth adds more flavor.  And your roasted and peeled chestnuts. Now you need to puree it all. You can use a jar blender, and do it in several batches, or an immersion blender.  I chose the second, because the microwaved squash wasn't fully cooked – so I simmered it and the leeks in broth for a while, to begin with, then added the chestnuts and pureed. Check for salt – amount will vary, depending on your broth – and add a half teaspoon of nutmeg. Bring to a boil and let simmer to meld flavor. Serve hot.
Now, that was the original recipe, but then – I had some cream left from one recipe, and wanted to try it. Then Rich suggested sour cream (which I also had on hand.) So we sort of had a soup tasting party – plain, cream, sour cream… It is delicious without either, and you can certainly keep this as a vegan soup. On the other hand, each adds a little… something… It's not even about added richness, but they somehow round the flavor. I suggest just a drizzle or a dollop, especially if you already have some around the house. (I might not bother to get any just for this.) Lagniappe, if you will… just a little something extra.

Also, with just one quart of broth, you get a thick, rich puree. Lovely as part of lunch, but if you want a starter course for a big meal, you could easily add another two cups of broth (perhaps even more!) for a rich but less filling soup. It's another soup that reheats quite nicely, too, so ideal for making ahead and then just heating right before serving – a very useful feature in a first course for a dinner party! (In that case, you don't need to heat after pureeing – just refrigerate at that point, and heat and serve when you're ready to call everyone to the table.)
And, while we think of chestnuts with beef or turkey, Chestnut Soup would be a fantastic appetizer with ham – the sweetness sets off the salty ham beautifully.
Anne Murphy
Chestnut Soup
Rich and sweet, Chestnut Soup made with butternut squash is gluten free and vegan (with optional dairy garnish.) Luxurious first course for an elegant meal!
10 minPrep Time
10 minCook Time
20 minTotal Time
5 based on 2 review(s)
Ingredients
1 butternut squash, cooked
olive oil for pan
1 c white part of a leek, cleaned and sliced
4-6 c light vegetable broth
8 oz roasted and peeled chestnuts
1/2 t nutmeg
salt if needed
Optional garnish - either heavy cream or sour cream
Instructions
Peel squash, and chop if needed.
Heat oil in pan, and saute leeks until soft. Add squash and broth, and simmer until vegetables are fully cooked.
Add chestnuts. Puree.
Add nutmeg. Taste for salt, add if needed. Stir in.
Bring to a boil, and simmer five minutes to meld flavor.
Serve. Optionally, add either a drizzle of cream or a dollop of sour cream as garnish.
7.8.1.2
219
https://www.inhabitedkitchen.com/chestnut-soup/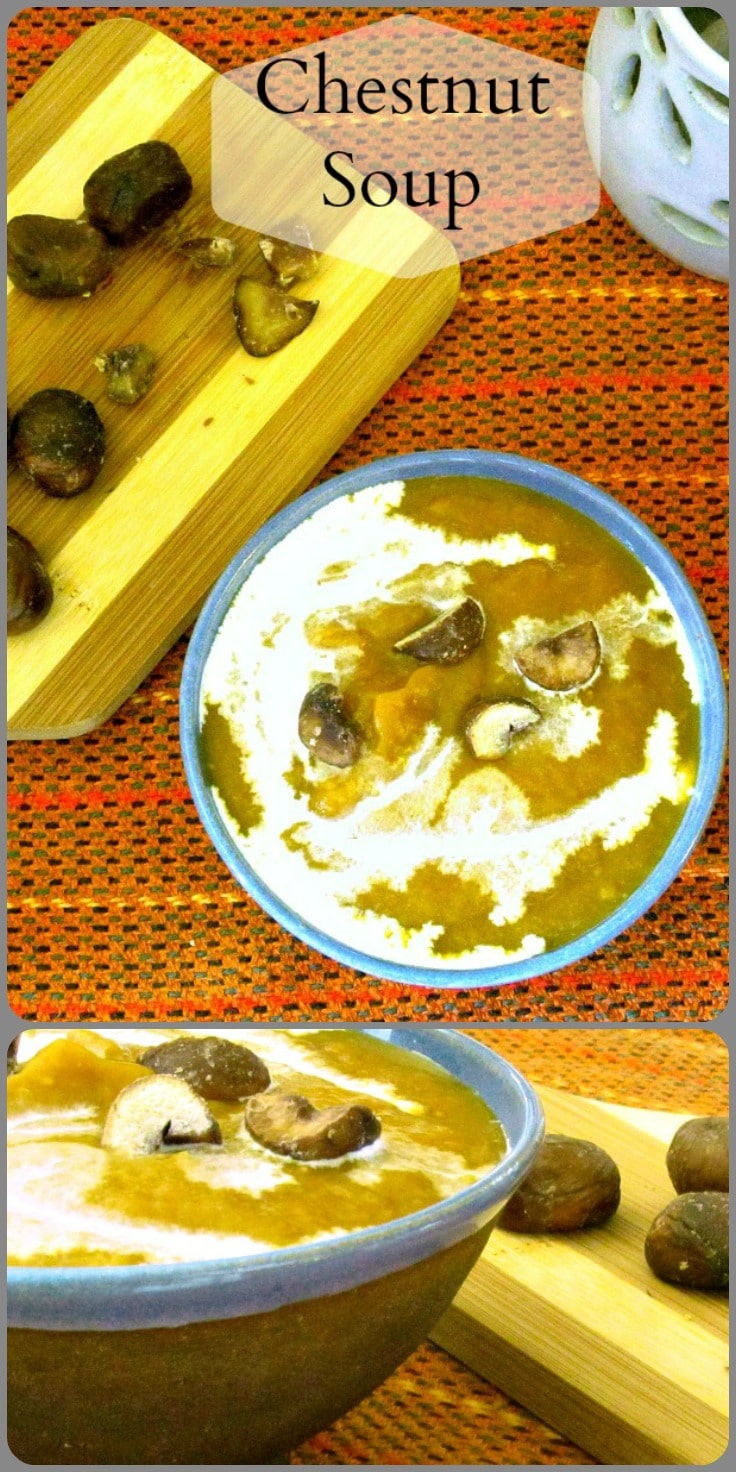 Save
Save
---
---