Cream of Celeriac Soup
Cream of Celeriac Soup is a lovely, elegant, and astonishingly easy first course for a dinner party.
Last year I wrote about celeriac, or celery root. I haven't seen it all that often here, but I hope that, along with parsnips, it becomes popular again – it has a lovely warm, delicate flavor.
Almost as a throwaway, I said in that post that I thought it would make a nice cream soup, so this year, I thought I would try that. And oh, my, it certainly does… Delicate and sweet, and a little unusual, and not too filling before a big meal, I'd love to serve it as a first course for Christmas dinner.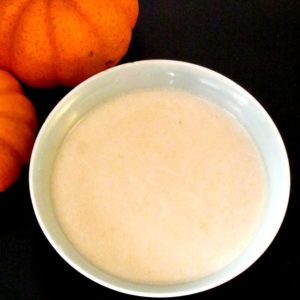 Now, sometimes I use silk tofu for a "cream" soup, but I wouldn't do that here, I think it would drown the delicate flavor. And again, sometimes one uses actual cream, for richness, not just milk, but I didn't need this to be rich… In the end, to my surprise, I didn't even thicken it! So it is very light and flavorful, though it tastes rich. Also, this was a relatively small root, but the recipe could easily be increased to serve more people.
First, clean and trim the celery root. And as I wrote last year, "trim" isn't really quite the word – you need to hack away at that thing, cutting deeply to get rid of all the skin and gnarly bits, all the pockets of dirt. Cut it in rough cubes, and measure –  I used about two cups.  (Measurements in this recipe do not need to be exact.)  And now the hardest part is done…
I chose leeks as the aromatic because they also are delicate and sweet, and would add flavor without overwhelming the celeriac. So clean and roughly chop the light colored part of a leek, and measure out half the amount that you have of celeriac – in this case, one cup. (And if you have frozen sauteed leeks, go ahead and use them!)
Now take your soup pot. I use a large pot because I will then use an immersion blender and I want room for it to splatter, but a smaller pot will work, too. Heat a little olive oil (and I added a touch of butter, for flavor) and saute the leeks until soft and just slightly golden. Add the chopped celeriac, and two cups of broth. I use chicken broth, or this time turkey broth because I had it, but a light vegetable broth would be lovely too – don't use beef or mushroom, they're too strong. Bring it to a boil, and simmer until the celeriac is tender – anywhere from 10 to 15 minutes.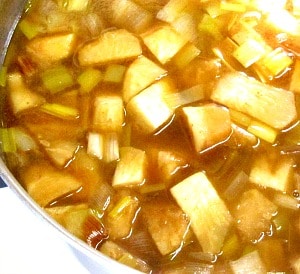 Then add two cups of cold milk, which will cool it enough to make it easier to blend. Either use an immersion blender, as I did, or a regular jar blender in batches, and blend until smooth. (Or nearly – one reason I like the immersion blender is that it leaves some texture…) If you using a jar blender it may be easier to blend it before adding the milk, but in that case do take the time to let it cool – never blend hot soup, it can burst out and scald you.
Once it is smooth and the milk is added, taste for salt. The amount you need will vary by the broth used. Then just heat it, and then serve. The first time I made it, I had expected to thicken it with roux, but the root itself thickens the soup enough. (Which is certainly easy!)
One reason I want to fix cream of celeriac soup for a dinner party is that it's perfect to make ahead, that morning or the night before. Bring it up through simmering the celeriac and leeks, then cool, puree, and put in the fridge. Right before everyone sits down, pour it and the milk into a pot and heat over low to medium heat (do keep an eye on it and stir – you'd hate to scorch the milk!) Then get everyone to the table while your roast rests and your dinner rolls bake! And sit down yourself, and enjoy your meal…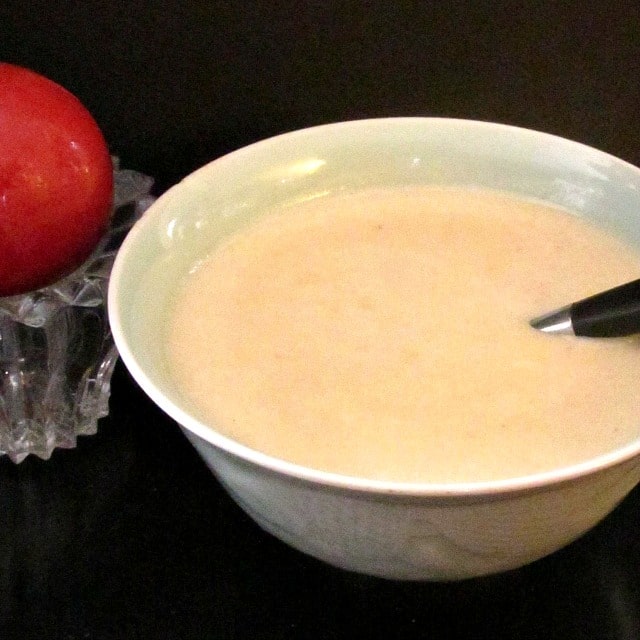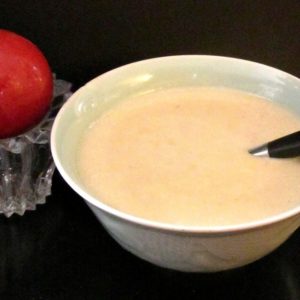 Cream of Celeriac Soup
Cream of Celeriac Soup is a lovely, elegant, and astonishingly easy first course for a dinner party.
Ingredients
olive oil for pan

1

c

cleaned and sliced leeks

2

c

cleaned

trimmed, and cubed celeriac

2

c

chicken or vegetable broth

2

c

milk

Salt as needed
Instructions
Heat oil in a soup pan. Add the leeks, and saute until soft and just golden colored.

Add celeriac and broth. Bring to a boil and simmer until vegetables are tender.

Add milk, and puree. Taste for salt. Heat, and serve at once.
Notes
This can easily be made ahead and heated at the last minute.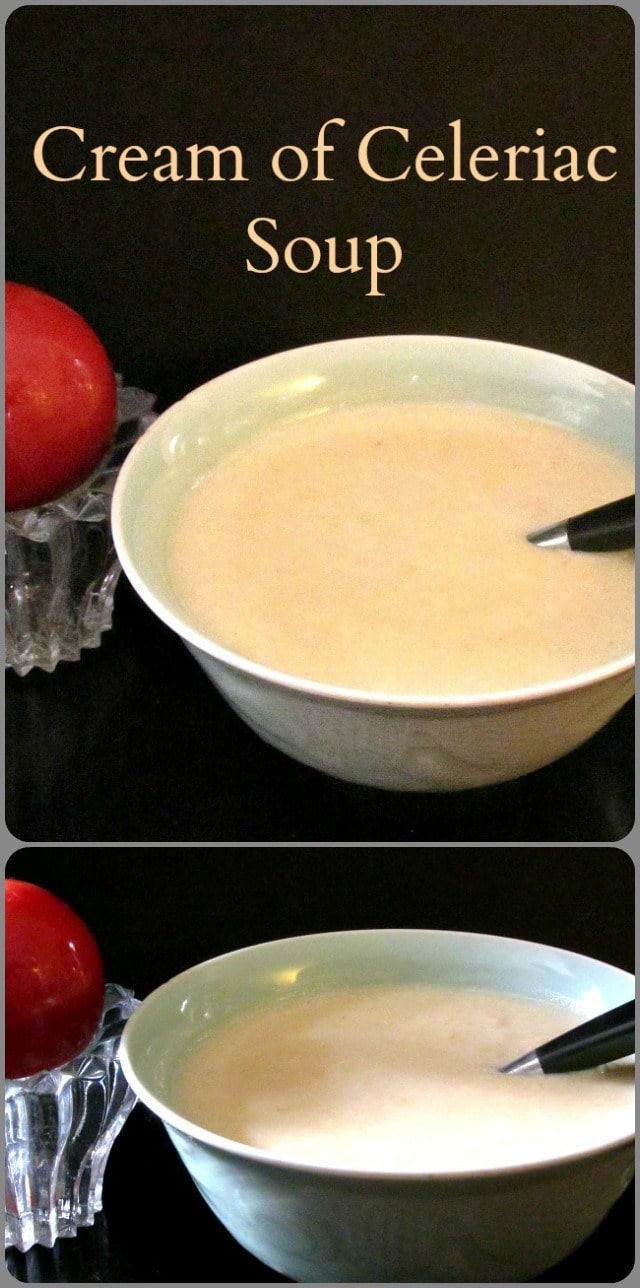 ---
---