WIAW 146 – Christmas
I hope that all of you who have celebrated, or are celebrating, have been enjoying your holidays!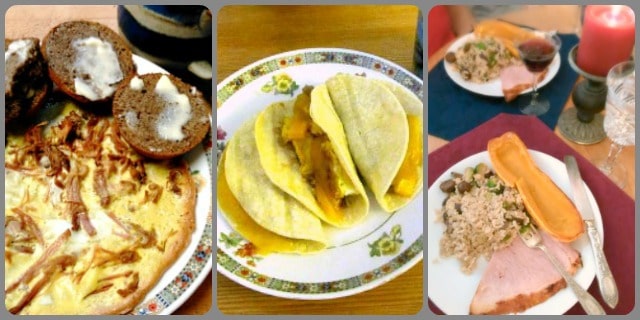 I'm in the second category. In my religious tradition – and very strongly in my family traditions – Christmas doesn't begin until Christmas Eve, but then continues until January 6 – the Feast of the Epiphany. So I still have more than a week to enjoy my decorations, and I may make more gingerbread muffins or waffles, and the Three Kings are gradually traveling along the bookshelf (I pushed the books back to make room for them) towards the desk/stable. New Year's Day comes in the middle of all this, and then we gradually ease back to normal life.
At the same time, my Christmas dinner was very low key, this year. We go out with friends the day before – Rich's tradition – and don't really want two large and elaborate meals in two days. And between the blog and some other things I'm working on, I cook madly all month – by the actual holiday, I'm ready to step out of the kitchen!
I did make gingerbread muffins in the morning. Yes, they're a little darker than the ones you've seen before – I tried some alternate millet flour from the Indian store. It won't be in any of the recipes for the blog, though – it has a more assertive taste than the flour I can normally get, and behaves differently… absorbs more liquid, for one thing. And because of that, I used orange juice instead of applesauce, and in general, these were different, though also gingerbread flavored and pleasant, and a nice way to begin Christmas morning! I also made an omelet with a bit of shredded pork from earlier in the week.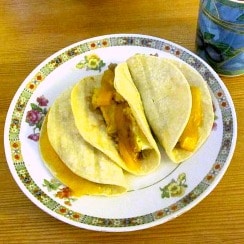 Even though I have not been eating tacos for breakfast, we still have tortillas around all the time – I use them for other things, and Rich often eats them for breakfast. And I need to remember that this means that tacos for lunch are now an option! I'm afraid I recycled an old picture – I was sure I'd taken one, but no – and I'm not entirely sure what is in that tortilla… but I had some pintos and a bit more of that pork. Fast, easy, no big deal before I put the ham in the oven…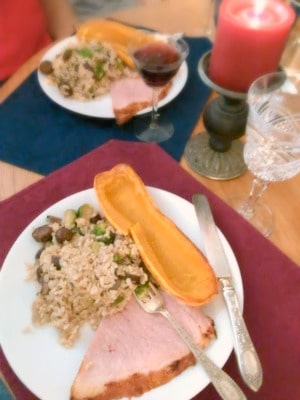 So then we come to Christmas Dinner. We did get a ham…  and I decided that this would be a nice time to eat the delicata squash.  I'd gotten chestnuts to make the soup, earlier in the month, but I decided not to reprise that soup (it's delicious but we'd just had it, and I was doing something else with squash) but instead made the Brussels Sprout Chestnut Rice I wrote about last year. I did have some shallots, so I started the recipe with them instead of the original onions, and added a few mushrooms – and it was still pretty easy, and definitely a treat! Accompanied the dinner with sparkling pomegranate juice – which feels festive and gives me an excuse to use my grandmother's crystal.
I'd planned another gingerbread, but honestly – good as it is, we'd both had enough gingerbread for the moment… so I skipped baking that earlier. Instead, I heated some vanilla almond milk with a little cocoa and a sprinkle of cinnamon, and called that dessert while Rich had some nice dark chocolate. Aaaahhh…
Come on over to see Laura's Christmas meals – and present…  and toast Jenn for starting all this, back in the day!
How are you celebrating, and winding up your year?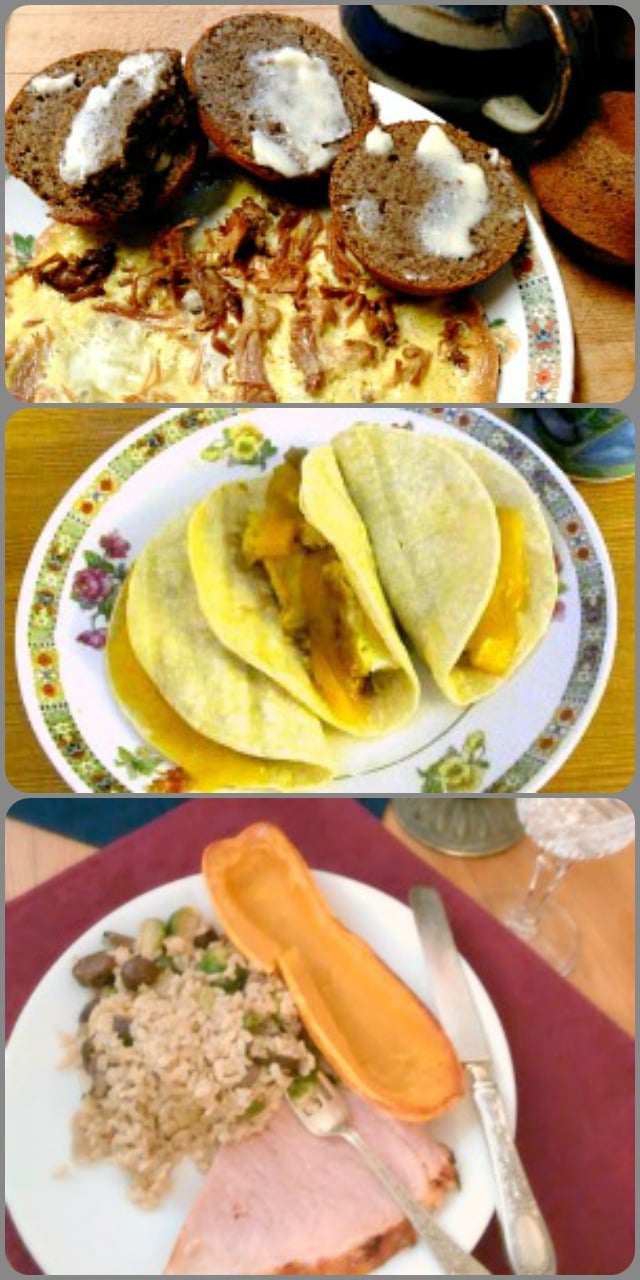 ---
---