Spicy Black Bean Soup
I make a spicy black bean soup with plenty of tomato! Great for lunch, or a cup of soup to start a meal, and it freezes and reheats beautifully.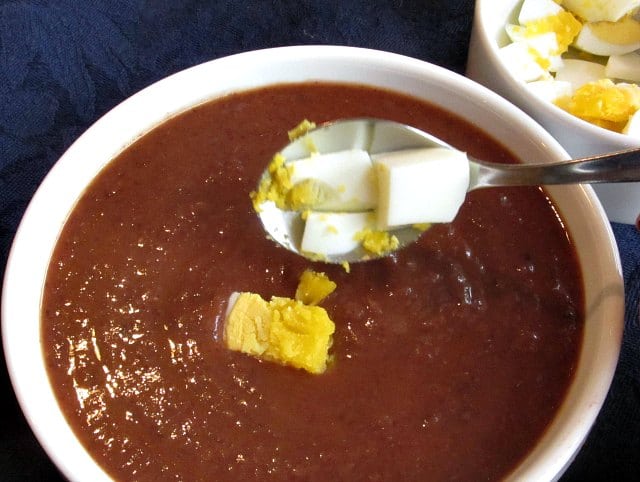 As we and Rich's parents get used to living together, we figure out how to work with different preferences in everyday activities – like lunch.  For instance, regular readers know that we have eaten soup for lunch quite regularly in winter. Barbara doesn't like soup at all, though. Don likes it as much as we do, but not as a whole meal – he's made a habit of starting lunch with a cup of soup.
Spicy black bean soup with plenty of tomato! Great for lunch, or a cup of soup to start a meal, and it freezes and reheats beautifully.
Click To Tweet
For quite a few years, now, that has meant that he uses those resealable containers of soup, so he can just pour out a cup to microwave and close the package for the next day.  And many of those soups are excellent! But one of his favorites is a black bean soup only available at a store we don't get to all the time. And, well – even the best is a bit higher in salt than he otherwise prefers to eat – not that big a deal for just a cup, but…  Besides, if I make something from scratch it's less expensive and, you know – it's an interesting challenge for me! (And it gives me something Rich and I can eat for lunch, too.)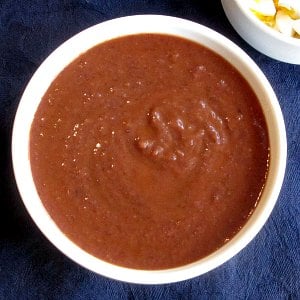 I made lentil soup last month, and he had some of it, and I'm sure he will at least sometimes eat other soups we do – but I wanted to try making something like the black bean soup he's used to. (Not too many changes at one time… I'll try others along the way.)  So I made this a few times (with some variation as I tried things out) and this version seems to please everyone.  I make a big pot, too – we can have it for lunch, and then I can freeze pint containers for variety. (He doesn't have to have the same soup four or five days in a row!)  It reheats beautifully, with no loss of flavor or texture.
Directions
Because I do make extra soup to freeze, I start by cooking a full pound of black beans. I do that in the pressure cooker, but you can cook them in your own preferred way – or you can just start with four cans. It's roughly six cups of cooked beans, however you get them.
Start by heating oil in a big soup pot – five quart or larger, if you're going to use the immersion blender.  Chop a small onion.  Add the onion to the pot and saute a few minutes, until it softens and starts to color just a little. Then add a teaspoon of chopped garlic (I did use the commercial jar) or one to two cloves of garlic, chopped (if that's what you have) and a teaspoon of cumin. (Either ground or whole will work, here.) Stir it all together, and saute another minute or two.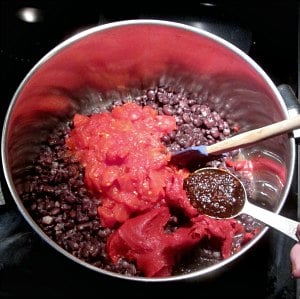 I do still recommend draining and rinsing the beans, especially if canned. As you see, this has lots of tomato – good servings of vegetables! I love tomato paste in black bean soup anyway, it just rounds it out and adds richness.   And for various reasons Don likes to make sure he gets cooked tomatoes. Chipotle Puree is simply a can of chipotles in adobo sauce which I puree to make it easier to use – if you don't do that, use one chipotle from the can (you're going to puree it anyhow) and a little of the adobo sauce.  We do all like a bit of heat, so I use two tablespoons, but you might want to start with less if you're not sure.  (Or more, if you really like spice! But also the heat will intensify with storage, and I didn't want the black bean soup to get too hot for him before he finishes it.) Salt is optional.  Especially if you use canned beans you probably don't need any, because both they and the tomatoes are salted already. Since I cook beans without salt, and he's used to the commercial (and salty!) soup, he misses it if I don't add any, so I do. As always – salt to taste…
Now, you don't actually have to puree this soup – I do because the one Don likes is pureed, and that works better for his cup of soup.  And if you do, you can use either an immersion blender, as I did, or a regular jar blender. So – if you use the immersion blender, just put all the rest of the ingredients right in the pot and blend – see, that was easy!
If you're using a jar blender, of course you can't do it all at once. So I'd suggest mixing some of the beans with something wetter – the diced tomatoes and the water – and pureeing that in batches. (You can put the tomato paste and the chipotle puree right into the pot.)
Whichever way you do it, once everything is in the pot, pureed if you want, and ready, bring it all to a boil. Simmer for ten minutes to meld the flavors. Yes, everything in the pot is already cooked, so you could skip that step, especially if you're going to store it all – but it does improve the soup.  After it simmers a while, taste to correct flavors – this is the point when you may want to add salt or chipotle.
Now, black bean soup is often served with chopped onion, or hard cooked eggs, or tomatoes as garnish. I like the eggs, especially, since that ups the protein and makes it more satisfying as a full meal, so Rich and I did that.
Anne Murphy
Yields 2 1/2 quarts
Spicy Black Bean Soup
I make a spicy black bean soup with plenty of tomato! Great for lunch, or a cup of soup to start a meal, and it freezes and reheats beautifully.
5 minPrep Time
20 minCook Time
25 minTotal Time
Ingredients
oil for pan
1 onion
1 t chopped garlic
1 t cumin
6 c cooked black beans (1 pound dry, cooked or 4 cans)
1 14.5 oz can diced tomatoes
1 6 oz. can tomato paste
1-2 T chipotle puree
1 quart water
Instructions
Heat oil in pot while chopping onion. Saute onion in oil.
When onion softens, add garlic and cumin. Saute another minute.
Add the rest of the ingredients to the pot. Use an immersion blender to puree.
Bring to a boil and simmer for ten minutes to meld flavor.
Serve, or cool and freeze for later.
Notes
Garnish with hard cooked eggs, onion, or fresh tomato. Freezes well for later use.
7.8.1.2
267
https://www.inhabitedkitchen.com/spicy-black-bean-soup/
---
---