Pressure Cooker Pasta Sauce with Sausage
Are you looking for new recipes for your new electric pressure cooker? Try this quick and easy pasta sauce with Italian sausage!
Looking around Facebook, and talking to my friends, I can see that the Hot Household Gift (or purchase, on sale) this holiday season was an electric pressure cooker. So undoubtedly some of you are looking around for recipes using one.
As I wrote last June, in the Beef Stew recipe, I've had one for more than a year now. Given my general approach to cooking, I'm sure you won't be surprised to know that I tend to use it for Ingredients – a pot of beans, for instance. And I moved my rice cooker to make room for it, so I've been cooking batches of brown rice in it once or twice a week.
But I've also found it very useful for small batch quick meals of the sort of thing I used to make in large batches with a long simmer. That beef stew, for instance. Lentil soup. Or a quick pasta sauce, with Italian sausage.
Now, to be perfectly honest, I've made sauce like this for years on the stovetop without a long simmer, and the pressure cooker wasn't really much faster. But the electric pressure cooker saved my time. I did the first part to get it started, then just set it and went back out to the living room and sat down. Sometimes that's the best part… that I don't have to hover… I can work on something else, or just rest, and dinner won't boil over or burn. The flavor had melded better, too (which is, after all, the primary reason for long simmering of some recipes.)
So I just made enough for the two of us – this could be easily doubled or tripled… Our supermarket carries a decent gluten free Italian sausage, and when it's on sale I like to lay in a few pounds and freeze them. I find the individual links easy to separate and thaw – I can even slice them still partially frozen. And we both like it. We just bought some, though, so I peeled the casing off the meat, because sometimes I like it loose like this in sauce. Oh, and I used hot sausage, here, we prefer it – feel free to use sweet.
Go to the pressure cooker, and turn on the Saute setting. While the pot heats up, peel off the sausage casing, if desired, or just slice the meat into bite sized pieces. Then drop the meat in bits into the pot. Let it cook, stirring occasionally, while you chop a small onion (or half a medium one) and slice a few mushrooms. Nothing binding about the amount of mushroom in this – we had just a little left over from something I cooked during the holidays, so I used that. More would be lovely, you don't have to use any.
Once the meat is browned, drop in the onion and sausage, and stir. Some fat will have cooked out of the sausage, and you want to coat the onion with it. Let it all cook for a minute or two until the onion starts to soften (you can give it more time and let it brown a little, but I rushed this a bit…)
Then add a 14.5 ounce can of diced tomatoes, and a teaspoon of dried basil. (This sauce gets most of the seasoning from the sausage.) Put the lid on the pressure cooker (be sure to set the vent!) and set it to ten minutes on high pressure.
Now – this is the part that can be hard to judge, if you're new to this. This does not mean the meal will be cooked in ten minutes. It will take a little while to come up to pressure – though heating up the pot to saute the meat and onions speeds up the process. And then, when the time is up, let the pressure release naturally, which will usually take another ten minutes or so. (Both processes will be longer if you increase the recipe, of course.) I use that, though – when the timer rings, I take that as a sign to heat the polenta, ask Rich to set the table, maybe make a salad or fix another vegetable, and by the time I've done all that, dinner is ready.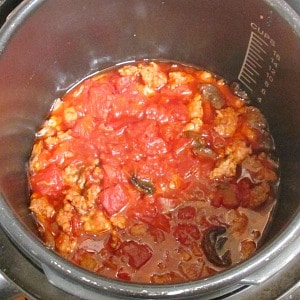 If you use some of my Preparing For Meals techniques, you can make it even easier – and the pressure cooker really comes into its own here. You can brown a batch of sausage and freeze it, just like the Crumbles – I've done that and it works well. And if you also had pre-sauteed onion (and maybe mushrooms) you could skip the whole first step. Walk in the door after work. Pull sausage crumbles and sauteed onion out of the freezer, pop some of each into the pressure cooker. Open the can of tomatoes, pour that in. Add basil (if you remember…) Put on the lid and turn it on… And go change your clothes, talk to the kids, spouse, or cat, pour something refreshing… you just spent five minutes on dinner, and then relaxed. The only thing you still have to do is heat the (also already made and frozen) polenta in the microwave, and then you have a hot, delicious homemade dinner. Can't beat that…
Now, mind you, you can absolutely make this recipe without a pressure cooker – I have for years. Just use a large saute pan or a deep fry pan, do the sauteing in that, add the tomatoes and basil, bring to a boil and simmer for at least twenty minutes. You do have to keep a closer eye on it, though – my kitchen doesn't have enough room to stay in it if I'm not working, but I stay close enough that I can hear it, and check periodically. I can't just concentrate on something else… and that's really what the pressure cooker gives me, with this recipe. The freedom to be at the other end of the house, concentrating completely on something else.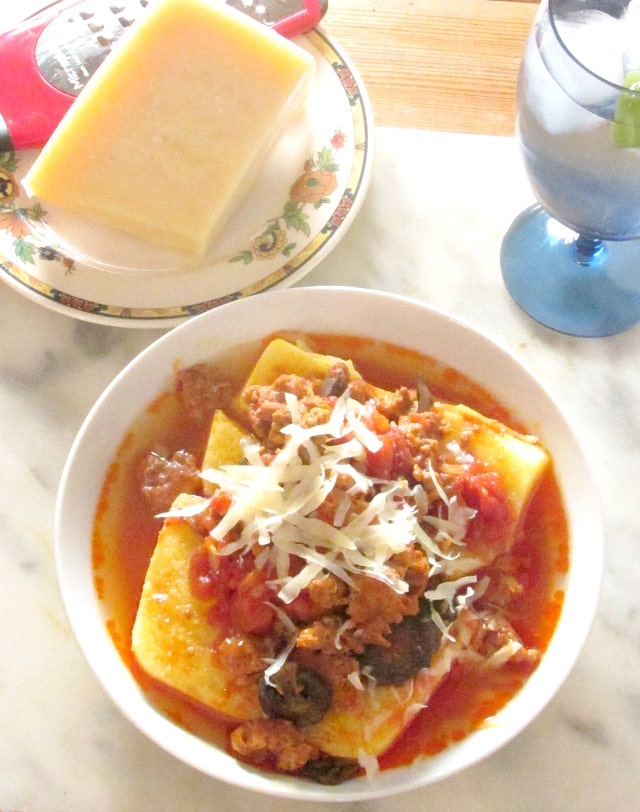 Anne Murphy
Yields 2 servings
Pressure Cooker Pasta Sauce with Sausage
Are you looking for new recipes for your new electric pressure cooker? Try this quick and easy pasta sauce with Italian sausage!
20 minPrep Time
10 minCook Time
30 minTotal Time
Ingredients
8 oz Italian sausage
1 small onion
2 oz mushrooms
1 14.5 oz can diced tomatoes
1 t dried basil
Instructions
Set the electric pressure cooker to Saute.
Slice or beak up the sausage, and drop it in bits into the hot pot. Stir.
Chop the onion, and slice the mushrooms, stirring the sausage periodically.
Add the vegetables to the pot. Stir, and saute a few minutes until the onion starts to soften.
Add tomatoes and basil.
Set the pressure cooker to High Pressure, and to 10 minutes. Place the lid on it, make sure the vent is closed, and turn it on.
When it is finished, let the pressure release naturally, then serve.
Notes
I allowed extra "Prep time" in the recipe to account for time the pressure cooker spends heating up - but that's not time you work!
7.8.1.2
220
https://www.inhabitedkitchen.com/pressure-cooker-sauce-sausage/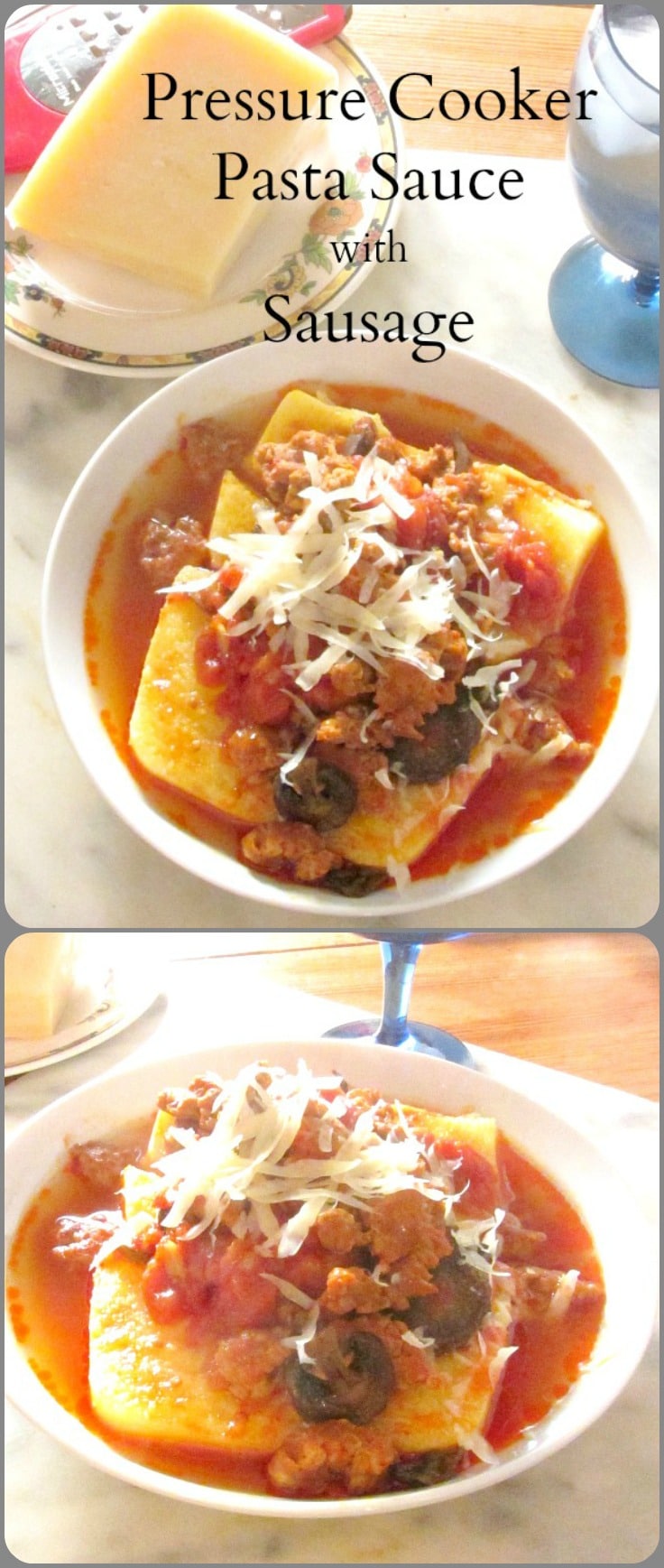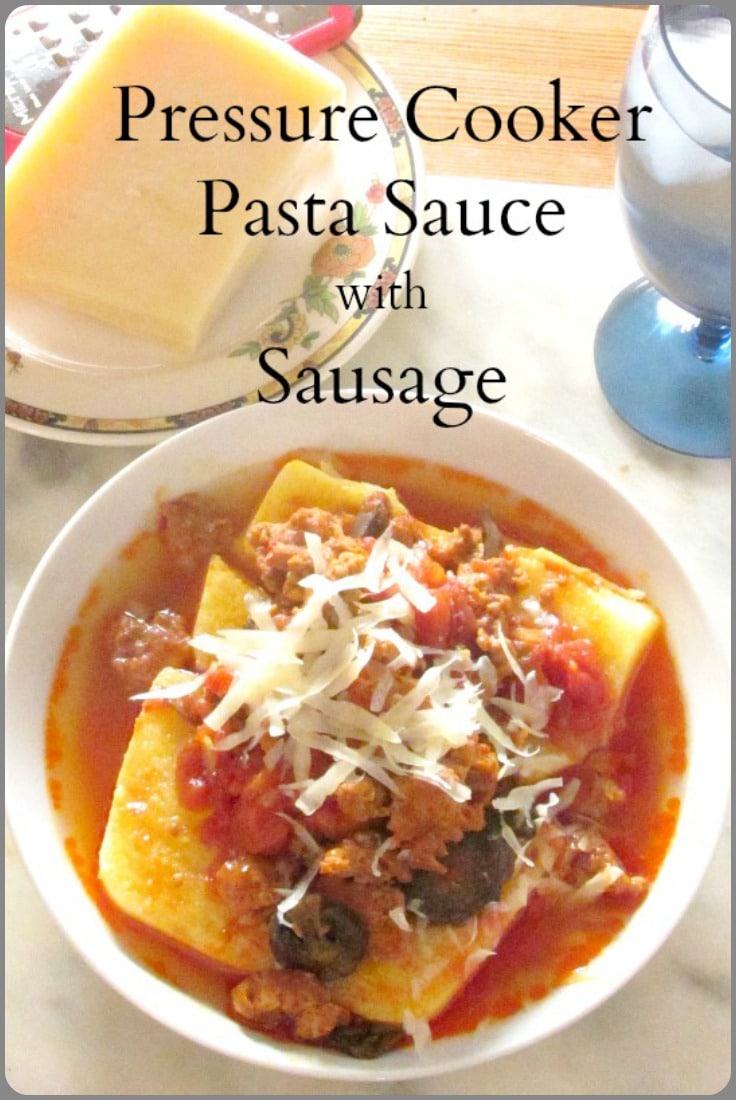 Save
Save
---
---