Spiced Pork Roast
Serve an elegant, but surprisingly easy, rolled and spiced pork roast, with a delicious gluten free seasoning inspired by the cooks of a king's court!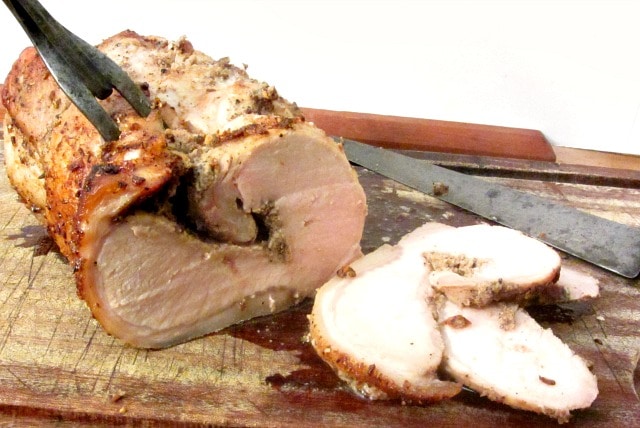 I have mentioned before that I enjoy studying historic recipes. I like to know the way people before me cooked and ate, just as I enjoy recipes from around the world. For my purposes, "historic recipes" can be from 1950s American cookbooks to the oldest recipes you can find. Sometimes I like to try to reproduce recipes as accurately as I can, and sometimes they serve to inspire me to create a new recipe.
One of the oldest I generally use is The Forme of Cury, from last 14th Century England. It exists in several manuscripts, attributed to "the chief Master Cooks of King Richard II." A version was printed some 400 years later, and a copy of that is now readily available online. Recipes vary from simple bean recipes (favas, probably – most of our beans are New World) through a tossed salad (with greens we would mostly consider herbs, rather than vegetables) to venison and lobster.
And pork. I have made a recipe called Cormarye for years. It calls for marinating pork loin in a mixture of coriander and caraway, salt and pepper, ground with garlic and added to red wine. Then you roast the meat – and apparently make a sauce of the drippings and some broth, but that part isn't quite as clear. (Do you use the marinade as well? Do you baste with it, in which case it would be in the drippings?) I just discard the marinade, as the meat itself is flavored beautifully… I never thought it needed a sauce. It's terrific cold, too.
But I've had the idea kicking around in my mind for a while, of using the spice mixture for a rolled roast, similar to the Stuffed Pork Loin from a while back. The meat would be even more exposed to the spice mixture, you could use a much shorter marinating time, and it would look quite festive (while still being pretty easy.) So I played with that a bit and – oh, my, this is the most delicious and flavorful  pork roast I've ever made… It is not the recipe as it was cooked in 1390 London – Authentic 21st Century New York here, as always, though with inspiration. Perfect for a slightly festive family dinner or a few guests – you prepare the roast a few hours earlier to let the spice permeate the meat, and then just pop it in the oven.
In the 14th Century, the most exotic spice in this would have been the pepper – caraway and coriander both grow in Europe, but pepper had to be imported. How times change! I really do recommend using whole spices, and grinding them fresh – pepper sitting out in a shaker loses flavor quickly. For some reason we don't seem to use caraway much any more, though it is a classic European spice – we get it on rye bread, and sometimes sprinkle it on cabbage, and not much else. And we think of the coriander seed mostly in Indian cooking, but it's been popular in Europe for centuries.
Take one teaspoon each of whole coriander and caraway, and half a teaspoon of peppercorns. (You can increase the pepper if you want it actively hot – I just went here for a mild tingle that won't bother people who don't care for real heat.) Grind them with a quarter teaspoon of salt. You can use a mortar and pestle, or a spice (coffee) grinder – I used a mini-chop that came with my immersion blender. The amount is too small for a regular blender. Then add garlic. My garlic cloves were huge! So I just used two – I'm going to say two to four, vary both by the size and by your love of garlic. This gave a distinct flavor (and it smelled so good roasting!)
The original recipe calls for red wine, and I've used that when I do the original marinade. But here, I just wanted a few spoonfuls to make a paste, so I opted for red wine vinegar instead. Partly, I'm not going to open a bottle of wine (or tell you to do so) for three tablespoons… but mostly because I did want a higher acid content using a rub, not a liquid marinade. It is there to help convey the seasoning into the meat, and vinegar works better, here. So add the garlic and vinegar to the spice mix, and blend until you have a smooth paste. Set that aside for the flavors to meld.
Now, here is the part that looks so fancy, but really is not difficult. First, do make sure you have something to tie the roast with. I have these silicone bands – just like rubber bands but oven safe and reusable and handy for a surprising number of kitchen tasks! Plain old traditional butcher's twine works just fine, though, or you can use skewers to sort of pin everything together…
Lay the roast on your cutting board, and slice horizontally from the narrow side to – but not through – the thick side. Then open it out flat like a book. (You may need to slice just a little more to flatten it.) Now, take your knife, and stab the meat with the tip – you really want lots of little cuts all over, as they help the seasoning permeate the meat. (I actually use a paring knife for this – it feels less… violent… somehow, than stabbing furiously with a carving knife!)
Then carefully spread the spice paste all over the surface of the meat, gently rubbing it in. And sorry – no picture of the next phase, I needed all available hands – but roll up the meat from the one narrow end. Now, the spice paste is wet enough that some will ooze out – don't worry about that now. Once it is rolled secure it with your silicone bands or string or whatever so you have a nice little compact roll. Now take the paste that has come out and rub it all over the surface of the roast, to season it, too.
Cover this, and refrigerate a few hours.
Preheat your oven to 325°, and calculate 30 minutes per pound. This was just over two pounds, and indeed took just over one hour to reach an internal temperature of 145°. Typically I would put a rolled roast with the fat side up, and the seam down, but in this case I opt to put the seam up to prevent further oozing out of seasoning mix. Pop your pan into the hot oven, and roast. A little before your predicted time, check it with a thermometer – if it is done, take it out, if not, give it some more time.
When it is done, take it out and let it rest for at least five to ten minutes – this both allows the meat to reabsorb juices and helps it firm up in the rolled position so that it is less apt to unroll when you remove the ties. Then slice and serve!
The rolled roast looks fussier than it is – and tastes delicious.  I like to bake potatoes in the same oven, and simmer cabbage, red or green,  as side dishes, as they go well with the spice mixture. The meat is wonderful cold, as well, or reheated as leftovers, so don't worry if you have a small family – just think how impressed your coworkers will be when they see this in your lunchbox!
Spiced Pork Roast
Serve an elegant, but surprisingly easy, rolled and spiced pork roast, with a delicious gluten free seasoning inspired by the cooks of a king's court!
Ingredients
1

t

caraway

1

t

coriander seeds

1/2

t

black peppercorns

1/4

t

salt

2-4

cloves

garlic

3

T

red wine vinegar

2

lb.

pork loin roast
Instructions
Several hours before you plan to roast the meat, grind the caraway, coriander, peppercorns, and salt together. Then blend with the garlic and vinegar until it comes into a paste. Set aside.

Butterfly the pork loin,and spread with the spice mixture. Roll the meat, and fasten in a compact rolled roast. Take any spice blend that has oozed out and rub it into the outside of the roast.

Cover and refrigerate several hours, to marinate.

Roast in a preheated 325 oven for half an hour per pound, until it reaches an internal temperature of 145.

Remove from the oven, and let rest 10 minutes before removing ties and slicing.
Notes
Delicious served cold, as well!
---
---