One Pot Chicken and Sweet Potatoes
Make this fast one pot meal of chicken, sweet potatoes and vegetables! A delicious easy dinner!
Even food bloggers sometimes walk into the kitchen, glance at the clock – and realize we don't have enough time to cook the meal we had planned.
Or at any rate – I do… (don't you?) and I did last week.
So first I stood in the middle of the kitchen dithering for a while (which of course does so much to get food on the table…) Then I swung into action – put away the baking dish I'd just taken out, took out the big fry pan, started the chicken cooking – and realized that this would make a good post. Because surely I'm not the only person to need a fast one pot meal.
To begin with, I cooked four servings. No, this didn't mean I had guests (or I would not have stopped for a photo session!) We needed cooked food to carry the next night that would just need to be microwaved, and planned over leftovers are the best way to do that. (Which is the reason I didn't switch to one of my other fallback meals, which would not have given us the second dinner.)
Anyhow – I had planned to  bake chicken and sweet potatoes, while I fixed vegetables. But we needed to eat in half an hour. So – the pan went on the stove over low/medium heat, and I let it gradually heat up while I took out the chicken and sweet potatoes.
Then I added just a drop or two of olive oil – just enough that the skin would not stick (though it did in one spot – oops) and put the chicken skin side down in the pan, over medium heat. The goal is to both brown the chicken and cook out some of the chicken fat in and under the skin. I let that cook for around five minutes, while I peeled and cut the sweet potatoes into bite sized pieces.
Then I turned the chicken over, and gave it another minute or two to start browning the other side lightly. Then I moved them to one side of the pan, and – hey, a flavor flourish! – added some ginger paste (I have a tube of the stuff, which is very convenient) to the fat in the pan. (If there had been a lot of fat, I might have spooned some out, but it was really just the right amount for what I wanted, here. It does add a great deal of flavor.)
I stirred the ginger around in the chicken fat, then added the sweet potato pieces, and tossed them in the seasoned fat. Then I rearranged the chicken with the potato in a single layer (or as close as I could get it) around it, added a cup of water, and covered the pot. (OK – so a pinch of salt would have been a good idea… Next time?)
I let that simmer, covered, for about 15 minutes, then checked. Turned over the chicken, just to be sure it cooked evenly, noticed the potato was falling apart soft, and that the water was now a rich brothy sauce. And I added frozen broccoli. (If I'd been using fresh florets, I'd have put them in after ten minutes.) I did, in this case, only add enough for us to eat that night – the next night I just took frozen along and microwaved it all together – but of course I'll write up the recipe as if you are eating it all at once! Covered the pan again, and gave it just a few minutes until the vegetables were cooked.
And that was it. I served Rich, took pictures of my plate, and even with the photo session was eating about half an hour after I started to cook. Not bad at all!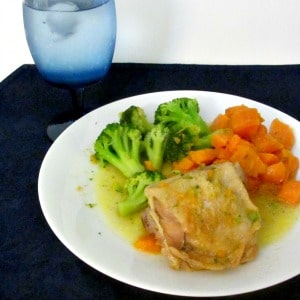 One Pot Chicken and Sweet Potatoes
Make this fast one pot meal of chicken, sweet potatoes and vegetables! A delicious easy dinner!
Ingredients
olive oil

4

chicken thighs

2-4

sweet potatoes

depending on size

1

T

ginger paste

pinch

salt

1

lb.

broccoli florets

fresh or frozen
Instructions
Heat a fry pan. Heat about half a teaspoon of oil. Place chicken thighs, skin side down, in the pan. Cook over medium heat about 5 minutes, until skin browns and some of the chicken fat renders out.

While chicken cooks, peel and cut sweet potatoes into bite sized pieces.

Turn the chicken pieces over, and move them to the side of the pan. Put ginger paste and salt in the chicken fat in the pan, and stir well. Add sweet potatoes, and toss to cover with seasoned chicken fat.

Arrange the chicken and potatoes evenly in the pan. Add 1 cup water, then cover.

Simmer over medium heat. Add fresh broccoli florets after 10 minutes, or frozen after 15, cover, and cook until broccoli is done.

Serve at once, pouring sauce from pan over meat and sweet potatoes.
Save
---
---