Vaguely Southwestern Skillet – Quick Dinner
This quick and easy one pot skillet dinner has changed since my mother made something similar, and is now gluten free, but just as easy and tasty!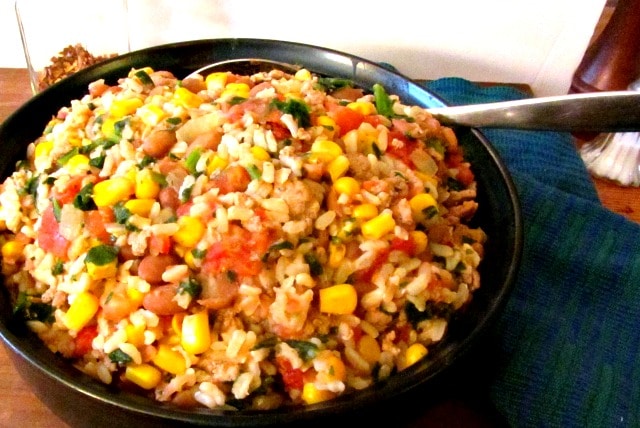 When I was a child, one of my family's favorite weeknight meals was something we called Melange, or sometimes, Mama's Melange.
The story went that one night, as my mother was concocting some sort of quick skillet dinner, my little brother asked what dinner was – and would not be put off with anything but a name. She finally told him it was a mélange – a mixture. Well, it must have been a successful one, as he asked for it again! It became our name for a basic mixture of ground beef, vegetables and rice, bound together by some sort of sauce (often enough condensed soup.) The choice of sauce let her vary it, but it was almost always something out of a can or jar, as the whole point of the meal was that it was something she could throw together quickly and easily.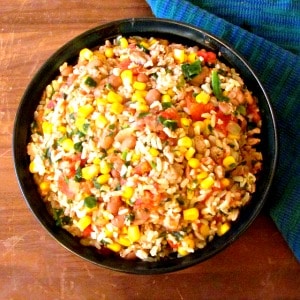 Of course I then started cooking some version of it when I was on my own, and of course it changed in my hands. The can of soup or sauce went first – partly just because I never cooked for four, and it was too much. (Now, of course, I have to avoid many of them to avoid gluten.) Tomatoes, though, gave me both sauce and vegetable. The meat went away, and came back, and… is now part of the equation, but is optional – or I can use just meat and leave out the beans that joined it. And sometimes I still use beef, but I might also use pork, and turkey is probably most common. I can also save even more time by just starting with pre-made Burger Crumbles (meat or not.)
If I cook this in August, I absolutely use fresh vegetables. They add a little time (but not much, if I chop them while the meat browns) and vastly more flavor. But this is February, and it was snowing as I made this… canned and frozen, thank you, and I'm glad to have them. And I use rice I cooked ahead – I usually cook at least double batches, because it is so useful! But it is possible now to buy a package of precooked brown rice – so that's an option.
Since I was using turkey, which has very little of its own fat, I started by heating the pan, adding a little olive oil, and sauteing a chopped onion. (By the way – this heavy enameled cast iron pan is the very one in which Mom cooked Melange! And I wasn't even thinking about that when I selected it – it's just larger than my others, and I wanted to cook enough for leftovers as well as the one meal. It does reheat well.) Anyhow, once the onion started to soften, I added a pound of ground turkey, and raised the heat. My goal here is to first drive off the liquid that cooks out of the turkey, so that I can then actually brown the meat a little. If I were using beef, I'd start with the beef in the hot pan, and then add the onion to cook in the fat that cooked out of the meat, instead of adding more.
Once the meat starts to brown a little, add a teaspoon of red pepper flakes, and stir them around with the meat to heat them. (Between one thing and another, this is going to be the year of dried red pepper in my kitchen – I have a lot of it.) If you want to use fresh hot pepper, or garlic chili paste, add them with the onion. And of course, vary the amount to your own family's taste. And add a teaspoon of ground cumin.  Stir it well. Then stir in a cup and a half of cooked pinto beans. I used beans I'd cooked, as I had them, but a can of beans, drained and rinsed, is an option. And of course you can vary the beans – black beans are a particularly attractive, as well as tasty, variation.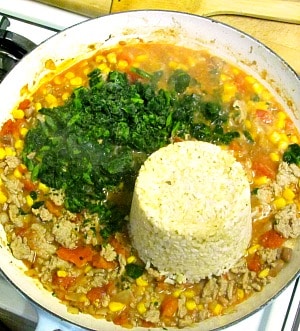 Then add a 14 ounce can of diced tomatoes, a can of corn (I make sure I find one without added sugar!) and a half cup of water. Bring it all to a boil, and let it simmer about five minutes, to fully cook the meat, and let the seasoning permeate the food. Then add a cup of frozen chopped spinach, and two cups of cooked brown rice. Stir them in well, and continue cooking until everything is heated through. Then serve.
This makes four hearty servings – good on a snow day for the one shoveling! (One perk of living in an apartment – the kitchen may be small, but I'm not out there shoveling…) Now, there is less rice than I would usually serve to four people – the beans make up for that, some, Rich likes tortilla chips on the side, and sometimes I just double the rice (though I prefer this proportion.) And I may sprinkle some cheddar or Monterrey Jack cheese over it. Leftovers make a great lunch, as well – and they can be carried in a thermal container if you need to carry a lunch.
So I vary it as much as Mom did, but by changing base ingredients, not which commercial soup or sauce I use. And I never really set out to do this, it just moved in this direction, but as I wrote it up I realized that it has a definite Southwest flavor to it – so Vaguely Southwestern Skillet it is. Whatever I call it, it's a great, fast, easy one pot meal.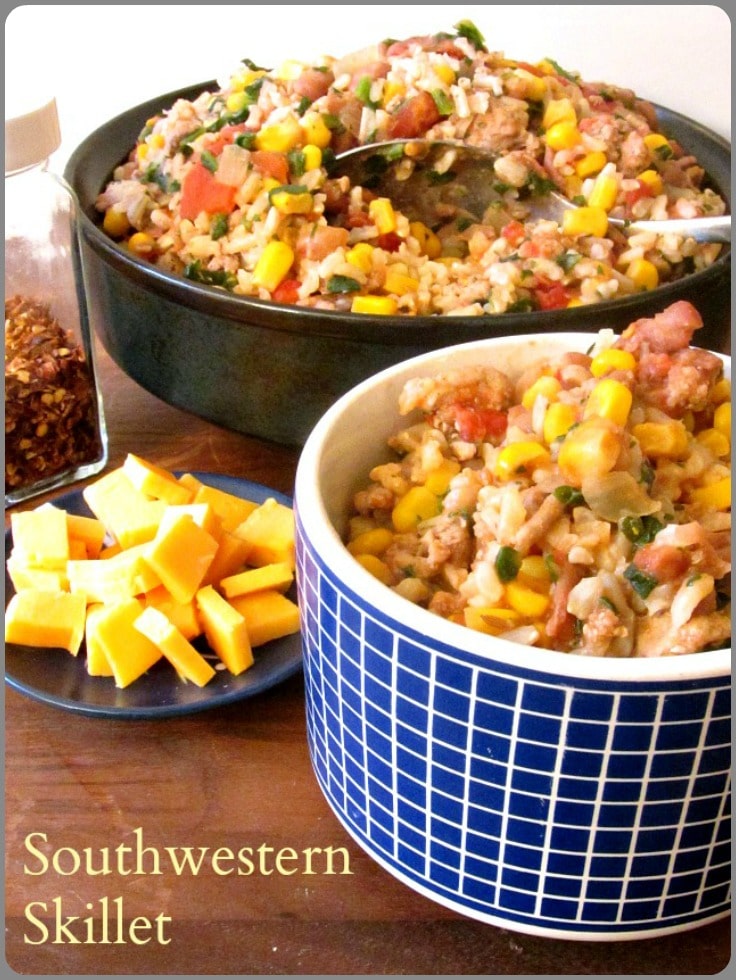 Vaguely Southwestern Skillet – Quick Dinner
This quick and easy one pot skillet dinner has changed since my mother made something similar, and is now gluten free, but just as easy and tasty!
Ingredients
oil for pan

1

onion

chopped

1

lb.

ground turkey

1

t

red pepper flakes

1

t

cumin

1 1/2

c

cooked pinto beans

or one can

1 14

oz.

can diced tomatoes

1

can corn

1/2

c

water

1

c

frozen chopped spinach

2

c

cooked brown rice
Instructions
Heat a large, heavy skillet over medium heat. Add oil to pan and heat. Add chopped onion, stir, and saute until soft.

Raise the heat under the pan, and add ground turkey. Stir the meat around while it releases liquid, and cook until that liquid has boiled off. Add pepper and cumin, and stir. Add beans, and mix well.

Add corn, tomatoes and water. Bring to a boil, lower heat, and then simmer for five minutes.

Add spinach and rice. Mix well, and continue cooking until everything is heated through.
---
---