Homemade Polenta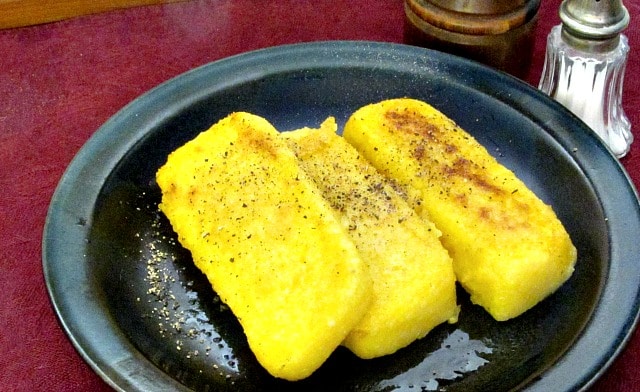 When I started using whole grains exclusively, I found the shelf stable packages of polenta sold at the supermarket to be a very convenient food – whole grain but even faster than cooking pasta. I could just slice and microwave it! And then, when I also went off gluten, it was even more valuable. I always have a package on the shelf.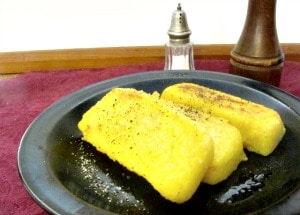 But it does cost more than the old wheat pasta did (though still less than much gluten free pasta) and it does have some preservatives. I don't really want it to be a staple in my kitchen. Besides, I know that polenta is pretty easy to cook. I can make just enough for a meal. Served at once, it is the mamaliga that was served at almost every meal when I traveled in Romania, very like grits in the American South. But if you let it cool, it sets up quite firmly, just like the polenta in the package, ready to heat and eat. Or you can pop slices in a bag, so they doesn't take too much room, and freeze them. I finally started to make larger batches to have the convenience of microwaving.
Start with the corn. A somewhat coarser corn is ideal, but it does not have to be labeled as Polenta. For baking, I use a stoneground cornmeal that is really a flour. I could use that, but it would be annoying to cook it without lumps, so I don't. I have in the past bought a very coarse grind from a farmer at Greenmarket. I had to make it ahead and let it set, as that softened the corn – if I just cooked it and tried to serve it at once, it was too gritty to eat. (This is an issue with corn, which is much harder than wheat, and cannot be handled the same way.) Something in between, which may (or may not) be labeled as polenta, or as grits, works well.
Use a pot that is larger than you think you will need – the stuff spits and spatters. And take out something to mold it in. I like a loaf pan, because then it is easy to slice evenly.
Mix one cup of coarsely ground corn with two cups of water until completely mixed in and smooth. Then add another two cups of water. You can do it all at once, but I find this method easier. Add the salt.
Now bring it to a boil, while stirring. This part is key – as it comes to a boil, the corn sort of blooms. If you don't stir, it can settle and get lumpy, but stirring prevents that. You will see the change. One minute, you have a pot of water with wet corn that rises and swirls as you stir, the next you have a pot of yellow liquid, with the corn completely suspended in the water. (Remember high school science, and the difference between a solution and a suspension? Corn does not dissolve, but as it cooks it does suspend.)
When it comes to a boil, lower the light, and let it simmer for half an hour, stirring every five minutes. I know you think polenta is difficult because we've all heard stories about Italian Nonnas stirring the pot constantly for hours. We really don't have to do that. (Nonna probably had corn too coarse to easily cook soft, and no way to keep the cooked product for a full day or more to soften.)
Do stir every five minutes, though, so that it doesn't settle and lump, and does cook evenly. As the polenta thickens, it will start to go into boiling lava mode. You can see in one of the pictures the little "crater" where a bubble of steam has come to the surface. Stirring keeps that from getting too bad, but be careful, it still can spit at you. The goal is to cause the starch to gelatinize, so that when it cools it all gloms together firmly. The long slow cooking with stirring causes that to happen evenly. I often do this when another job keeps me in the kitchen – it's not a big deal if I'm also washing and chopping vegetables, mixing a meatloaf, or any other task that I can easily pause to stir the corn.
Now, as always, the exact timing will vary – the grind of your corn, the heat of your stove on Low all affect it. Once you have a soft mass that will mound, but then settles back down, you're probably done. If you want, you can eat it now, or eat some right away and save the rest. Pour it immediately into your loaf pan or other bowl. (You do not need to grease it.) It will start to set as soon as it starts to cool.. Do not eat some and leave the leftovers in the pan to deal with later – ask me how I know…
But then just leave the loaf to cool. Once it is cooled, I usually cover it and refrigerate it to use the next day. If you want, you can use plastic wrap and press it down to touch the top of the polenta so it doesn't dry – honestly I don't bother, but if you have finicky eaters, or just want a fancier presentation, it may make sense.
As the polenta cools it contracts in the pan. After a few hours, it is completely cool, and will turn out easily (though I usually let it set overnight, in the fridge, to be sure.) At that point, you can wrap it as is and refrigerate it. I usually slice it for easier handling if I want to freeze it. Basically, you now have exactly what comes in the package, without additives. It is not shelf stable. You do need to keep it in the fridge, or freezer if you won't use it in a few days.
I cut two to three slices per serving. Usually I just microwave it – the whole idea is ease, speed, and convenience, after all. I do sometimes pan fry, and am more likely to do that if I'm serving it with food that does not have an actual sauce. Last week I pan fried a few slices, then served them with Italian sausage pan and greens – delicious. Or pan fry in butter, which will help it brown, and sprinkle a little Parmesan and pepper on top as a side dish with a plain meat. I gave measurements for four servings, but it can readily be increased (just make sure you use a large enough pan!) if that makes more sense for you.
And if you want something make-ahead and decorative for a dinner party, pour the hot polenta into custard cups, or even pretty little molds, and let it cool in them. Then simply microwave when you are ready to serve!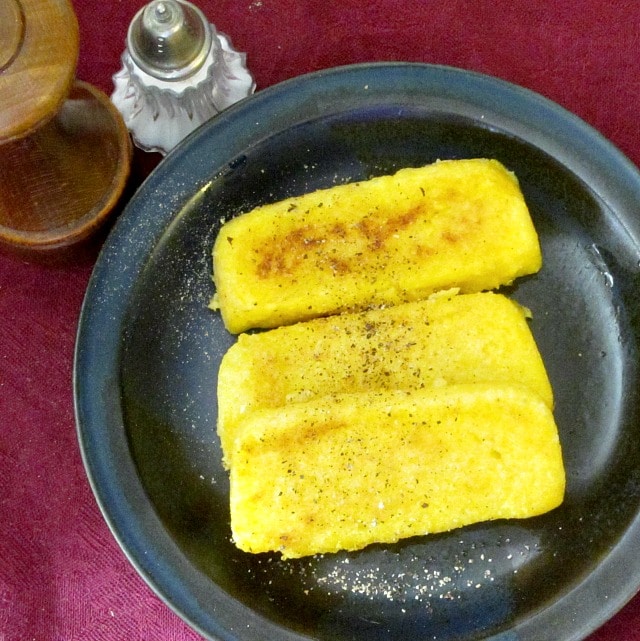 Anne Murphy
Yields 4 servings
Homemade Polenta
Polenta is easy to make at home. You can either eat it all at once, or cool, slice, and keep it to reheat later when you need a quick, easy meal.
35 minCook Time
35 minTotal Time
5 based on 2 review(s)
Ingredients
1 c coarse ground cornmeal (may be labeled polenta or grits, may not be)
1 qt. water
1 t salt
Instructions
Mix the cornmeal well with 2 cups of water, then add the rest of the water and salt.
Bring to a boil, stirring constantly, until the cornmeal blooms and starts to thicken.
Lower the heat, and simmer for half an hour, stirring every five minutes.
At this point, you can eat it at once, if you wish.
If you prefer to keep some or all for later use, pour it immediately into a loaf pan or bowl to cool. As it cools, it will set. Once it cools, refrigerate.
Notes
The firm polenta can be turned out of its pan, sliced, and reheated at once, or frozen for longer storage.
7.8.1.2
195
https://www.inhabitedkitchen.com/homemade-polenta/
---
---