Make Ahead Roast Vegetables
Roast Vegetables – an easy make ahead dish to use in a Meal Plan, to simplify holiday cooking!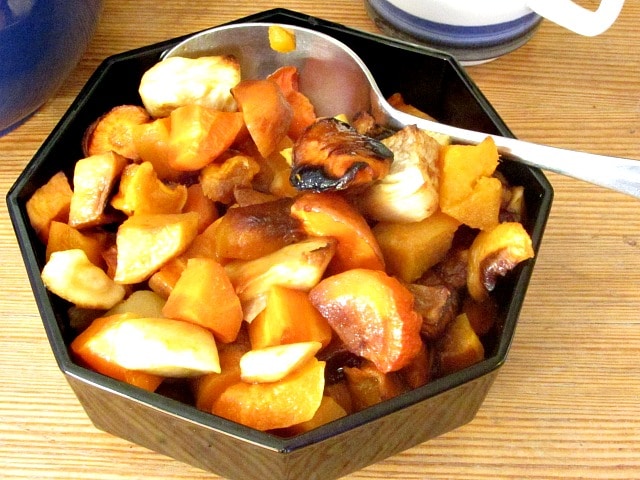 Here in the United States we are coming into the holiday season, a very busy time for many of us. (Yes, much of the rest of the world also celebrates holidays at this time of year – but the four to five week period from Thanksgiving to Christmas is particularly hectic, here.)
First, of course, there are the actual celebrations of the holidays themselves. Many of us travel for Thanksgiving or Christmas, or entertain family and friends who have come over the river and through the airport to our house. We're roasting the turkey, or cooking – and packing and carrying – the lasagna or the mince pies, frying the latkes, or baking the cookies.
Then there are Special Holiday Programs. The school play, the music recital, the Christmas Concert, The Nutcracker Ballet, Lessons and Carols and Midnight Mass – all require rehearsal, which can in turn require getting people to and from rehearsal…
And all this is before we even think about shopping for gifts, and buying Hanukkah gelt and candy canes, and decorating, and finishing the sweater you're knitting for your sister and… Going to the Cookie Exchange Party, and the office party, and the Tree Trimming Party, and downtown to see the store windows, and to the mall to visit Santa, and…
In between all this, you still expect dinner?
Well, yes. In fact, the busier you are, the more you really need a decent meal.
For years, I worked as a vendor in stores, long hours every December. I did that for the flexibility that let me work as a costumer – but then I got a gig with a show that went up the first week in December every year! I ate much too much canned soup in December for several years, but then started planning more, because I knew I needed to eat better. And then I acquired Rich (who, left to himself, would eat more canned soup…) and the next thing I knew, I was baking chicken and making meatloaf ahead of time. And so, Planning For Meals began.
I finally developed what is, in fact, a modular system. I make sure I have a series of modules, so to speak, on hand, which fit into certain slots on a meal plan. Once you get started, it is a very easy system to follow.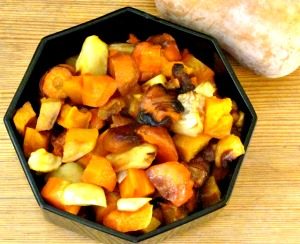 For instance… the other day I took a bit more than half an hour – perhaps as much as forty five minutes? – to clean and chop vegetables. I was deliberately cleaning out the crisper drawer – if you don't have a farm share buildup, you might want to do it in smaller batches. Then I roasted them – a variety of root vegetables and winter squash. The big roasting pan I filled took an hour, a batch half that size often takes only forty five minutes. We ate some right away, of course, and I made some into soup today for lunch, but I still have a couple of quarts of roasted vegetables, which reheat beautifully and can be used in many ways.
If you feel like it, you can make a batch of roast vegetables this week to get yourself started. Keep some in the fridge, and use it now, but freeze some – and you will be ahead of the game.
Directions for Make Ahead Roast Vegetables
Start with carrots – everyone can easily get carrots. We'd gotten some massive ones – I kept a few smaller ones aside to keep using in salad and the like, and chopped half a dozen of the big ones. I had some parsnips, too – also a sweet vegetable but a different flavor. A couple of peppery rutabagas, for contrast, and a few kohlrabi that had hidden in the back of the crisper. (Surely they hid – I couldn't have simply forgotten about them – could I?) Then a butternut and a kabocha squash.
I didn't include onions, this time – they're a renewable resource, in this house, and I didn't want to take the freezer space. By all means add them if you want – garlic, too. And the same for potatoes – they're great in the mix, especially if you want it to stand alone – but I'll use some of it in soup and sauce, and decided against using them this time.
I don't add beets, though they'd be delicious, because the color bleeds all over – I roast them by themselves. If you have golden beets, though, go ahead. White turnips might go in another time, or daikon radish…  I've never used celeriac – it's expensive, here, so I use it alone to feature the flavor – but if you have it, that would be a lovely addition. Basically, use what you have, or what sounds good to you.
Wash, trim, peel as needed, and cut everything into bite sized pieces. You probably don't want to fill the turkey roaster, especially the first time… I really needed to move the vegetables! But fill, say, an 11″ x 7″ baking pan… that will give you some for dinner tonight, and enough to use a couple of times in future.
Then sprinkle a teaspoon of salt over it, and toss well to distribute. After that, dribble two tablespoons (or more, if your pan is larger, or you need it) of olive oil over everything, and again, toss and stir well, so that all the vegetables are at least touched by oil (they don't need to be fully coated.)
Then put the pan in a 400°F oven, and roast until softened and starting to brown a little. I check, and stir away from the edges, at half an hour, and then usually give it another fifteen minutes (though the larger pan took longer.) Timing will depend a little on the moisture of the vegetables, as well as your oven, your baking pan, and all that.
This will last a few days in the refrigerator, or you can freeze it. I like to fill and flatten zip bags, as then I can break off chunks as needed. Otherwise, divide into amounts you can use at once.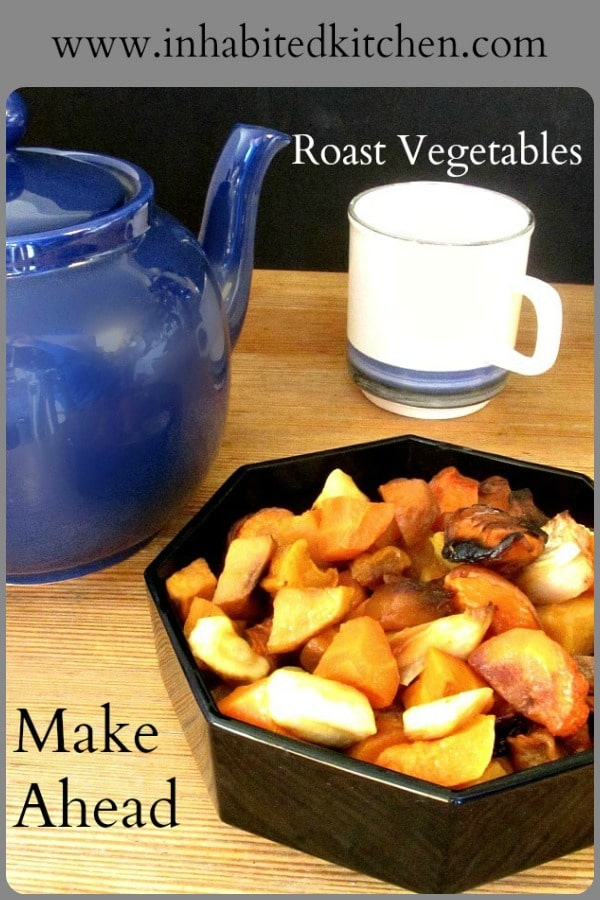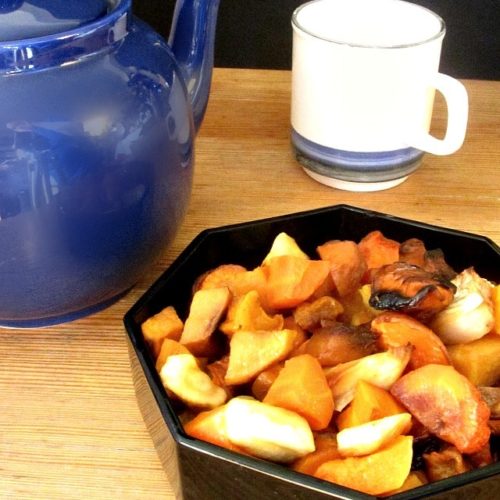 Make Ahead Roast Vegetables
Roast Vegetables - an easy make ahead dish to use in a Modular Meal Plan, to simplify holiday cooking!
Ingredients
Assorted root vegetables - carrots

parsnips, turnips, onions, as available

Winter squash - butternut

acorn, kabocha,

salt

olive oil
Instructions
Take an assortment of vegetables that pleases you. Wash, trim, peel as needed, and cut into bite sized pieces. Place in a baking pan.

Sprinkle with salt, and stir well, to distribute salt.

Dribble olive oil over it - start with two tablespoons. Stir well to distribute oil, adding more if needed.

Roast at 400 F for 45 minutes to an hour, until soft and slightly browned. At the half hour, stir vegetables in the pan, moving the ones near the outside into the center so they cook more evenly.
Notes
Roast Vegetables keep, freeze, and reheat beautifully, making them a perfect dish to cook ahead for later use on a busy day.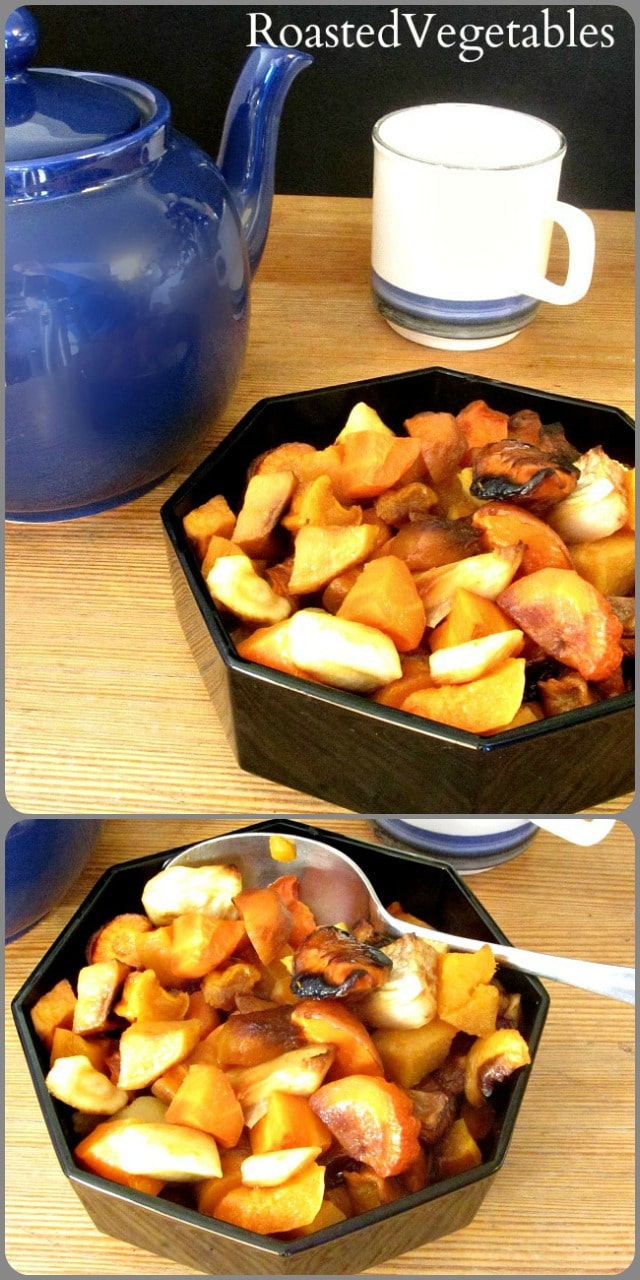 Save
Save
Save
Save
Save
---
---