Roasted Onions
Enjoy these lovely roasted onions – elegant enough for a holiday, easy enough for everyday, and a breeze to make ahead and reheat!
I seem to be obsessed with roasted vegetables, right now… Maybe it's the cool weather, but mostly it's the influx of the winter vegetables, which roast so beautifully. Root vegetables and winter squash – all bred over the centuries as storage vegetables, all firm and a bit sweet. Roasting concentrates the sweetness and the flavor, while keeping individual flavors in a medley, rather than running them together as braising does.
And then, well, the CSA gave us cipollini onions. These are an Italian sweet onion – small, thin-skinned, and very sweet. I had to feature them in a recipe that deserved them! But if you don't have cipollini – after all, I usually do not – any small sweet onion will work. Even yellow onions will, though they won't be as good. Pearl onions are also an option, if you have them (I see them fresh even less often than cipollini.)
This is another So Simple it's Barely a Recipe recipes… but at the same time, it's elegant enough for a side dish on a holiday table. You can make it ahead, too, and reheat at the last minute – very useful for a holiday meal!
The hardest part is peeling the onions. That delicate thin skin is a nuisance… it comes to pieces. Just keep going, you'll get it…
Directions for Roasted Onions
Preheat your oven to 350°F.
Then melt a tablespoon of butter. My baking dish is cast iron and flameproof (though no handle – I wouldn't normally use it on the stovetop) so I just put it over low heat for a minute. It really only needed to be warm to melt the butter. You could whisk it in and out of the oven the same way, or just melt the butter in something else. When the butter is melted, add a tablespoon of balsamic vinegar. I don't use it often, but its sweet/sour taste sets onions off incredibly well. Mix them well, pour them into your baking dish (if you didn't use it to begin with) and swirl it around to coat the dish.
Then add your onions, and roll them around in the butter mixture to coat them completely. Bake at 350° for… well, that's going to depend on your onions… These were small and flat, and fully cooked at 35 minutes. I would check them then, but allow 45, just in case – slightly larger onions would be longer. Some Spanish onions are pretty big, so you might want to allow an hour (though check at 45  minutes) or even cut them in half. I slip the tip of a sharp paring knife in – if the knife meets resistance, I bake longer. If the onion is fully tender, it is ready. When in doubt, err on the side of longer cooking.
For a holiday meal, bake it ahead of time, then pop it in the oven to reheat when you remove the turkey or the roast. Reheating won't hurt roasted onions at all, and it will make your life easier.
I have not tried this, but I think you could use the same treatment for frozen pearl onions, if you are low on time or energy. Just remember that they are not only smaller but also already essentially cooked – I'd coat them in the butter mixture, then bake for just 10 minutes, to heat, brown,  and develop flavor.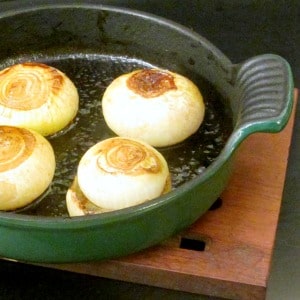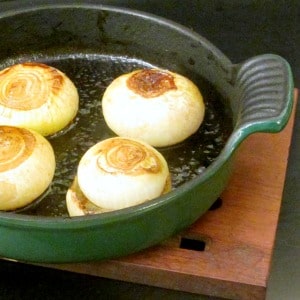 Roasted Onions
Enjoy these lovely roasted onions - elegant enough for a holiday, easy enough for everyday, and a breeze to make ahead and reheat!
Ingredients
4

sweet onions

I used, and recommend, cippolini

1

T

butter

1

T

balsamic vinegar
Instructions
Preheat oven to 350.

Peel the onions.

Melt the butter, and mix with the vinegar. Pour into a small baking dish, and swirl around to coat.

Add the onions, and roll them in the butter mixture until they are fully coated with it.

Bake at 350 until onions are fully cooked and tender - 35-45 minutes for small onions.
Save
Save
---
---