Pan Roasted Root Vegetables
When you don't have the time to roast a big pan of vegetables, these pan roasted root vegetables are faster and easier, and also delicious!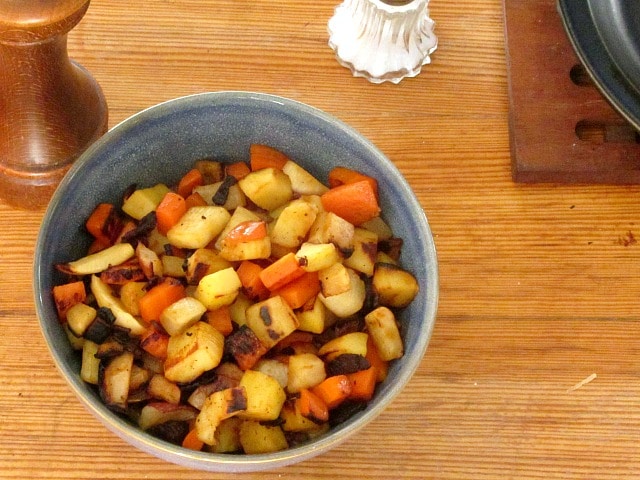 I hear you – you love roasted vegetables! Nothing better than to go the the farmer's market (or the supermarket) and pick out bags of bright orange carrots, purple-topped turnips, yellow parsnips… maybe throw in onions, rutabaga, potatoes, whatever…  Then invest an hour or so scrubbing and chopping, another hour with them in the oven, to enjoy the wonderful, sweet, caramelized, rich flavors in recipes all week!
Or maybe it's just the only way you can get the picky eater to eat (and like!)  a turnip.
But – what if it snowed and you didn't get to the market? Or you didn't have time last weekend for all that scrubbing and chopping (let alone time to put anything in the oven for an hour!) Maybe you have a few odd root vegetables rattling around in the crisper that were supposed to go into the soup (that never happened either…)
What if you need dinner in half an hour?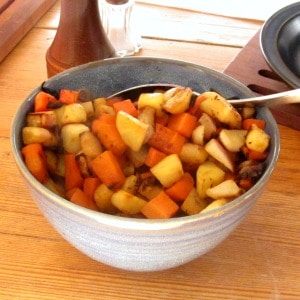 Well, you can pan roast the same vegetables. The result won't be exactly the same, but still quite good (and so much better than boiled!) You can even get a little caramelization going if you pay attention…
Now, you can simply use olive oil, though a little butter will brown it better. Or you can use some bacon, if you have some on hand! We don't really eat bacon by itself very much,  but I usually have a pack in the freezer, because just a little can add so much flavor to so many recipes. If you want that, take a strip or two, chop it small, and put it in a cold pan over low heat to render out the fat (which you will use to cook.)
Then take your root vegetables. At this time of year, the storage vegetables all seem massive – I think the big ones keep better – so I just used one each. A carrot, a turnip, and a parsnip. You can add, or substitute, rutabaga, kohlrabi, daikon, golden beets (red beets if you don't mind the color transfer…) or potatoes. And of course an onion is always nice.
While your bacon is rendering, if you use that, scrub your vegetables, peel if needed, and cut them into rough dice. They don't have to be tiny – but  you want to be able to fit several on a fork and in a mouthful. They also don't have to be perfectly even, but sort of close, so they cook in about the same time.
Now, if you used the bacon, stir it around the pan a bit in between vegetables, and about half way through the cutting, you should be able to start putting the diced vegetables, as they are ready,  into the pan. (If you use an onion, start with it.) When you do, raise the heat a little, and toss the vegetables in the bacon grease to coat them. If you did not use bacon, let the pan heat up over low heat for a few minutes (so it heats evenly) then add your oil or butter – a little more than you usually would, as you do want to be able to coat the vegetables. Once it is heated, proceed as directed with bacon.
Once all the diced vegetables are in the pan, and well coated with your choice of cooking fat, raise the heat to high. Spread the vegetables out, and let them sit for about 2 minutes so the bottom browns. (Watch carefully if you use butter, which burns more easily than the others.) After about 2 minutes, stir them well, then do the same again. Repeat a third time, then lower the light under the pan. Check to see how close they are to being cooked to your taste – you probably just need a few more minutes until done.
And there you have it. Once the vegetables are in the pan, you can give your attention to the rest of your dinner, with just the quick stirring. If you need to hold them for a while, until everything else is ready,  you can do the high heat steps just twice, then lower the heat and stir every 4-5 minutes until the rest of dinner is ready. You don't really have to worry about overcooking.
The pan roasted vegetables can be used in all the same ways oven roasted ones are. Just eat them as they are, of course – but if you have leftovers, they reheat beautifully. Or you can put them in soup, or toss them in a salad. Just enjoy!
Pan Roasted Root Vegetables
When you don't have the time to roast a big pan of vegetables, these pan roasted root vegetables are faster and easier, and also delicious!
Ingredients
2

strips bacon

opt. or olive oil

1

large white turnip

1

large parsnip

1

large carrot
Instructions
Chop the bacon into small pieces. Place in a cold pan over low heat, and render out the fat.

While the bacon fat is rendering, wash and trim the vegetables. Dice them into small pieces.

If you use oil instead of bacon, add it now to a hot pan.

Add the vegetables, in several steps, to the pan, and toss with the bacon fat (or oil) to coat. Once all the vegetables are in the pan, and coated, raise the heat to high. Spread the vegetables out in a layer for maximum contact with the pan, and let them cook on high for about 2 minutes. Stir thoroughly and repeat, and then repeat again, so you have three short bursts of high heat cooking, so the vegetables will brown.

Lower the heat under the pan, and check to see how done they are. Then cook until they are cooked through to your taste - probably just a few minutes more.

Serve.
Save
Save
---
---