Wilted Spinach Mushroom Salad
Use tender spinach and other spring greens in a Wilted Spinach Mushroom Salad and enjoy the contrasts of temperature, as well as texture and flavor!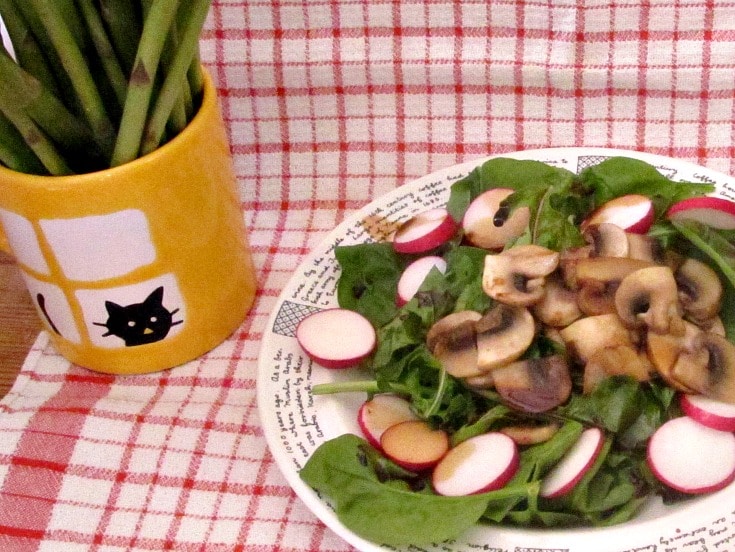 No, this isn't the wilted spinach that's been kicking around the back of the crisper drawer for a week or two…
You wilt spinach or other tender greens by parboiling, steaming, or otherwise cooking them very lightly, so that they're not really cooked, but are a bit soft. If you want a salad, you do this by adding hot ingredients and, specifically, a very hot dressing and tossing that with the tender greens. The heat of the dressing lightly cooks the leaves it touches, leaving others crisp, for a lovely range of texture.
It's a wonderful salad for this transitional time in Spring – I finally have baby spinach and arugula (also known as rocket) but not lettuce, yet. And there aren't very many salad vegetables – peppers, cucumbers,  and tomatoes won't come for more than a month, though radishes and spring onions are in. I did just get ordinary white mushrooms at the supermarket, though some of the farmer's markets have them as well. (Not the one I happened to get to, this week.)
Wilted Spinach Mushroom Salad also make an elegant salad course at a dinner party. I'll add directions to manage that later…
We're a bit loopy about mushrooms, as are most of our friends, so for us, this was a quantity of mushrooms that serves two very nicely indeed. It could actually make a perfectly good salad for four people with more, er, moderate tastes… And of course it scales up quite nicely.
Prepare your greens first. Spinach, obviously… the younger and more tender the better. I added arugula, and very much enjoyed the slight bitterness in contrast to the mushrooms.  If you have some tender baby bibb lettuce that should work, though it has less flavor than the others – I wouldn't use anything really crisp. We want tender and flavorful, here.
Then, really just as garnish, I added a few thinly sliced radishes. Spring onions would have been delightful. Just a little of these other flavors, though – an accent, not the primary note. I did not add these, but another option… Hard cooked eggs are entirely traditional here. It makes a slightly heavier dish, of course, but it would be a wonderful way to round out, say, a bean soup.
Prepare your salad ingredients, arrange them on plates, and set aside.
Put your frying pan over low heat while you slice your mushrooms, These were huge, so I cut them in half to make the pieces more manageable – I would not typically do that. When the pan is hot, add a splash of olive oil, swirl that around to coat the pan,  and then add about half the butter. (Which is optional – this works perfectly well with just oil, though in that case use a little more – but the butter does add flavor.) Add the mushrooms to the pan, and stir to coat with the fat. They will probably instantly absorb all the butter and oil alarmingly – just keep stirring, they'll start cooking out in a minute or two…
Now, I like to cook the mushrooms here until they are tender, but not as soft and browned as I would for, say, a spaghetti sauce. This is a salad, after all… So cook them a few minutes, to your own taste, then use a slotted spoon to lift the mushrooms out of the pan leaving any oil, juices, and browned bits behind. Arrange them nicely over the greens on your salad plates.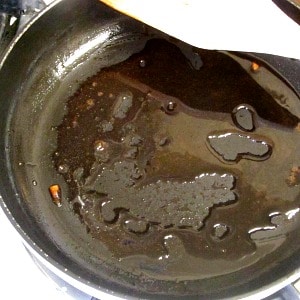 Now put the rest of the butter in the pan, swirl it to melt,  and add the balsamic vinegar. I'm not a huge balsamic vinegar fan, but there are some dishes that just call out for that slight sweetness, as well as sour, and I think this is one of them. If you don't have any on hand, you can use any good vinegar, but you will be missing a layer of flavor. Anyhow, the vinegar just deglazes the pan – swirl it around, scrape up any bits of browned butter, make sure you get all the juices… And move quickly – you don't want to let it boil away! (Never mind how I know this… but you're not going to stop and take pictures, are you?)
Spoon the vinegar reduction (fancy terms, no?) over the salads, and serve at once.
Now, for that dinner party… Wash and toss your greens in advance, cook the mushrooms and hold in the pan… A few minutes before serving, reheat the mushrooms, and arrange the greens on salad plates (sorry – this one doesn't work well Family Style.)  Add the hot mushrooms to the plates, deglaze the pan, spoon the dressing over the salads and serve to your waiting guests – make sure they're already at the table, this one doesn't hold well, once assembled. Sit down yourself, and accept their admiration graciously – you don't have to tell them it is easier than it looks!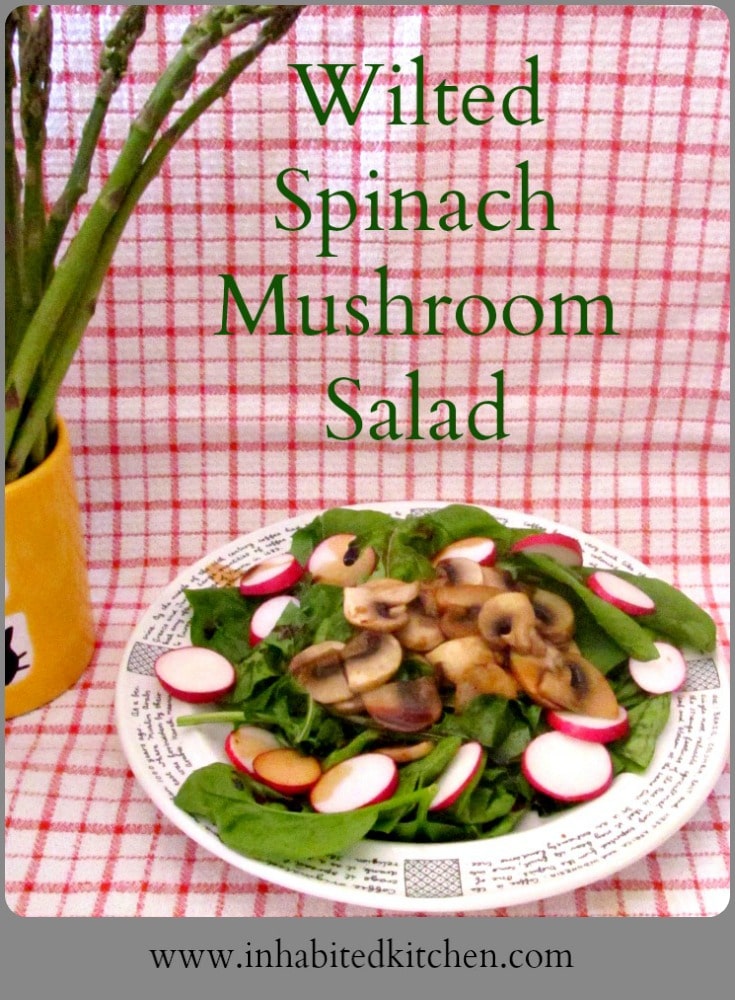 Wilted Spinach Mushroom Salad
Use tender spinach and other spring greens in a Wilted Spinach Mushroom Salad and enjoy the contrasts of temperature, as well as texture and flavor!
Ingredients
Tender Young Spinach

Other salad greens as desired

4

oz.

white button mushrooms

1

t

olive oil

1

T

butter

divided

1

T

Balsamic Vinegar
Instructions
Prepare spinach and other desired salad greens (arugula, spring onions, etc.) Arrange salad on individual plates and set aside.

Wash and slice mushrooms. Heat a fry pan, add oil, and half the butter. Add the mushrooms, stir to coat with the oil and butter, and saute until lightly cooked. Remove mushrooms from the pan with a slotted spoon, leaving any dripping in the pan, and arrange attractively on the salad plates.

Add the rest of the butter to the pan, and swirl to melt. Add vinegar, and deglaze the pan. Pour this dressing carefully over the salads.

Serve at once.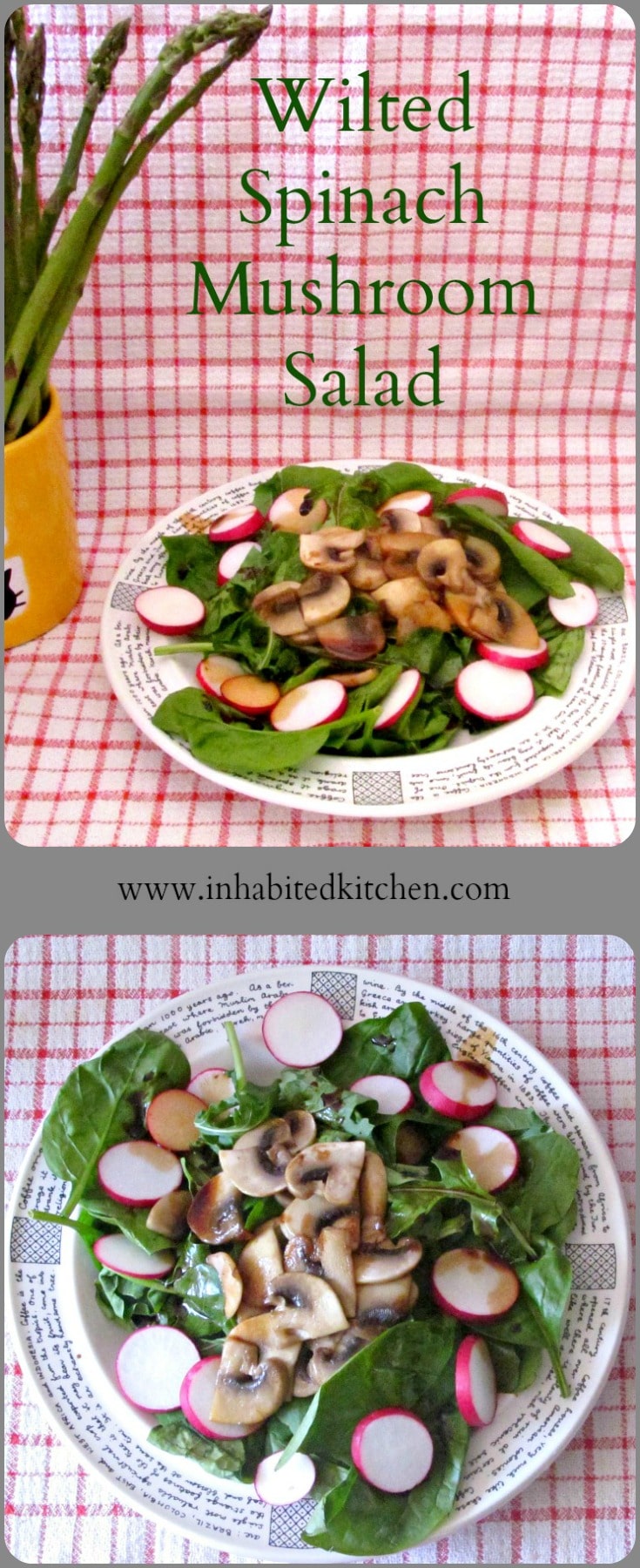 ---
---