Hard Cooked Eggs, Part 1 (How to Cook Them)

It's that time of year. People who never normally eat hard cooked eggs find themselves boiling them by the dozen – and then wondering what to do with them.
A few of those eggs have already made their appearance on Seder plates – at least people know how they will eat them! But others will be dyed as Easter eggs – and many of them will then sit in the refrigerator, because the people who like the colored eggs have never liked to eat hard boiled eggs.
This post will be in two sections. Today, I will discuss cooking eggs so that they are tender and delicious. (I'm not great at dying them, though – you'll have to look elsewhere if you want help with that!) In the next section, I will discuss a variety of recipes for stuffed eggs.
My mother taught me to cook eggs, and I don't really know where she learned (but I know that this was not what her mother did.) Mom was interested in cooking, and spent time and effort studying it, learning how foods behaved, learning the chemistry behind it. I have the advantage of having grown up with maxims such as "Heat toughens protein."
And that's the first thing to remember. Notice I'm calling these hard cooked eggs – not boiled. I don't boil them. If you've ever had a tough egg – especially one with a greenish, sulfurous yolk – it was boiled, and over cooked.
Start with your eggs. And for this, you do not start with the freshest ones. As eggs age, a little air seeps in through the shell, and that bit of air makes them easier to peel. Now, obviously I'm not talking about letting them sit around for weeks and months… but I usually buy new eggs, and hard cook all the ones I have left. If you can get truly fresh eggs, from the farmer at the market, or from your own backyard, they are wonderful – use them for beautiful fried eggs with high firm yolks, tender omelets, light souffles… but keep them for a week before you hard cook them, or resign yourself to whites sticking to the shell, and eggs peeling in bits.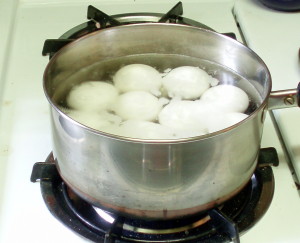 Heating the egg too abruptly causes the shell to expand quickly, increasing the odds of cracking.  Ideally, then, you take them out of the fridge a good hour or more before cooking, to let them come to room temperature. Once in a while I even remember to do that… So, I usually end up putting cold eggs in cold water. I want to bring that water to a boil, but I don't use the highest heat – I use a sort of medium high heat, so it will heat more slowly. (That's getting a bit finicky – if you don't care if they crack, don't bother. And there is no absolute guarantee that they will or won't, no matter what you do. One of the ones I cooked for this post cracked, despite my care.)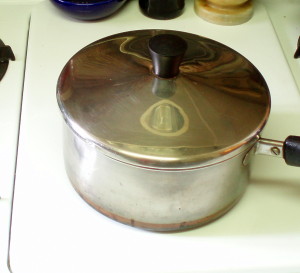 Anyhow – cover the eggs in the pot with cold water. Cover the pot, and put it over heat. Bring the water to a boil. This is the point where you really need to pay attention – as soon as the water comews to a full boil, turn the heat off. (And if you have an electric stove, take the pot off the hot burner.) Keep the cover on it, and set the timer for 15 minutes.  (This is the moment I sometimes mess up – I don't catch it when it starts to boil, and end up boiling the eggs… If you can conveniently stay in the kitchen to watch it, do.)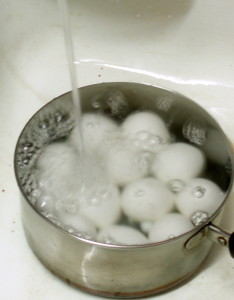 After 15 minutes, take the cover off, and take the pot to the sink. Pour cold water into it – the goal is to cool the eggs quickly, to stop the cooking process. I usually pour water into the pot to start cooling it, then drain the water. Then I cover the hot eggs with cold water. The eggs heat that water, so I then change it every few minutes, until it stays just a bit warm. Then I drain the eggs, and refrigerate them.
Soft cooked eggs are made with the same method, just less time. I like my eggs firm – I literally cannot eat loose egg whites, because of the texture – so I leave them in the hot water at least 5 minutes, more often 7. Other people might prefer them anything from 3 minutes (for very loose eggs – they may not be cooked enough to prevent salmonella, if that is a concern) on up.
All this detail makes it sound much more complicated than it actually is. Really, basically – put eggs in a pot and cover them with cold water. Bring the water to a boil. Cover the pot and remove from heat. Let eggs sit in the hot water for 15 minutes. Pour in cold water to stop the cooking. Drain and chill…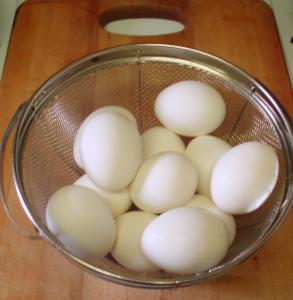 Make Easter eggs. Stuff eggs (I'll post several versions of them next.) Slice them and drop them in soup. (Classic in black bean soup.) Cover with sauce and heat. Make an egg salad, add then to tuna, chicken, potato salads. Slice them into a green salad. You can always throw a quick lunch together if you have hard cooked eggs in the refrigerator…

Hard Cooked Eggs, Part 1 (How to Cook Them)
Tender hard cooked eggs (not boiled!) are easy to make - for Easter Eggs, stuffed eggs, or just to have on hand for a quick meal!
Instructions
Take a 2-3 quart saucepan, and partially fill with cold water. Carefully place the eggs into it, and add water if needed to cover the eggs.

Place pan over medium heat, and slowly bring to a boil, avoiding sudden temperature changes (to reduce the risk of cracking the shells.)

As soon as the water is at a rolling boil, remove from heat, and cover. Let rest for 15 minutes - timed.

After 15 minutes, pour off some of the water, then pour cold water into the pot until all the water is cold, to begin to cool the eggs. Repeat every couple of minutes (the water in the pot will be hot) until the eggs are cool to the touch.

Drain and refrigerate.
Save
---
---