Roasted Beets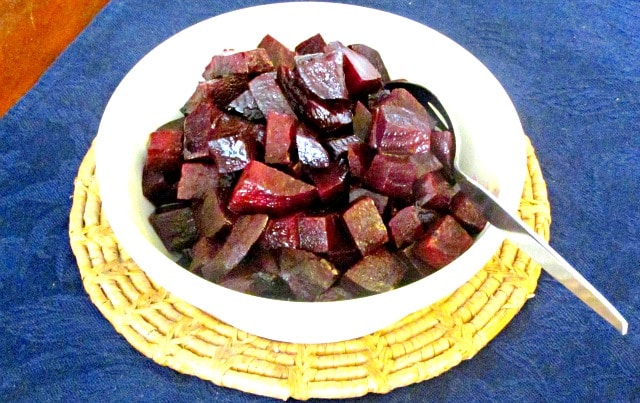 It's been a busy week, here. I've been working on things behind the scenes, to improve your experience, as they say… Some work on the actual website, and some sharpening my skills. I'm also making plans for the future. Both the immediate future – time to start thinking about Thanksgiving! – and the long term…
There has also – I admit it – been this World Series… which has distracted me a little… (Let's Go, Mets! Wait until Next Year!)
And when I have been in the kitchen, I have often continued to cook for the freezer, or test bread recipes, or other things that either I've already written about, or that are not yet ready for publication. But I still need a blog post!
Oh, right – beets… In the CSA we tend to get beets one or two at a time, and I'm not going to cook one beet.  At the same time, they don't really Play Well with Others, if you know what I mean… I can't just toss them into all the mixtures I tend to make because of the color. So they tend to sit around in vegetable keepers until I get around to them.
Usually I just boil them. Scrub them, put in a pot and cover with water, boil for 45 minutes to an hour, depending on size, pour cold water over them so you can handle them, and the skin comes right off in your hands. Serve with butter… And that is quite good itself.
But I'd managed to build up to about eight beets… and wanted them out of the vegetable keeper, to make room for all peppers we got just before the frost! So I decided to roast them…
Directions for Roasted Beets
First I did wash them, though not scrub them. Beets are often muddy, and I didn't want that earth to get on my hands and carry over to the peeled vegetable. Then I used a swivel bladed peeler to peel them, and a sharp knife to cut the ends (and trim any rough spots.) And I cut them up in small cubes. I mentioned the color? Notice that I don't cut beets on my wood cutting board – they would dye it. Also note that bight pink hand. That color lingers…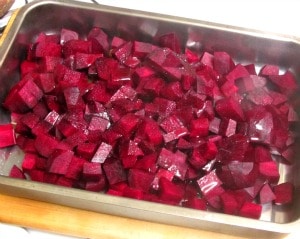 As I cut them, I tossed them into a baking pan. Once the pan was full, I drizzled them with olive oil, and sprinkled salt over them. I then stirred them well to coat them with the oil and salt, and put the pan in a preheated 400° oven for forty five minutes.
That was it. They're good hot. They're good cold. They're very good with a touch of balsamic vinegar… tender crisp, earthy, and sweet sour. Some of the cubed, cooked beets are going in a bag in the freezer so I have a vegetable to serve when I don't have time or energy to fuss. I may toss some into a potato salad – that's classic. I bet they'd be a nice garnish for pea soup…
Sometimes a very simple handling is all you really need.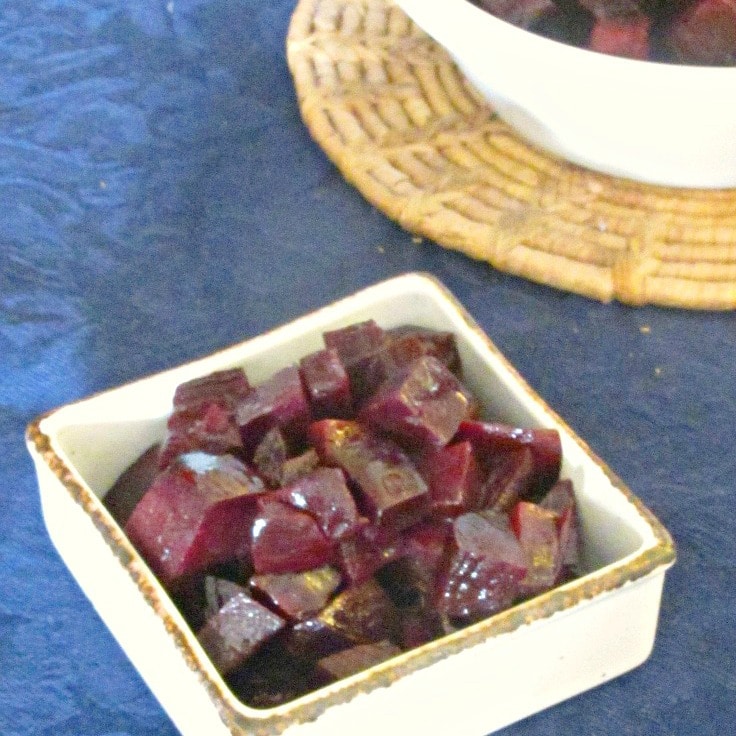 Roasted Beets
Oven roasted beets - simple, uncomplicated, and delicious! Serve hot as a vegetable side dish, or cold as a winter salad.
Ingredients
Beets

Olive oil

salt

balsamic vinegar

opt.
Instructions
Preheat oven to 400.

Use a swivel bladed peeler to thinly peel washed beets. Cut the beets in small cubes.

Place beets in a baking pan. Add a drizzle of olive oil, and sprinkle with salt. Stir well to coat the beets with oil.

Put in oven for 45 minutes, until beet cubes are tender crisp.

Sprinkle with balsamic vinegar, if desired. Serve hot or cold.
---
---