Easy Cauliflower Cheese
Easy Cauliflower Cheese comes together quickly, with this fast and easy cheese sauce. A simple way to dress up a meal!
Cauliflower is in season! We've had two small heads already, and we love it!
I've written before about the bizarre (to me, at least) way people treat cauliflower these days – substituting it for every other food under the sun, it seems, but not enjoying it for itself. But we think it's lovely. It's certainly a pretty vegetable – doesn't it look like a bouquet of, in fact, flowers?
And it's good raw in salad, lightly parboiled and marinated, or steamed. (Don't overcook it, though – it goes mushy.) I usually just steam it, and serve it on the side with a dish that has enough interest and complexity on its own. Then we can enjoy the flavor of the cauliflower!
Sometimes, though, your main dish could use some help. You're just grilling a pork chop (again…) You're serving a pretty simple bean dish, and need a little more protein somewhere in the meal. You planned a simple meal but now want to dress it up.
But you don't want to do anything really complicated… Time for Easy Cauliflower Cheese!
I haven't written a recipe calling for roux cubes for a while. This is partly because I'm playing with them myself, pushing the boundaries – and that's not quite ready to be published. (My goal is to publish an ebook of instant sauce recipes! But that needs to be tested and polished extensively.)
This is a basic, though – a simple cheese sauce. Which is so much easier with the cubes, instead of making a roux every time. And then, you have a choice – if you really want fast and easy, just pour it over the cooked cauliflower (good over broccoli, too.) And in that case, the cup of cheese sauce would be enough for three or four people… you can just pass it in a sauceboat, if you like. But it feels more elegant if you pour it over the cauliflower in a baking pan – I've done it in casseroles, gratin pans, and individual ramekins like this – then bake. (You can also set that up in advance, and then bake, or even microwave if you really have to! Though the baked is nicer.)
Directions
First, wash and cut up your cauliflower. You want smaller pieces for this than I usually use… small bite sized, so one forkful may even have a couple of pieces. Then cook it lightly, as it will continue cooking slightly in the oven. I steam it for about five minutes. Set aside. For the two of us I used two cups of steamed cauliflower.
While that is cooking, you can start your cheese sauce. Take a cup of milk, two roux cubes, and two ounces of diced cheddar cheese. (You can add more cheese, up to twice as much, if you want it to be richer, or a more substantial part of the meal. I was just doing this for flavor.) And I added a little fresh sage to this… dried would work, too, if you don't have fresh.
Put the milk in a small saucepan, add the roux cubes (cutting them in half speeds up the process) and place it over medium heat. Bring it to a simmer, stirring frequently. Now, the magic of the roux cubes is that the flour melts off gradually, so it doesn't go into lumps. You do need to stir it frequently, but you need to do that when heating milk anyway, so it doesn't stick and scorch.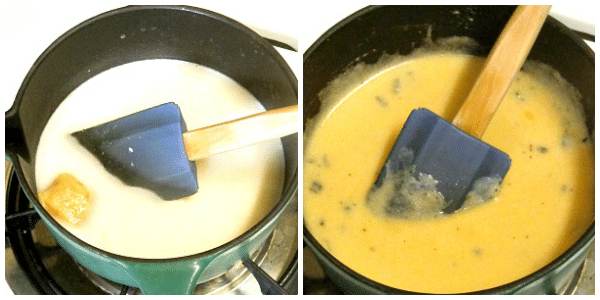 Once it begins to simmer, the sauce will thicken. When that starts, add the cheese, and stir it to melt. Over a few minutes, it will thicken and come together nicely as a cheese sauce. Add the minced sage at the last minute.
Now, pour just a little in the bottom of your baking dish, then add the cauliflower. Once it is in, pour the cheese sauce over it (carefully, if you're using small dishes like this!) And then bake at 350°, fifteen minutes for individual dishes, twenty if it is all in one pan. Let rest a couple of minutes, then serve.
Notes: I certainly prefer fresh cauliflower, but you could use frozen instead, if that works better for you. In fact, when that's all you have, this is a nice way to improve it. I would thaw and drain it, without further cooking, before putting it in the baking dish. You could also use leftover, if you cooked a whole head at once.
And if you don't have roux cubes yet you should really try them you can just use your own method to make a cup of white sauce with two tablespoons of flour to one cup of milk. (This is faster, though.) I used (and linked to) the gluten free roux cubes, of course, but that post does link to the original version with wheat, if you prefer.
You can use the Chipotle Cheese sauce instead, if that sounds good to you…
You know, a cute little single serving dish like this of cauliflower cheese as a first course before a hearty bean or lentil soup would just dress that meal up so well!
Easy Cauliflower Cheese
Easy Cauliflower Cheese comes together quickly, with this fast and easy cheese sauce. A simple way to dress up a meal!
Ingredients
1

c

milk

2

roux cubes

2

oz.

cheddar cheese

diced

1

T

minced fresh sage

2

c

lightly cooked cauliflower

cut in bite sized pieces
Instructions
Preheat oven to 350.

Heat the milk in a small saucepan with the roux cubes, stirring frequently, until the cubes are fully melted and the milk comes to a simmer. As it starts to thicken, add the cheese, and continue stirring until it melts and the sauce has thickened. Set aside.

Place cauliflower in a 3-4 c baking dish, or two 1 cup ramekins. Pour cheese sauce over them carefully.

Bake at 350, for 15 minutes in ramekins or 20 minutes in a larger dish. Let rest a few minutes, then serve.
---
---