To Everything There is a Season
Wow – what a year!
Last year at this time, I had just set up my computer and started to unpack the few pots and pans I brought to North Carolina from New York, and had yet to publish a recipe post here.
A few months earlier, Rich's brother had called to tell us that the Home Health people had told him that the parents' situation was "not sustainable" and that they could no longer safely live alone. Since he knew we were considering leaving New York City anyway, his solution was that we should move here to Raleigh, move in with them, and care for them. (His wife was already caring for her own mother…) 
Flash forward a year. I have been deliberately vague about their medical and cognitive conditions, out of respect for their privacy. But at this point, Rich and I are now both full time caregivers to two people in their nineties who require 24/7 care. I have shifted focus on Inhabited Kitchen from cooking with my own health issues to cooking for theirs, making meals they can and will eat. 
I have found a variety of blogs and other websites out there about caring for the elderly or infirm. Remarkably few provide any information at all about food, unless someone requires a specific medical diet. I think that's because there are so many different situations – not just what food someone needs but also how they get it. In our case, because we live with the parents we can do a lot for them, but until a year ago, things were trickier… 
A reasonably independent person who tires too soon to cook much needs one kind of assistance – someone with high energy but cognitive issues requires something else. A caregiver who can drop by twice a week with prepared meals to reheat can do things that someone who travels several hours once a month cannot. And a person cooking for a spouse who has developed problems is in another position as well…  And this is before we get into physical issues with swallowing or chewing, loss of appetite, the mental rigidity caused by dementia, or other issues! And in our family, the mere fact that I am cooking for a couple whose issues build on each other brings its own dynamic to the table. (We haven't even touched on the caregiver's own dis/ability…)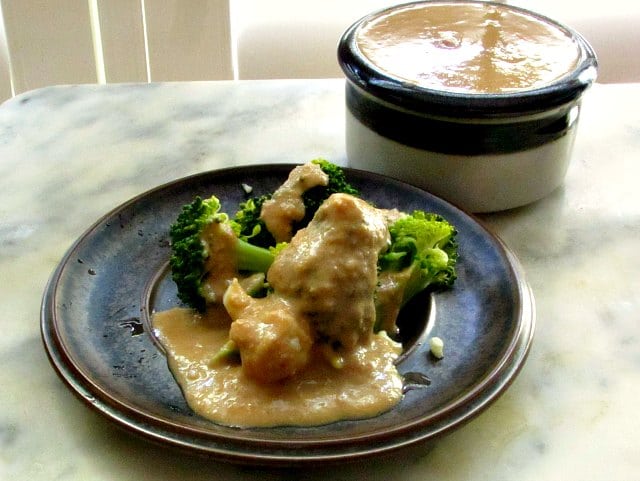 One difference you will see – Inhabited Kitchen will no longer be a sugar free blog. I still don't eat sugar… but the parents do. And Sweet is one of the few flavors they can really taste… so, just as they are more apt to eat spicy food than mild, they are more willing to eat sweet food than others. At this point in their lives, if I can make cookies or ice cream with protein in them, and they'll eat that instead of the commercial cookies and ice cream without protein that they have been eating, I call it a win. You're going to see some ice cream recipes this summer… and even some sauces with a dash of honey, and anything else that will pique Mom's appetite. (On the other hand, recipes will continue to be gluten free, just because I cannot work with anything that isn't.) 
Obviously I will largely write about recipes for our elderly parents, because that is what I know best. But at my age, in my early 60s, I have friends covering the range of caregiving – often but not always for parents.  Sometimes in their home, sometimes across the continent. The primary skill I bring to the table is cooking and recipe development, so I will try to figure out answers for other people's problems as well (which will help us, too…) I can see freezer meals, microwaveable meals, meal planning, online sources for food (prepared or not) and – well, what do you need? 
I have started a Facebook Group – Caregiving from my Kitchen – to address these issues. We will very specifically discuss food and meals for people we care for. I expect the group to be dominated by people caring for their parents, but there will be some helping other family members or friends, and a sprinkling of those whose spouses have eating problems caused by age or illness. (We will not include caring for offspring or younger disabled siblings – or oneself – as these all have a different dynamic.) 

If this sounds like something that will help you, please come and join us! And if you're not a caregiver, don't worry – Rich and I will also be eating most of the food you see here, so if you enjoy the recipes in Inhabited Kitchen, there will still be plenty here to eat!  
---
---