Gluten Free Scalloped Corn
Fresh sweet corn and corn muffins combine their rich flavor in wonderful Gluten Free Scalloped Corn!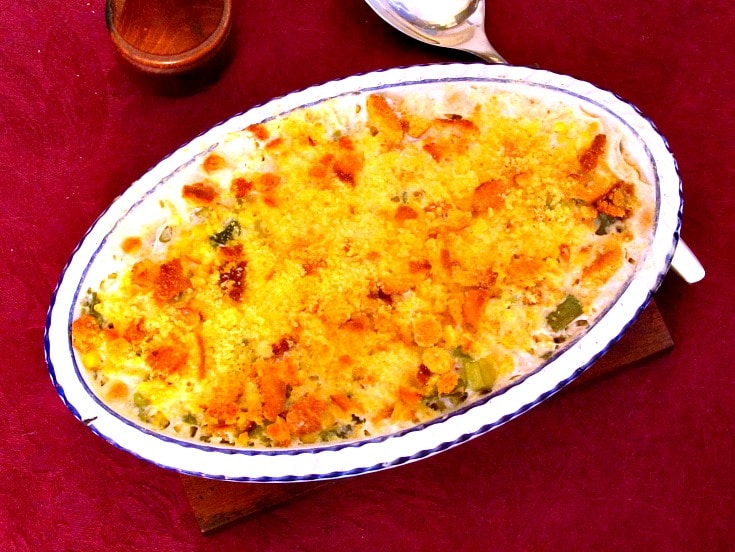 August in the Northeast. Sweet corn fills bins at farmer's markets and roadside stands, and we get a few ears every week in our CSA share.
I always make sure we eat a few ears just on the cob – I love that pure corn/butter experience… But Rich doesn't really care for biting kernels off a slippery cob. So most of the summer I use it in recipes that feature that wonderful fresh corn flavor, most of which will also work, though they won't be as delicious, with frozen or even canned corn. I seem to do something with corn and chicken every year, corn and tomatoes are wonderful, but then – there are classics. Corn Chowder. Corn Fritters. Corn Pudding. Scalloped Corn…
But, if you're gluten free, some of these recipes use flour. Or other things… Scalloped Corn is topped with cracker crumbs – traditionally oyster crackers or common crackers, sometimes other kinds (varying by availability.) Regular readers know that when I have to change a recipe to make it gluten free, I try to make that a feature – a change that adds to, rather than taking from, the flavor. So, to take two pertinent examples, I make corn muffins with corn meal and masa harina instead of wheat flour, and I used cornmeal for the Double Corn Fritters.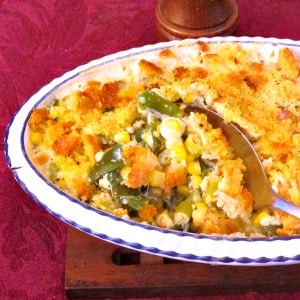 So… what if I crumbled a corn muffin and used that to bread scalloped corn? And indeed – it worked beautifully! Do make sure it's a gluten free corn muffin – the Inhabited Kitchen one or any other you like – if the end product needs to be gluten free. And if it does not, try a corn muffin of your choice anyway – the flavor is wonderful!
I make a white sauce to hold the ingredients together, so there I used one of my roux cubes, with millet and brown rice flour. If you don't have roux cubes on hand, first, I really recommend them, they make so many dishes fuss free, but right now, just make a roux with one tablespoon each of butter and your choice of flour.
Preheat the oven to 350°F.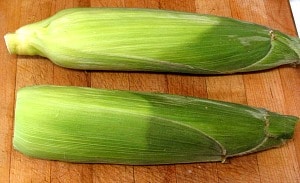 First, take your corn. Use two ears (maybe three if they're tiny, usually at the very beginning or end of the season.) I use the microwave technique, but just for two minutes, to soften the husks and silk for easy removal, and just soften the kernels enough that I can cut them off without them flying too badly all over the kitchen! Cut the kernels off the ears, and reserve them.
You can use just corn, and it's good, but it's even better with some aromatic to add flavor and color. I had scallions, which are in some ways two different vegetables – the white part and the greens, for color. Take four large scallions (or more thinner ones…) and chop them, dividing the whites from the greens.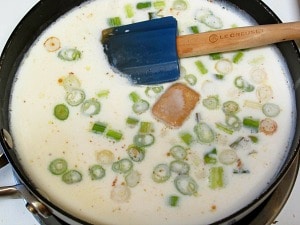 Now, put a little butter in a pan and saute the whites of the scallions until they start to soften. Add one cup of milk, and the roux cube, and stir until the cube is fully dissolved. You don't need to thicken it at this stage, as it will continue to cook. Stir in the greens and simmer just until they start to soften, then add the corn.
Pour it all into a buttered four cup baking dish.  Now take your corn muffin and crumble it. (It will crumble even better if it's slightly stale! But fresh is fine…) I like having slightly uneven sizes – mostly fine crumbs to make a coating, but the occasional edge of the muffin adds a little interest! Sprinkle the crumbs evenly all over the top.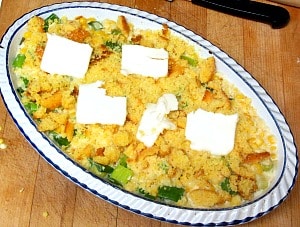 Then dot with butter. I like to use a sharp knife to cut thin slices of cold butter so that a relatively small amount covers as much surface as possible. You do want the flavor of butter to enhance your corn, as well as the browning action, so go ahead and be generous! Bake at 350°F  for twenty minutes.
Let it sit a few minutes before serving.
The two of us polished this off quite happily, but it really could serve three or even four people less generously…  I served the scalloped corn as the main dish, with a side dish of protein – the meat shouldn't always be the center of attention! Let glorious vegetables take the spotlight!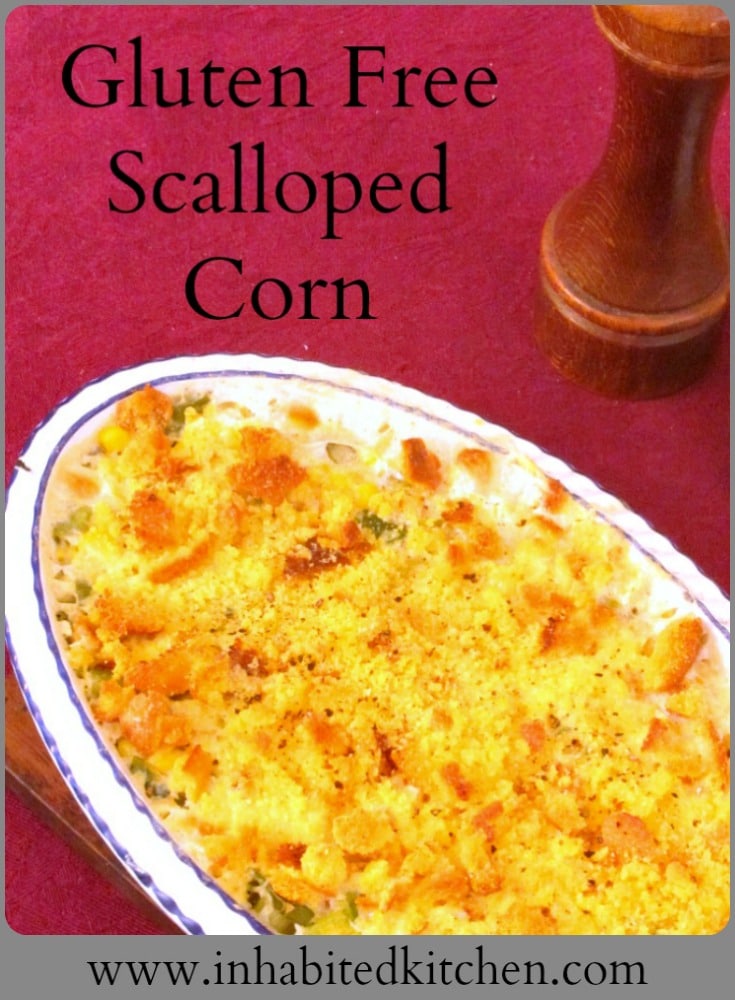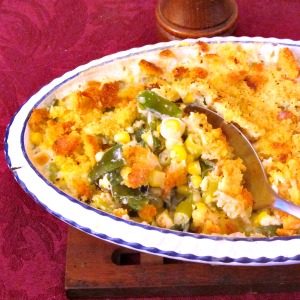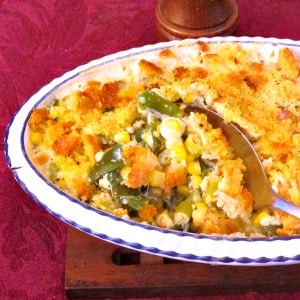 Gluten Free Scalloped Corn
Fresh sweet corn and corn muffins combine their rich flavor in wonderful Gluten Free Scalloped Corn!
Ingredients
2

ears fresh sweet corn

4

scallions

1

T

butter

divided

1

c

milk

1

roux cube

1

gluten free corn muffin
Instructions
Preheat oven to 350F.

Cut corn kernels off the ears, reserve.

Chop scallions, separating the white parts from the greens.

Put 1 t butter in a pan, add the white of the scallions, and saute until soft. Add milk and roux cube, stir until roux cube dissolves. Add scallion greens, stir until wilted. Add corn. Turn into buttered 4 c baking pan.

Crumble corn muffin, and sprinkle over the top. Dot with remaining butter.

Bake at 350 for 20 minutes. Let rest a few minutes, then serve.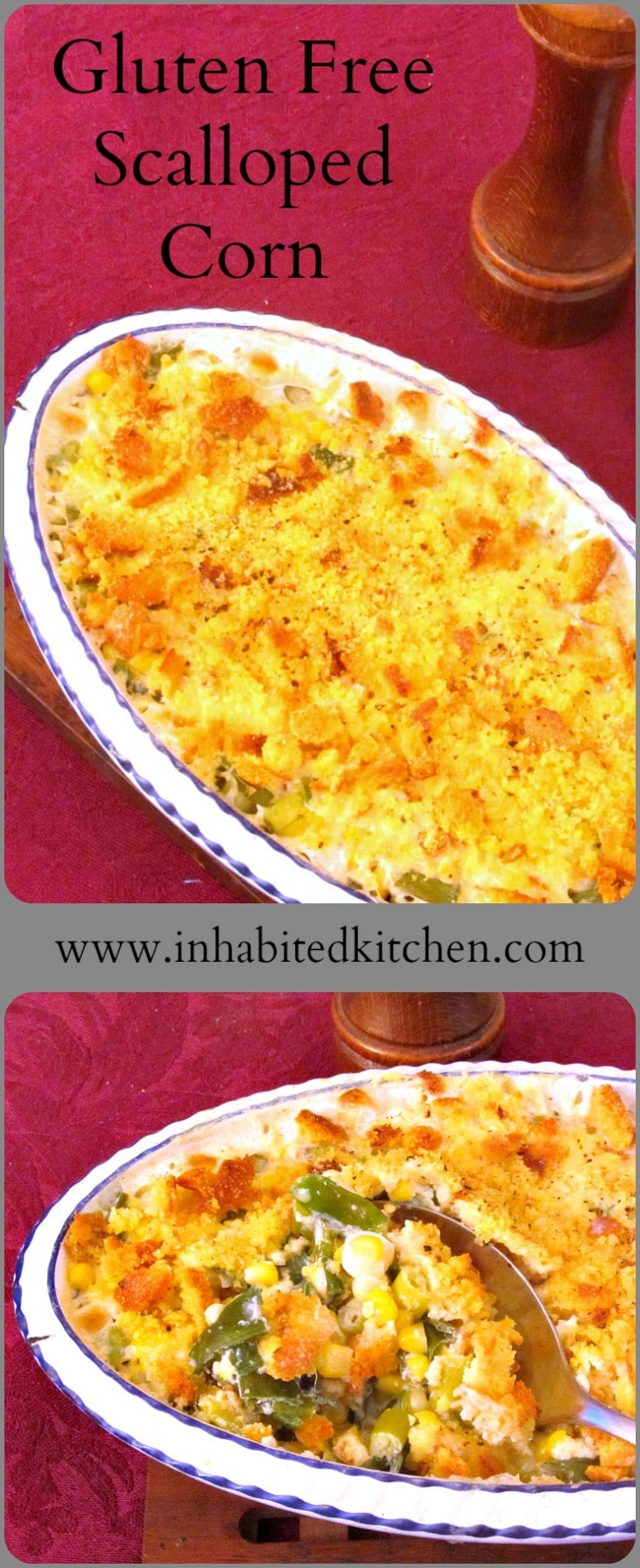 Save
---
---