A Collection of Make Ahead Thanksgiving Recipes
Looking for Make Ahead Thanksgiving recipes, that you can easily bring to the big family dinner? These ten tried and true recipes have worked well for us!
Here in the United States we are well into planning for Thanksgiving. Who is hosting the Family (or Friends) and what are they cooking? Where are you going and what are you bringing? People who are happy to make simple meals most days suddenly want to pull together the big Norman Rockwell Experience! And we go over the parkway and through the subdivision to Grandmother's House, bearing covered dishes. And those of us who are not doing that – who are just cooking for ourselves and our immediate family – we still want something more complicated than usual. More courses, more side dishes, everything fancier than usual. It is a major holiday, after all, and celebrates abundance!
I thought I'd put together a round up of Inhabited Kitchen recipes that might help.  They all can be made ahead, so Thanksgiving Day itself is easier. Most of them can be carried easily, so work well as your contribution to the Family Thanksgiving Dinner! All are, of course, gluten free, and some are vegetarian (even vegan!)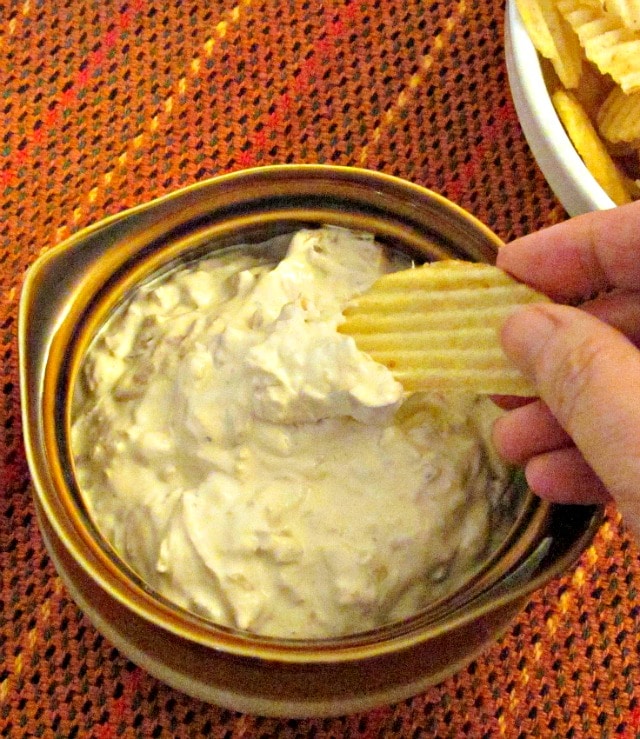 I'll start with, well, starters.  First, my favorite dip – Essence of Onion Dip.  This is the most complicated recipe in this post – not at all difficult itself but it requires Onion Marmalade to be made in advance. Well worth it, I think, if you're trying to please your unadventurous aunt and your foodie sister at the same time! A familiar food – but better.
I like soup as a first course for a special meal. Both of these soups can be made ahead, as they reheat beautifully. This also means they're good as your contribution to the dinner someone else is hosting – just tell the host that you'll need five minutes or so and a soup pot on the stove right before dinner – but you can stay out of the kitchen until then!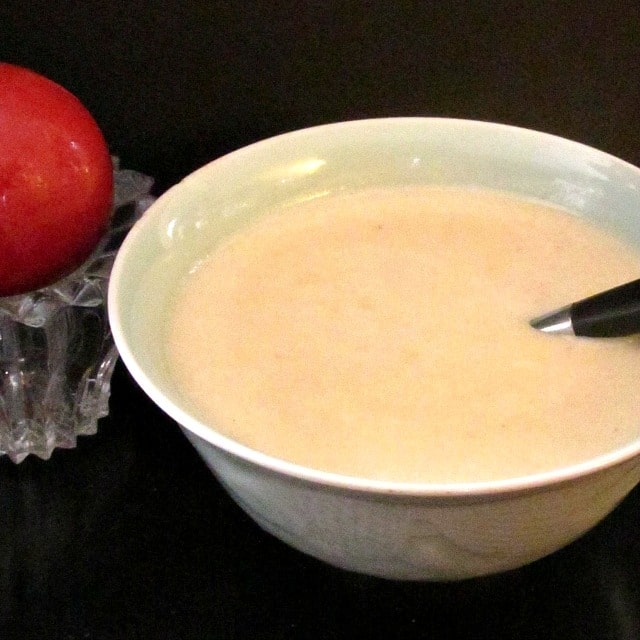 Cream of Celeriac is astonishingly creamy and rich – but doesn't actually have cream (just milk) or any added starch! Which means that, while it feels luxurious, it's not too filling as the beginning of a large meal.  (Still, serve it in small bowls!)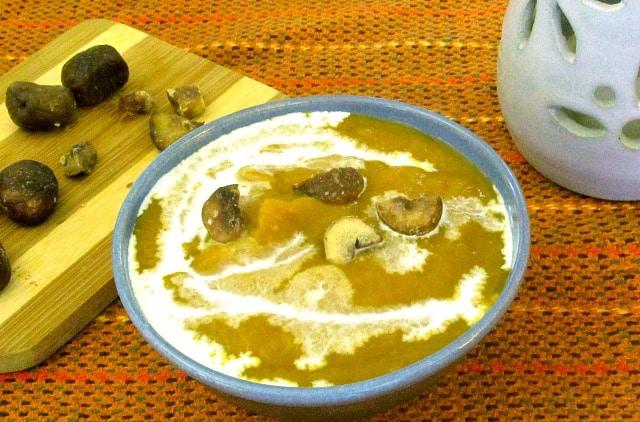 And if you have chestnut  lovers, but this year no one made Chestnut Stuffing, Chestnut Soup should mollify them…  I would use the larger amount of broth, as a lighter first course, and probably skip the cream garnish – it's quite good without it.
I probably would not serve Parsley Stuffed Portobellos at a large gathering, or if I were doing the 15 pound turkey, with stuffing and two kinds of potatoes and… But if you are only serving a few people, and roasting a turkey breast, and think you may miss stuffing… this might fit that spot.  Just make sure that, if you need it to be gluten free, you use a gluten free corn muffin. (Most commercial ones are not.)
Speaking of stuffing, let's move on to the main course. I first made a Corn Bread Stuffing long before I was gluten free, and liked the flavor better than the usual bread stuffing. Then I got the bright idea of baking all the flavoring and seasoning right into the cornbread! I make it a day or two ahead, break up the bread (to let it dry a bit) the night before, and then just moisten it with a little broth and stuff the bird – so easy! No last minute fussing with browning aromatics and sausage,  everything is already all together! (This one – well, it's not that it won't travel – it will, though remember to keep it cool because of the sausage – but you do need to arrive before the bird goes in the oven. This is probably a recipe for the host.)
On to vegetable side dishes! You will notice a definite theme, here – everything is roasted (or pan-roasted.) Everything can be cooked ahead, and popped into the oven (or even the microwave!)  to reheat when the turkey comes out.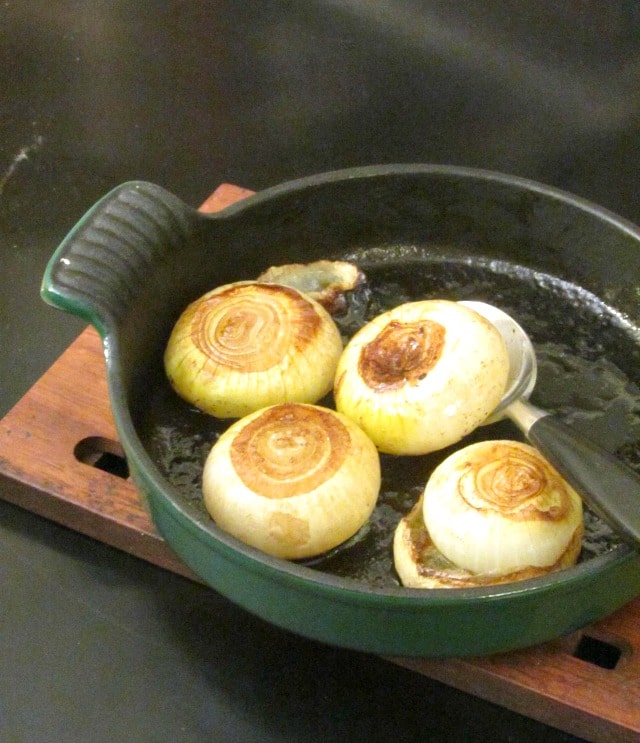 Roasted Onions could actually be an appetizer instead of a side dish – your call (though it might be tricky, because of the oven.)  Do make the effort to find cipollini if you can, they're smaller as well as sweet, Otherwise use the sweetest onions you can find – and cut them in half, if you need to!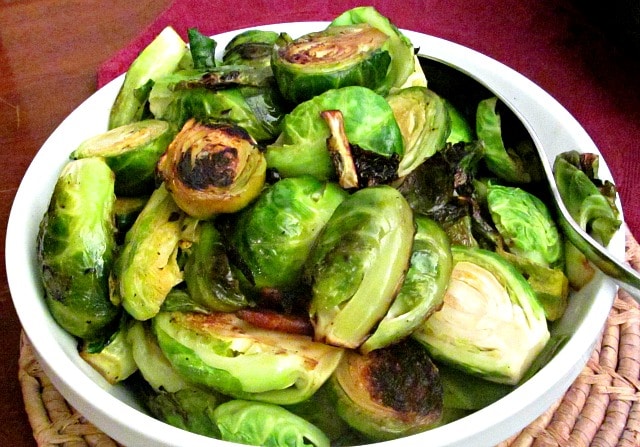 We've had Pan Roasted Brussels Sprouts each of the last several years. I'll cook them a week or more ahead – right when Brussels Sprouts peak at the farmer's market (or we get several pounds at the CSA!) because they freeze remarkably well. Then I can actually microwave them to serve! Could not be easier, on the day…  They've been a lifesaver when a migraine hit at the wrong time!
I originally wrote the Roast Vegetable recipe just as an easy make ahead vegetable dish for days you were too busy to cook – but really it is good enough for a holiday table as well! Again, they can be heated in either oven or microwave.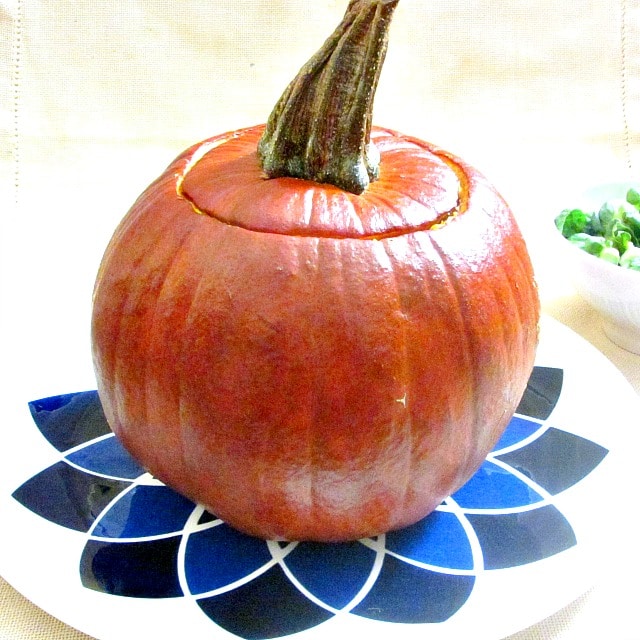 What if you don't want a turkey? Can you still serve something on that laden platter to put in the center of the table? Of course! Vegan Stuffed Pumpkin is a wonderful dish itself (don't limit it to Thanksgiving) and works quite nicely in that spot! Stuffed with rice, chickpeas and cranberries, it's a wonderful meal with plenty of flavor. (A reader did point out that the cranberries are quite tart.  We like that – we think it  balances the sweetness of the pumpkin – but if your guests don't have a taste for sour, you might choose to decrease the amount, or even use the sweetened dried berries.
Speaking of cranberries – surely I didn't forget the cranberry sauce? All Fruit Cranberry Sauce has no added sugar, but plenty of other fruit to balance the tart cranberries.  Again, we like the depth of  flavor added by currants and spices… Much more interesting than the canned variety!
I have made many of these for Thanksgiving myself, and sometimes the fact that I could make them ahead was the only thing that let me set a holiday table. I can vouch for all of them. So, whether you are dealing with illness, as I was, or the need to carry something across town, or simply a desire to spend the holiday with your guests instead of in the kitchen, I hope these make ahead Thanksgiving recipes help your day run more smoothly!
Save
Save
---
---